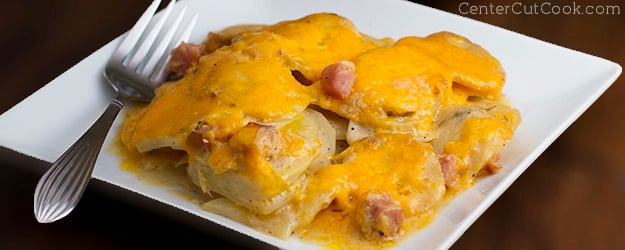 Chicago, the place I call home, is not a very friendly place during the months of January and February. This year is no exception with snow, ice, and even rain appearing within a week's time! It's during this time of year that the comfort food recipes seem to make their way to the table, and nothing says comfort food like cheesy potatoes with ham!
Have you ever wondered what the difference was between au gratin potatoes and scalloped potatoes? Au gratin potatoes typically have a cheesy sauce while scalloped potatoes have a cream based sauce. Today's recipe for Cheesy Scalloped Potato Casserole is really a cross between both. It starts with a cream based sauce (scalloped), but then towards the very end, fresh sharp cheddar cheese (au gratin) is added to finish off the casserole.
When I was growing up, this dish appeared in our house quite often because it was the perfect use for leftover ham. If you're wondering what to do with leftover ham, look no further! My Mom used to make a semi-homemade version of this recipe by purchasing a couple boxes of Betty Crocker scalloped potatoes and adding ham, which was delicious, but I decided to try and make a completely homemade version.
Some of my favorite casseroles involve potatoes, including this classic Hash Brown casserole. And just like Hash Brown Casserole, this Cheesy Scalloped Potato Casserole is hearty and filling enough to be a main dish, but it also works great as a side dish! We like this casserole "saucy," so you'll find that there's quite a bit of the creamy sauce that covers the potatoes. Because of this, after you pull the casserole out of the oven, you'll want to let it sit for about 20 minutes so that the sauce can thicken. If you don't give this casserole time to cool, you'll have a soupy casserole, which while it may be tasty, is sort of messy. So make sure you allow ample time for it to cool. If you don't like your casseroles quite as saucy, I'd suggest cutting the sauce recipe in half.
One of the interesting ingredients in this casserole is the use of powdered non-dairy creamer that you can find in the coffee aisle at the grocery store. Using powdered creamer eliminated any chance that the sauce would "curdle" as I've experience with other casseroles. I know it sounds a bit odd to use something that would traditionally go in coffee, but trust me, it works!
Notes: Be sure to cook this casserole for the entire time suggested so that the potatoes are tender. If you pull the casserole out early, you'll be left with crunchy potatoes, and who likes that? Additionally, make sure you allow this casserole to cool completely so that the sauce can thicken. If you serve it right as you pull it out of the oven, it'll be watery.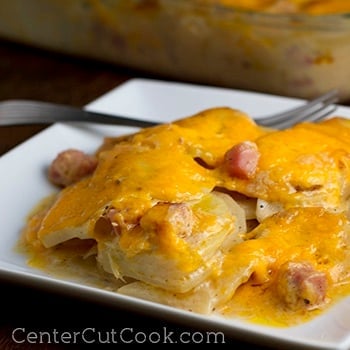 INGREDIENTS
1 1/2 cups powdered non-dairy creamer (found in the coffee aisle)
3 1/2 cups water
6 tablespoons butter, melted (1 minute in the microwave does the trick)
6 tablespoons flour
2 tablespoons dried minced onion
2 teaspoons salt
1 teaspoon black pepper
3/4 teaspoon paprika
6-8 large potatoes, peeled and sliced very thin
1 pound diced cooked ham
1 1/2 cups sharp cheddar cheese, shredded
DIRECTIONS
Pre-heat your oven to 350 degrees.
In a large sauce pan, off the heat combine powdered non-dairy creamer with water. Whisk until well combined.
Turn the heat on to medium heat and stir in butter and flour. Whisk vigorously to incorporate flour.
Add in dried minced onion, salt, pepper, and paprika. Bring the mixture to a boil and cook for 3-4 minutes, or until the sauce thickens up a bit. Remove from heat. Stir in ham.
Spray a 9×13 inch casserole dish with non-stick cooking spray.
Arrange half of the potatoes in the casserole dish. Pour half the sauce over the top of the potatoes. Add the remaining potatoes, and the rest of the sauce.
Top with cheese.
Cover the casserole with foil and bake for 1 hour and 10 minutes. Remove the foil and bake for an additional 10-15 minutes, or until the cheese is all gooey and the potatoes are fork tender.
Remove the casserole from the oven and allow it to cool for about 20 minutes before serving. If you eat it right away, the sauce will be watery. Be patient and allow it to cool! :)
Recipe adapted from
Taste of Home