Burrito bowls, and "naked burritos" are just two ways I've heard fast casual Mexican restaurants like Chipotle and Qdoba describe a burrito sans tortilla. It seems to be a trend lately, and it's a trend I'm 100% on board with! I love a burrito in a bowl and finally decided that I might as well make it at home because really, there's nothing too difficult about it!
I started with my simple recipe for cilantro lime rice , added some sautéed veggies, then added some super delicious chipotle lime marinated chicken that I had marinated for several hours and cooked. Some people add beans to their burritos, but I'm definitely not a bean fan when it comes to burritos. I topped the whole thing off with Classic Salsa with Roasted Corn, some sharp cheddar cheese, and a little sour cream and cilantro. Deeelish!
This recipe is pretty versatile, and the Chipotle Lime Chicken can be used in so many different ways – on salads, sandwiches, etc. The marinade simply consists of some chipotle chile peppers in adobo sauce, lime juice, and a few other simple ingredients you probably already have on hand. While the marinade is simple, it definitely provides awesome flavor to the chicken!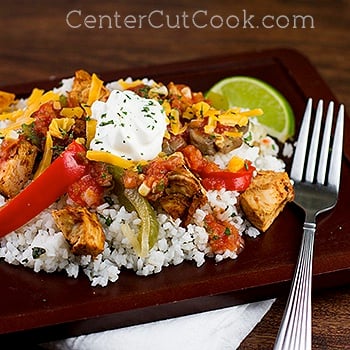 INGREDIENTS
2-3 boneless skinless chicken breasts, cut into 1-inch chunks
2-3 chipotle chiles with 2 tablespoons adobo sauce *more or less to taste
Juice from 2 medium limes
1 clove garlic, minced
1/4 cup olive oil
Black Beans cooked according to package directions *optional
1/2 red bell pepper, cut into strips
1/2 green bell pepper, cut into strips
1/2 red onion, cut into strips
Garnishes – cheese, sour cream, etc.
DIRECTIONS
In your blender, combine chipotle chiles with adobo sauce, lime juice, garlic, and olive oil to create the marinade. Pour the marinade in a large ziplock bag. Add chicken to the bag and close tightly. Place in the refrigerator for at least 2 hours.
When the chicken is marinated, in a large skillet heat a small amount of olive oil and sauté the peppers and onions until tender. Season with salt and pepper if desired. Remove the veggies from the pan.
Heat the same pan to medium-high heat and add the chicken chunks. Cook the chicken until it's cooked through and the juices run clear.
Assemble the burrito bowls by placing 1/2-1 cup rice on the bottom, then cooked beans *if desired, veggies, and chicken. Top with salsa, sour cream, and cheese if desired. Enjoy!