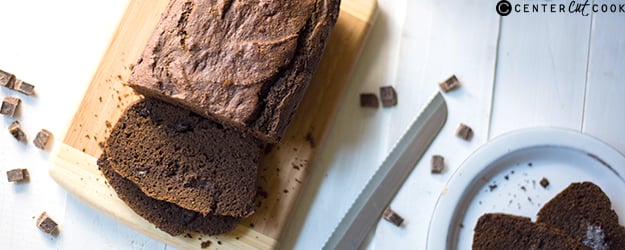 One of the best things about the Fall is that we can start baking lots of tasty things in the oven again. And, when those tasty things in the oven are sweet and full of love, it's even better.
Both are true with this delicious, heart-warming chocolate butternut squash bread.
Pretty much non-stop once squash and pumpkins start to appear in the grocery store, you can bet I am roasting and pureeing in my kitchen to have fresh pumpkin and butternut squash puree in the fridge. These are both great additions to both savory and sweet dishes throughout the season and are so easy to make.
So, I figured why not pair my butternut squash puree with chocolate in a yummy bread? Seems like that would be pretty darn awesome, right?
And it totally is. It's earthy, dense, flavorful, moist, and — possibly most important — easy! Oh yea, it's also healthy which is just a great little addition.
Speaking of healthy, I use a combination of buckwheat flour and whole wheat flour because I think the combination of those flours works really well together. That being said, you could use all buckwheat flour to make it completely gluten-free or you could also just use a bread flour or an all-purpose flour if you're not interested in keeping the recipe clean.
If you don't want to puree your own butternut squash, you can also purchase it canned during this time of year next to the pumpkin puree in the grocery store.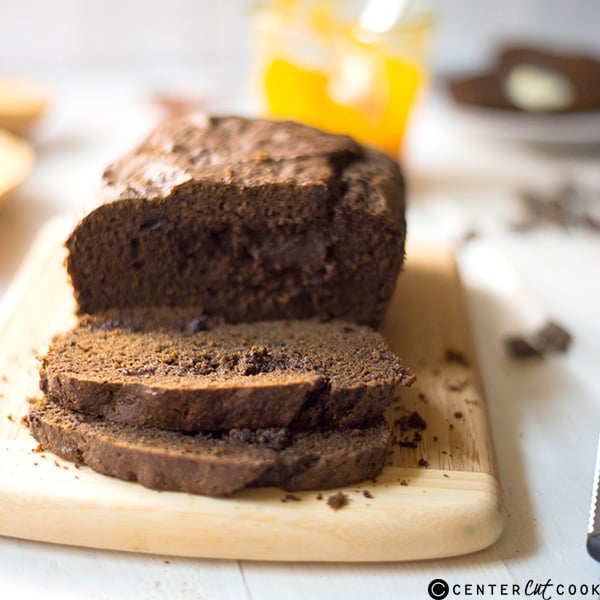 INGREDIENTS
DIRECTIONS
Preheat oven to 350 degrees.
Grease a 9 x 5-inch loaf pan with coconut oil.
In a large bowl, combine the two flours, coconut sugar, baking soda, baking powder, cocoa powder, spices and salt. Set aside.
In a large mixing bowl, stir together the butternut squash puree, oil, vanilla, and eggs, mixing until the ingredients are combined.
Gradually mix in the flour mixture until just combined.
Fold in the chocolate chips.
Bake the bread for 35 minutes, or until a knife/toothpick inserted into the center comes out just barely clean.
Cool the bread in the pan for 10 minutes before transferring to a cooling rack to cool completely.
Servings: 8 slices