How is it even possible that it's October already? It seems like we were just ringing in the new year and celebrating the start of 2013 and now I blink my eyes and the holidays are right around the corner… again!
That's not a bad thing though. Despite the fact that holidays can be a little bit stressful and busy, it's my favorite time of year.
With Halloween right around the corner, I thought I'd share one of my favorite desserts that can be made any time of year, but lends itself well to all things Halloween. The best part is that it's a recipe that kids could easily help you with.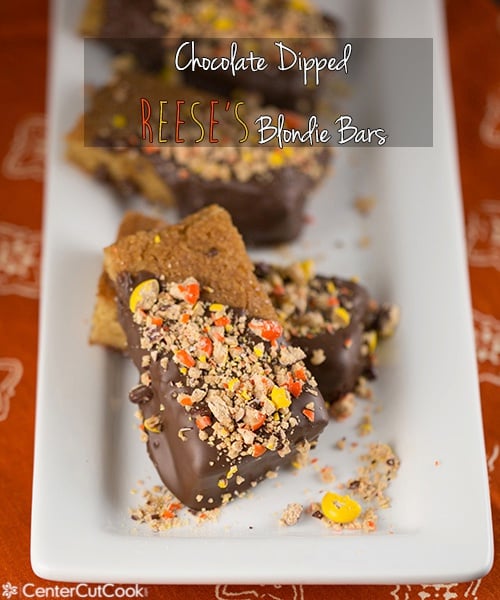 My favorite thing about this whole entire recipe is the Reese's Pieces. I have always adored Reese's Pieces and have found ways to smuggle them into cakes, cupcakes, cookies, brownies and any other dessert that I can think of.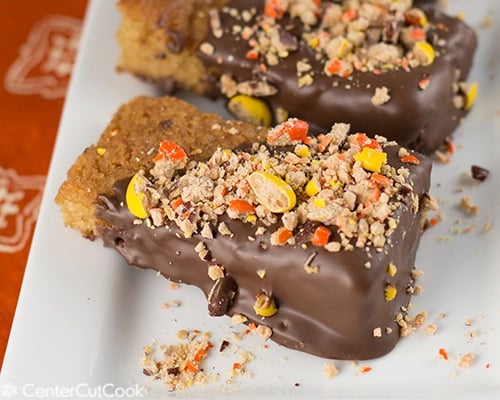 The method is simple, easy, and quick. You'll start by preparing a pan of blondies. I like to think of blondies as a blonde brownie. They are similar in consistency and texture with wonderful hints of vanilla and brown sugar. One of my favorite blondies recipes is this one for decadent Chocolate Blondie Bars!
Once the blondies are baked, they'll cool for a bit before you trim off the outer edge and cut them into bars. Then they'll get dipped in chocolate and adorned with crushed Reese's Pieces Candy! You'll get about 12 bars from one batch.
These work perfectly as a Halloween or fall treat, thanks to the colors of the Reese's Pieces, but they are fabulous any time of the year. Enjoy!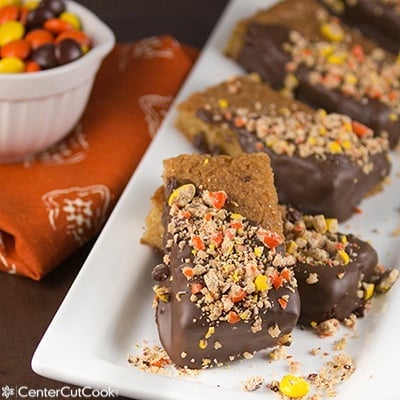 INGREDIENTS
2 cups all-purpose flour
2 1/4 teaspoons baking powder
1/2 teaspoon salt
2 cups packed brown sugar
3/4 cup butter, softened
2 teaspoons vanilla
3 large eggs
10 ounces chocolate flavored almond bark
1 cup crushed Reese's Pieces candy
DIRECTIONS
Pre-heat the oven to 350 degrees. Prepare a 13 x 9 inch pan by lining it with foil draped over the sides so that you'll be able to easily remove the bars from the pan. Spray the foil with non-stick cooking spray.
In a large bowl, combine flour, baking powder and salt.
With your mixer, cream together butter and brown sugar until light and fluffy. Add in the eggs and vanilla and mix well.
Add the dry ingredients into the wet and mix until combined.
Pour this mixture into the prepared pan and use a spatula to smooth it out. Bake for about 30 minutes, or until the blondies are golden brown and the edges have firmed up a bit.
Allow the blondies to cool completely, then lift grab on to the edges of the foil and lift the blondies out of the pan.
Trim off the outer firm edge ( about 1/2 inch or so) of the blondies, then cut the remaining portion into 12 equal bars.
Melt the chocolate flavored almond bark according to the directions on the package.
Crush 1 cup of Reese's Pieces candy.
Dip half of each blondie into the melted almond bark, coating about half of each bar on a diagonal.
Immediately sprinkle crushed Reese's Pieces onto the chocolate before it starts to dry.
Allow the bars to chill in the fridge for about 15 minutes before serving so that the chocolate can firm up.
Recipe from
CenterCutCook