This is not just an easy blondies recipe, ok? This is an Easy Blondies recipe with chocolate chips melted on top making it a cross between a blondie and a brownie. In the battle between Blondie vs. Brownie, we're not ones to tell you that brownies are better than blondies or that blondies are better than brownies. Everyone has their opinion on the matter, and that's ok. What we ARE here to tell you, however, is that brownie and blondie lovers alike will enjoy this recipe.
What is the difference between a brownie and a blondie?
What is the difference between a brownie and a blondie you ask? The answer is simple and it's one ingredient. Brownies have cocoa powder and/or chocolate and blondies do not. The rest of the ingredients are typically the same, and in similar proportions. In this recipe for Blondie Bars with Chocolate Chips melted on top, we relocated the chocolate from the base of the recipe to the top of the recipe and it's perfect!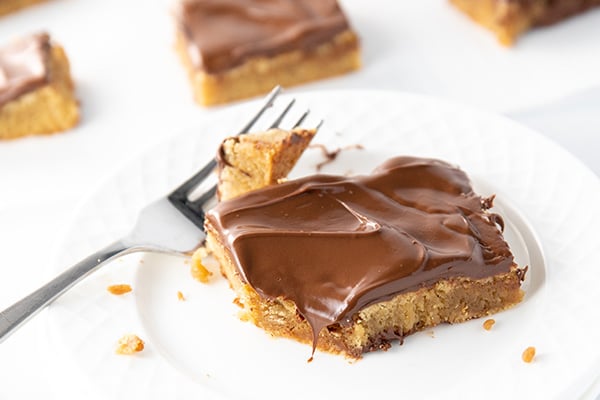 What does a blondie taste like?
A blondie tastes like a chocolate-less brownie. Except I truly believe that most things are better with chocolate, so that's why we added the chocolate back in as a frosting on top.
Ingredients for Blondie Bars
The ingredient list for making Blondie Bars is short and sweet. You'll need:
Butter – salted or unsalted. 1 stick or 8 tablespoons, melted
Brown sugar – light or dark, whatever you have on hand
Egg – 1 large egg
Vanilla Extract – 1 1/2 teaspoons
Salt – just a pinch
All-purpose flour – about 1 cup
Chocolate Chips – milk chocolate or semi-sweet, whatever your preference is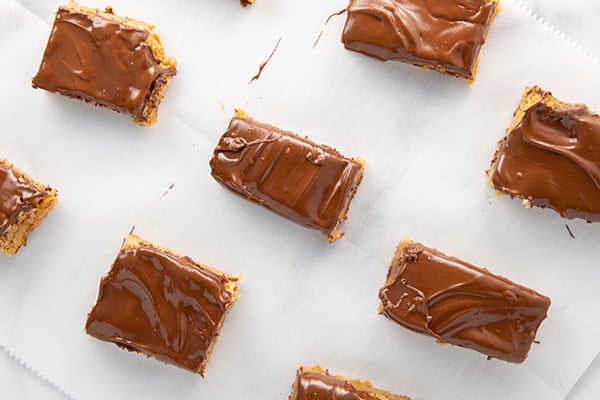 Tips and Tricks for making Blondie Bars
You'll need melted butter for this recipe. I like to melt butter in the microwave. Cut the butter into 8 pieces, place in a mug and microwave for 30-60 seconds, or until melted.
Pure vanilla extract is an essential ingredient when it comes to baking. Pure vanilla extract can be a bit pricey. Costco generally has the best deal on pure vanilla extract.
Different Blondie Bars Recipes
If you love Blondies as much as we do, you need to try these Chocolate Dipped Reese's Blondie Bars. They have Reese's Pieces on top, need I say more?
Another incredibly delicious option is these Cherry Cheesecake Blondies that combine brown butter, chewy cherries, and cheesecake to make the best blondies!
And finally, these Pumpkin Blondie Fingers are pumpkin flavored blondie bars with white chocolate chips and white chocolate topping. Such a perfect fall treat!
If you prefer brownies over blondies, don't worry, I've got you covered too! The Best Brownies are a must try along with Triple Chocolate Chewy Brownies.
When it comes to blondies vs brownies, you don't have to choose one or the other. Just go with this hybrid version — a classic, easy blondie bar with chocolate chips melted on top.
We hope you enjoy this recipe! If you make it, and we hope you do, please take a photo and share it with us on social media. Enjoy!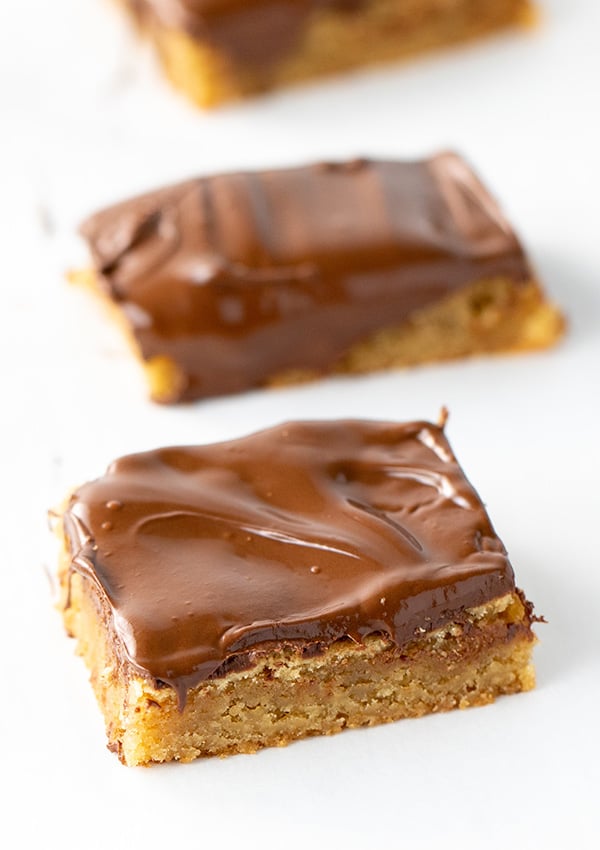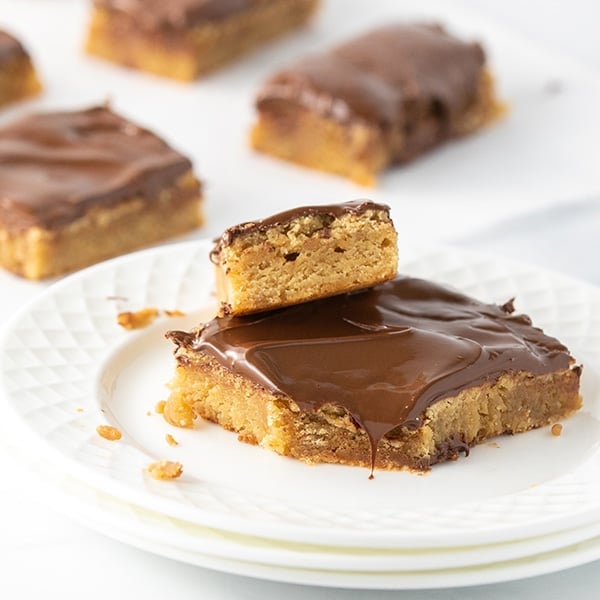 INGREDIENTS
8 tablespoons butter, melted
1 cup brown sugar
1 large egg
1 1/2 teaspoons vanilla extract
1/8 teaspoon salt
1 cup all-purpose flour
1 heaping cup milk chocolate chips or semi-sweet chocolate chips
DIRECTIONS
Preheat oven to 350 degrees F and grease an 8 x 8 baking dish.
In the bowl of your mixer combine melted butter and brown sugar. Mix until combined.
Add in egg and mix well.
Next add vanilla extract, salt, and flour and mix on medium speed until everything is blended together. Do not over-mix.
Pour into prepared 8 x 8 baking dish and bake for 23-25 minutes or until a toothpick inserted into the middle comes out clean.
Allow the blondies to rest for about 10 minutes.
While the blondies rest, melt a heaping cup full of chocolate chips in the microwave per the directions on the back of the package. When the chocolate is melted, spread it evenly over the top of the blondies.
Allow the chocolate to set completely before cutting and serving.