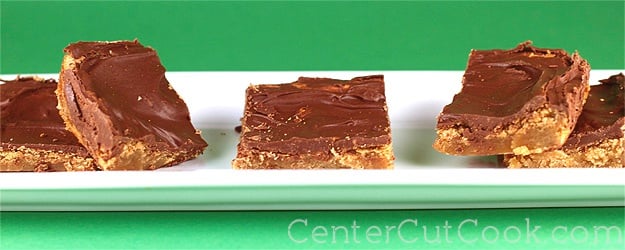 Traditional blondie bars are taken up a notch with the addition of a decadent chocolate topping!
There's certain days around here when my motto is "everything is better with chocolate." I sort of have a thing for chocolate, especially on days when things are stressful or hectic. In fact, both my husband and I have been known to just eat a handful of chocolate chips when the craving for chocolate arises. This becomes a problem when I *think* I have chocolate chips on hand for a recipe, only to find out that our occasional munching turned into eating a whole bag!
I've been wanting to make blondie bars for a while now because I've never had them before. When someone described them to me as "like a brownie, but without the chocolate" it sounded delicious, but I still wanted a little chocolate in there. My solution? Bake the blondie bars as is, and a bit after they come out of the oven, drizzle chocolate on top! It worked just as I had imagined it to, and will definitely be made again.
Note: I used milk chocolate chips for the topping, but you could also use semi-sweet chocolate chips as well. Make sure not to overheat the chocolate when you're melting it, otherwise it will clump up.
INGREDIENTS
1 heaping cup of milk chocolate or semi-sweet chocolate chips
1 stick butter
1 cup brown sugar
1 egg
1 1/2 teaspoons vanilla
1/8 teaspoon salt
1 cup all-purpose flour
DIRECTIONS
Pre-heat your oven to 350 degrees and grease an 8 x 8 baking dish.
Melt butter (I always put the butter in a mug, cut into chunks, and heat it for about 1 minute)
In the bowl of your mixer, combine melted butter and brown sugar. Add the egg and mix well.
Mix in vanilla, salt, and flour and mix until everything is blended together, but don't over-mix.
Pour into the greased 8 x 8 baking dish and bake for about 23-25 minutes, or until a toothpick inserted into the middle comes out clean.
Allow the blondies to rest for about 10 minutes.
While the blondies are resting, melt a heaping cup full of chocolate chips in the microwave, per the directions on the package. When the chocolate is melted, spread it over the top of the blondies using a spatula. Allow the chocolate to set completely before cutting and serving.