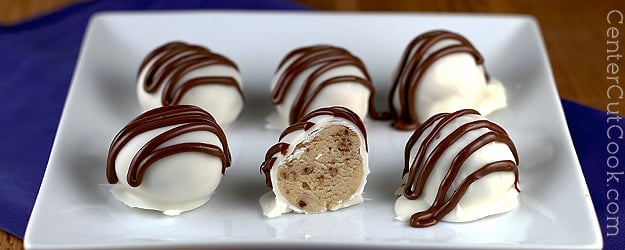 The title of this recipe may be a mouthful, but it's such a coincidence because you will definitely have a full mouth when you're uncontrollably stuffing your face with these Chocolate Peanut Butter Cookie Dough Truffles. Kiiiidding….. sort of! I trust that you'll be civilized as you enjoy these truffles. The stuffing-your-face part was a little over-the-top, no? It's definitely hard to eat just one though, so fair warning! (And if you stuff your face with these, I won't judge you, promise).
I'm all about learning lessons, and there was definitely a lesson to be learned while I was making these truffles. Sometimes when a recipe calls for softened butter, I'm too impatient to set it out on the counter and wait for it to soften up. In these instances, I pop the butter in the microwave for 5 seconds, rotate the butter, and microwave for 5 seconds more. While I was making these guys, I quickly put the butter in the microwave, pressed the 5 (for 5 seconds), and walked away. Several MINUTES later I heard the microwave STILL going and knew it was going to be a disaster. You see, my microwave has these quick start buttons. If you press 1, it'll automatically go for 1 minute. When I pressed the 5, it started for 5 MINUTES! A stick of butter only takes about a minute to melt in the microwave and that stick cooked for a solid 3 minutes before I realized it. Lesson learned: Learn how to use the microwave OR Learn to be patient and allow the butter to soften naturally! What a mess I tell ya….
Anyhow, back to these truffles. Originally they were going to be simple chocolate chip cookie dough truffles made with mini chocolate chips. My plan changed when I ran to Target to buy a few ingredients and sitting next to the mini chocolate chips was a bag of chocolate AND peanut butter chips. I'm sure Nestle has had this combo out for quite a while, but I hadn't seen it before. Given my love for peanut butter AND chocolate, can you just imagine my excitement when I saw this bag? The decision to buy was a no-brainer!
The only problem I had with this combo was that I felt like the full size chocolate and peanut butter chips would be overload for these delicate little truffles. To solve the problem, I simply placed the chips in my food processor and pulsed it a few times until I was left with smaller chunks like what you see below.
If you've ever made Cake Balls before (one of my fav. recipes!), the method is pretty much the same. You form the dough into balls, and allow them to firm up in the freezer for an hour or so, then you coat them in white chocolate, drizzle some more chocolate on top, allow them to set in the fridge for a bit, and you're good to go! These little truffles are tasty AND dangerous! Have I mentioned that there are no eggs in the cookie dough portion? This means you can eat the entire darn batch if you'd like, with no risk of getting sick!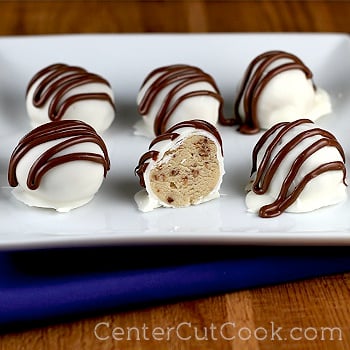 INGREDIENTS
DIRECTIONS
In a large bowl, cream together butter and brown sugar with a mixer. When smooth, add in vanilla, milk, and flour – one cup at a time.
Fold in chocolate and peanut butter chips and stir to combine.
Line a baking sheet with waxed paper. Make sure you use a baking sheet that can fit in your freezer.
Use a tablespoon of dough and roll it into a ball. Place each ball of dough on the waxed paper. You should get about 30-40 truffles.
Place the truffles in the freezer for one hour.
Melt the white almond bark and use two forks to coat each ball of cookie dough with the coating. Allow any excess coating to drip off, then place it on waxed paper.
Once all of the cookie dough balls have been coated, melt the milk chocolate, and place it in a ziplock bag. Carefully snip a small corner off the ziplock bag and drizzle milk chocolate on each truffle. At this point, you can add sprinkles if you'd like.
Place the truffles back in the fridge for about an hour, or the freezer for about 30 minutes to set.
Enjoy!
Recipe adapted from
Paula Dean