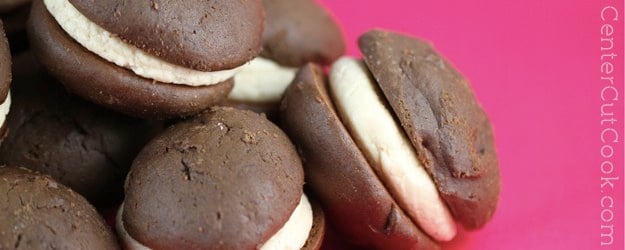 I've said it once and I'll probably say it a million more times. In our house, we LOVE peanut butter, especially my husband. Even better? Peanut butter WITH chocolate. I know that all I have to do is mention that I'm making something chocolate that involves peanut butter, like Chocolate Peanut Butter Cupcakes, and he's a happy camper.
So when my hubby decided to give me a little early Valentine's Day present and gave me the most adorable, creative valentine (He's a geek at heart and lives in front of the computer, does that help explain it? And did I mention this is a huge poster?), I knew I should probably make something to say thanks that involved chocolate and peanut butter. My solution? Homemade creamy peanut butter frosting sandwiched between two chocolate cake-like cookies, otherwise known as Chocolate Peanut Butter Whoopie Pies.
If you're looking for a little Valentine treat to share with those you love and care about, despite the fact it doesn't involve pink, red, or hearts, these Chocolate Peanut Butter Whoopie Pies will definitely do the trick.
*Note- I had quite a bit of frosting left over. You can either cut the frosting recipe in half, or double the cookie recipe.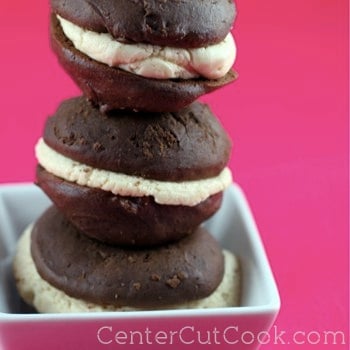 COOKIE INGREDIENTS
FROSTING INGREDIENTS
10 oz cream cheese at room temperature
1/2 cup butter at room temperature
5 cups confectioners' sugar
2/3 cup peanut butter
DIRECTIONS
Pre-heat your oven to 350 degrees.
Lightly grease two baking sheets.
In your mixer bowl, combine butter, brown sugar, sugar, baking powder, baking soda, salt, and vanilla extract. Mix well.
Add in one egg and mix until the consistency is smooth.
Mix in cocoa powder.
Add in milk.
Slowly add flour and mix until everything is combined.
If you want large whoopie pies, drop 1/4 cup full of dough onto baking sheets. If you want mini whoopie pies, use 1 rounded tablespoon of dough and drop onto baking sheets.
For large whoopie pies, bake for 15 to 16 minutes. For mini whoopie pies, bake for 11-12 minutes.
While "cookies" are baking, make frosting by combining cream cheese and butter in your mixer. Add in confectioners' sugar one cup at a time, scraping down the sides of the bowl to incorporate everything.
Add in 2/3 cup peanut butter and mix until frosting is light and fluffy.
When the cookies are done baking and have cooled, put a dollop of frosting on the middle of the flat side of the cookie. Take another cookie and sandwich the frosting to create the whoopie pie. Use as much or as little frosting as you'd like. We like extra frosting and used a good tablespoon+ for each mini whoopie pie.
Recipe adapted from
King Arthur Flour