With summer right around the corner, I find myself trying to think of fresh, healthy salad ideas. Not only am I looking for salad ideas, I am looking for salad dressing ideas that are top notch too! Today I'm excited to share this Thai Chopped Salad with you. It's paired with a peanut ginger dressing that is light, yet refreshing, and worked perfectly for this salad!
This salad is a bit labor intensive as far as salads go, I think it took me about 30 minutes to get everything assembled, which for a salad, is longer than I am typically used to. However, it is worth every bit of preparation to enjoy the flavors that you'll enjoy with each bite.
You'll start by prepping the dressing which consists of all kinds of yummy ingredients like peanut butter, fresh ginger, rice wine vinegar, and garlic. I used my food processor for the dressing, which was really helpful. If you don't have a food processor, a blender works well too.
Next you'll need to prep the chicken. Either grill 2 boneless skinless chicken breasts and chop them up, or take a shortcut and use rotisserie chicken from the grocery store. Toss about 1 and 1/2 cups chicken with a few tablespoons of salad dressing and place in the fridge to chill.
Start with a bed of romaine lettuce, about 4 cups worth. I bought a large head of romaine and chopped it up, which yielded 4 cups.
Next, you'll thinly slice some cabbage. You will need about 2 cups of cabbage which was half a head of cabbage for me.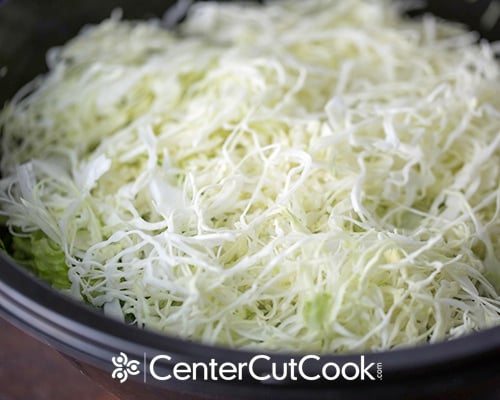 Cook about 6 ounces spaghetti. I used Barilla's whole wheat spaghetti here. When the spaghetti is done cooking, drain it, then stir in about 6 tablespoons of salad dressing and place it in the fridge to chill for a bit.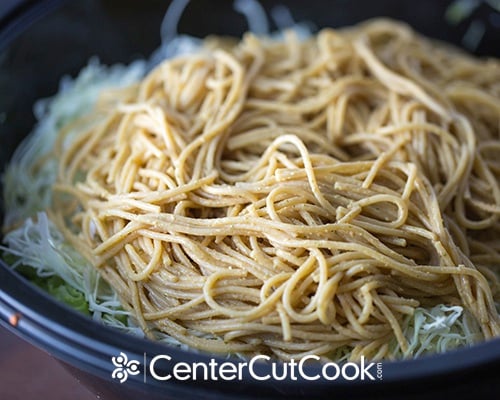 Prep the veggies! I used thinly sliced cucumber, carrots, red bell peppers, and green onions.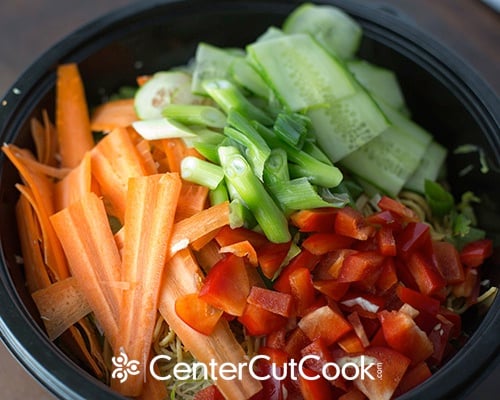 Top the salad with the chilled chicken, and some crushed peanuts if you wish (not pictured). At this point, even though the salad looked super beautiful, and I just wanted to look at it instead of eat it, I mixed it all together and tossed in some dressing. Feel free to mix the dressing in, or serve it alongside the salad.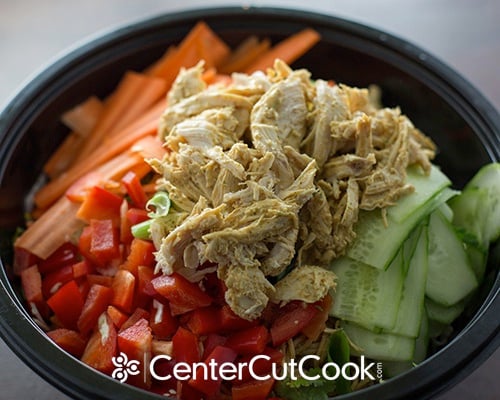 We ate this Thai Chopped Salad as a simple supper and it was healthy and delicious! There's nothing better than a meal that tastes good, looks good, and is good for you!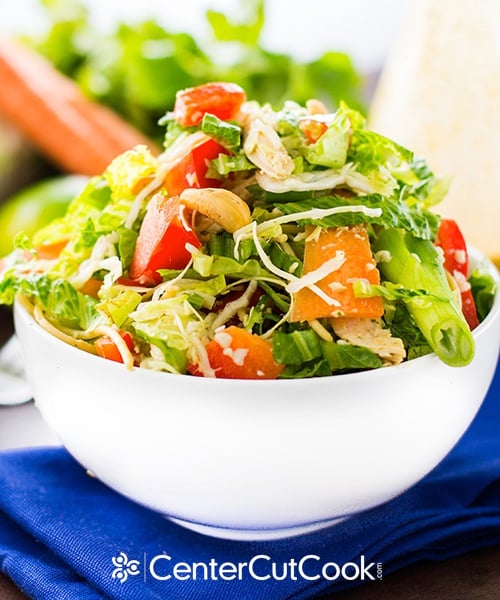 This is a great salad for entertaining because it's such a beautiful presentation! Another salad I am looking forward to making this summer is this Southwestern BBQ Chicken Salad. Yummy!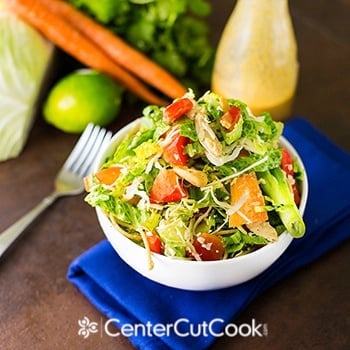 DRESSING INGREDIENTS
1/2 cup rice vinegar
1/3 cup creamy peanut butter
2 tablespoons apple cider vinegar
2 tablespoons honey
1 tablespoon hot sauce
2 teaspoons soy sauce
Juice from 2 limes (about 1/4 cup)
3 cloves garlic
2 teaspoons grated fresh ginger root
1/4 cup fresh cilantro
SALAD INGREDIENTS
1 1/2 cups chopped cooked chicken
4 cups romaine lettuce, chopped
2 cups cabbage, thinly sliced
3 whole carrots, thinly sliced
1 english cucumber, thinly sliced
3 green onions, thinly sliced
1 red bell pepper, chopped
6 ounces cooked spaghetti
Handful of fresh cilantro leaves for garnish
Chopped peanuts for garnish
DIRECTIONS
In your food processor, combine all dressing ingredients until well combined.
In a small bowl, combine 1 and 1/2 cups cooked chicken with a few tablespoons of dressing. Chill in the fridge.
Cook 6 ounces of whole wheat spaghetti, according to package directions. When cooked, drain, then toss the cooked spaghetti with about 6 tablespoons of dressing. Chill in the fridge.
Chop up 4 cups lettuce, 2 cups cabbage, 3 carrots, 1 english cucumber, 3 green onions, 1 red bell pepper, a handful of cilantro, and peanuts for garnish.
Arrange the salad in a large bowl as follows: romaine lettuce, cabbage, pasta tossed with dressing. Arrange carrots, red bell pepper, green onions, and cucumber.
Top with chicken tossed with dressing.
Sprinkle cilantro and chopped peanuts over the top of the salad.
Immediately before serving, toss the salad with more dressing (use as much or as little as you'd like) or serve the dressing alongside the salad.
Recipe from
CenterCutCook