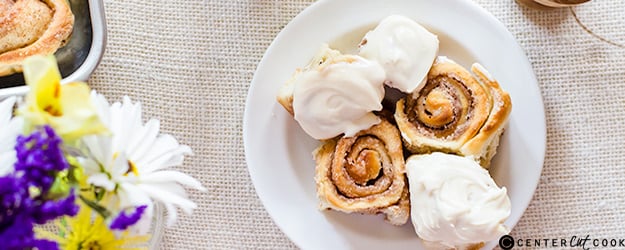 I don't think I've ever met a person who doesn't like cinnamon rolls. What's not to love a soft, pillow swirl of bread encasing gooey, buttery slightly caramelized cinnamon sugar and topped with a warm vanilla icing. I love making mini cinnamon roll bites because sometimes I just want to be able to pop them in my mouth. Plus, they are just so cute.
You can use any of your favorite cinnamon roll recipes and cut them into cinnamon roll bites, but you are going to want to make these because these rolls are melt-in-your-mouth good. One bite and you are immediately transported to all your favorite childhood memories.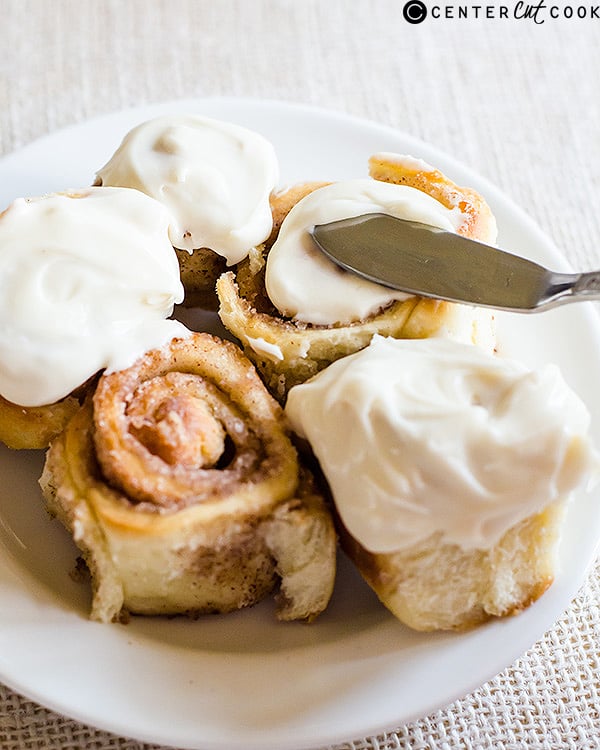 The best part is that you can make the dough the night before so you don't have to wake up three hours before everyone. Just be sure to keep the dough in an air tight container that has enough room for it to rise. You can also choose to use active dry yeast or quick rise yeast. I prefer and recommend active dry yeast, but quick rise, as you may have guessed, helps the dough rise faster during the first proof. Therefore you need to spend less time in the kitchen which is always a good thing. Just read through the instructions carefully to get the appropriate rise times for using quick rise yeast.
I prefer to make my cinnamon roll bites similarly to regular rolls, just smaller, but a lot of people also like to use mini muffin tins. Do what is easier for you! I find putting them together in a baking pan works best for me. It does require a longer baking time, but I love how it makes the sides of the cinnamon roll bites so much softer and melt-in-your-mouth. The mini muffin tins require a shorter baking time, but you also have to check them often and it tends to make the sides a little more sturdy. If you plan on making these rolls for a crowd, the recipe is easily doubled, tripled, and even quadrupled if you have a big enough mixer!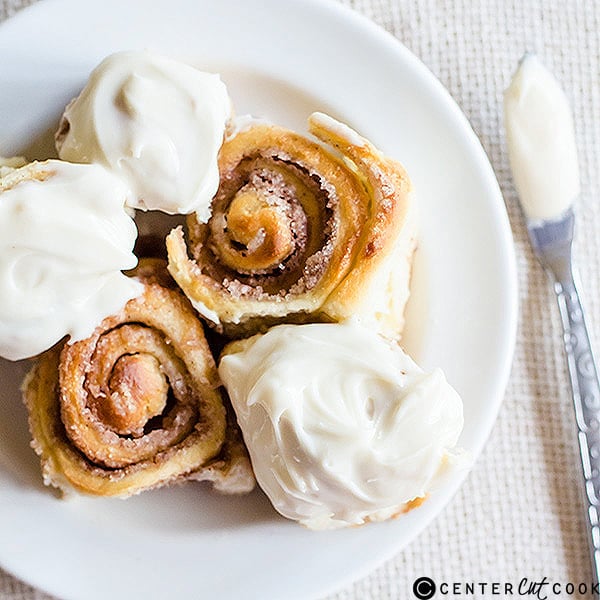 INGREDIENTS
2 1/2 cups all-purpose flour
1/2 teaspoon salt
1/2 cup warm milk
2 1/4 teaspoons active dry yeast (or active dry yeast )
1/3 cup granulated sugar, for dough
4 tablespoons softened unsalted butter, for dough
1 large egg, room temperature
1/3 cup, plus 1/4 cup granulated sugar, for filling
3 tablespoons unsalted butter, melted for filling
1 tablespoon ground cinnamon
1 1/2 cups powdered sugar
2 tablespoons softened cream cheese
2 tablespoons heavy cream
1/2 teaspoon vanilla extract
DIRECTIONS
Mix together the flour and salt in a medium bowl, set aside
In a mixer, add the milk, yeast, and sugar, Stir to combine. If using active dry yeast, leave to proof for 5 minutes.
Add the butter and egg into the yeast mixture and mix to combine.
Mix in the flour mixture and mix until combined.
Knead the dough using a dough hook for 10 minutes. If you do not have a dough hook, transfer to a floured surface and hand knead for 10 – 15 minutes.
Lightly oil a bowl and place the dough into the bowl, then cover with plastic wrap. Leave in a warm, dry area for one hour if using active dry yeast (30 minutes for quick rise yeast). If you want to make the rolls ahead of time, leave in the refrigerator overnight.
Flour a flat surface and place the dough on your surface. Divide into two equal pieces. Roll out each piece until it is about 12″ x 14″ (it doesn't have to be accurate). If you left the dough in the refrigerator overnight, you may need to let it warm to room temperature for 5 – 10 minutes.
Brush both rectangles with butter. Mix together the sugar and cinnamon together for the filling and spread over the butter.
Roll each rectangle lengthwise as tight as you possibly can. Lightly grease mini muffin tins, or line a 9 x 9 baking pan with parchment paper. Cut the rolls about 3/4 inches thick and place either in the muffin tin or alongside each other in the baking pan. Cover loosely with greased plastic wrap and allow to rise for 30 minutes. While the rolls are rising, preheat the oven to 400 degrees F.
Remove the plastic and bake. If using the muffin tins, this will take about 10 – 15 minutes. If using a baking pan, this will take about 15 – 18 minutes. After the first 10 minutes, you will want to start checking them. They should be puffed and golden brown at the tops.
While the rolls are baking, mix together the powdered sugar and cream cheese, then slowly begin to incorporate the heavy cream and vanilla.
Remove the cinnamon roll bites and allow to cool before drizzling with the icing.