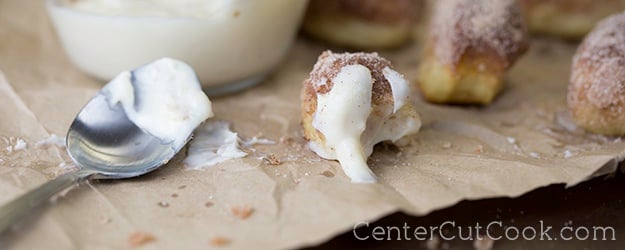 A couple of weeks ago, Ryan and I found ourselves in the mall, standing in line for….. an Auntie Anne's pretzel! It has literally been years since either of us have indulged in a pretzel from there. These days they have so many more choices, and all kinds of dips. Despite all of our options, we went with our old stand-by, the same pretzel we'd get when we made regular trips to the mall when we first started dating in high school…. the cinnamon sugar pretzel.
Now, I'm no stranger to making pretzels at home. In fact, this recipe for Buttery Mini Soft Pretzel Bites is a favorite! Yet, for whatever reason, I haven't ever tried making the cinnamon sugar variation. After our trip to Auntie Anne's, I added "Cinnamon Sugar Pretzel Bites" to my never-ending list of recipes to try.
I started with my original recipe for the classic buttery version as a guide to help me with these. You'll start by making the dough which simply consists of flour, salt, sugar, instant yeast, and warm water. After kneading the dough until it's smooth, you'll form it into a ball and let it rise for about 30 minutes.
Then you'll divide the dough into four equal sections and roll each section until it's about 8 inches in length like what you see here: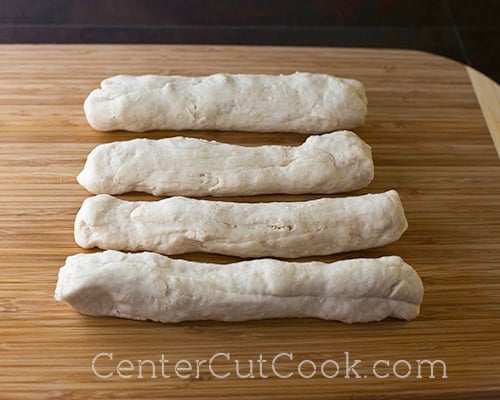 Now it's time for you to make the bites! Cut each of the four ropes into 8 equal pieces so that you end up with 32 pretzel bites.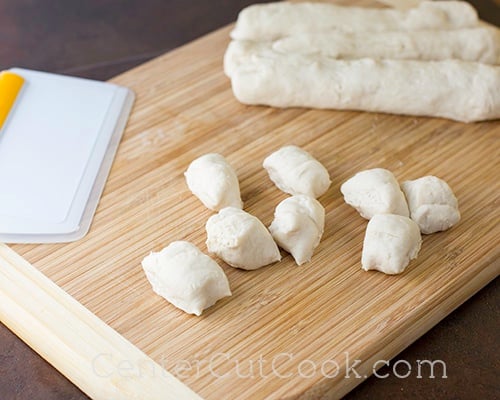 This is one of the most important parts! The pretzel bites need to take a quick dip in a pool of water that has been mixed well with baking soda. I used a whisk to combine the water and baking soda in a small bowl, then transferred it to a shallow cake pan like what you see below. All of the pretzel bites will go into the water for about a minute, then you'll flip them and let the other side soak in water.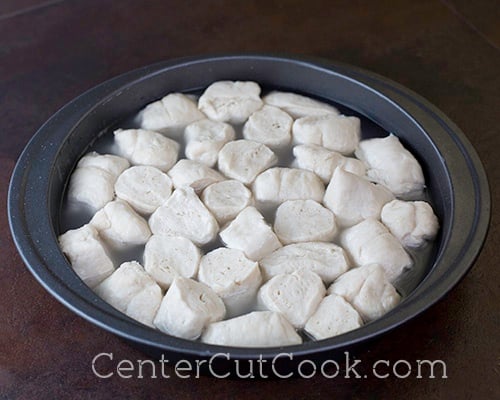 Arrange all of the bites on a greased baking sheet, making sure that they don't touch. Notice I wasn't aiming for perfection here! Despite the fact that my bites weren't all uniform, they still turned out perfect. At this point, once they're on the baking sheet, you'll want to let them rest for about 5 minutes.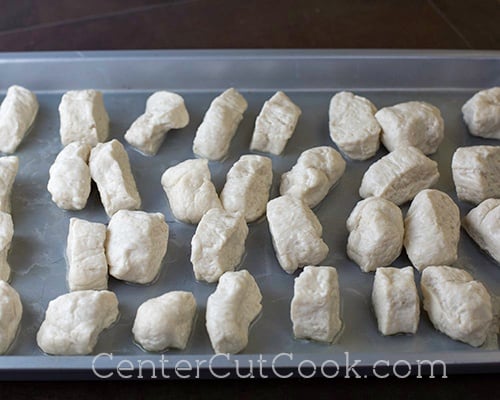 Into the oven they'll go for about 10-11 minutes. They'll get cooked at a high temp of 475 degrees, so they cook quick!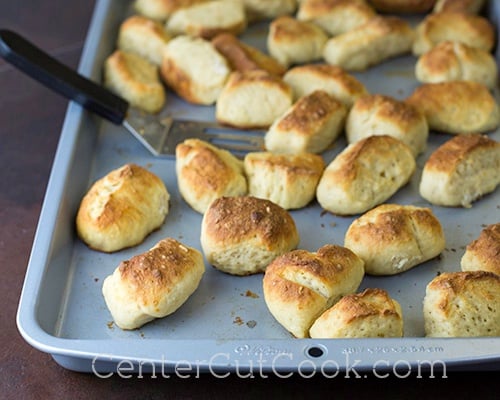 Once they're beautiful, and golden brown, it's time to melt a little butter and combine some cinnamon and sugar. You'll need about 4 tablespoons of melted butter. 1 minute in the microwave does the trick here. In a small bowl you'll combine 1/2 cup sugar with 1 teaspoon cinnamon. Line a baking sheet with wax paper, then begin dipping one side of each pretzel bite in butter, then in the cinnamon sugar mixture. Mmmmm mmmm!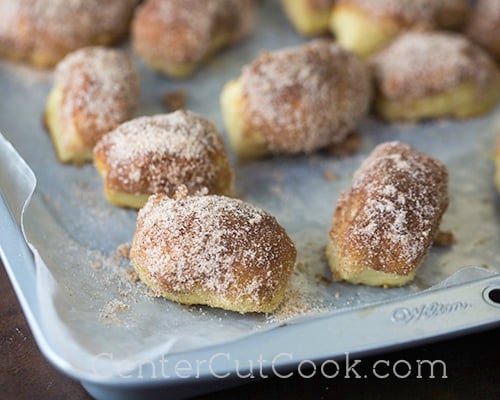 Finally it's time for the cream cheese dip which is sort of a necessity with these cinnamon sugar pretzel bites! All you'll need is 2 ounces softened cream cheese, a tablespoon of butter, about 1/2 cup confectioners sugar, and 1-2 tablespoons of milk, depending on your desired consistency. You'll cream the butter and cream cheese together, then add in the confectioners sugar, and finally a little milk.
The result is just fantastic! You'll get about 32 pretzel bites out of this recipe. The dip will go quick! If you tend to use a lot of dip with each pretzel bite, you'll want to double the recipe for the cream cheese dip. Soft yet chewy, sweet, and pairs perfectly with cream cheese dip! Enjoy!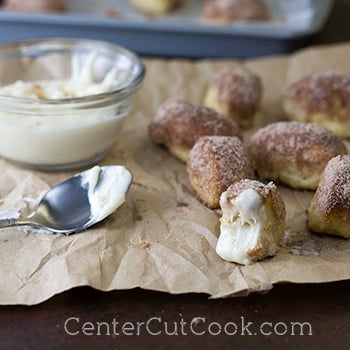 PRETZEL DOUGH INGREDIENTS
TOPPING INGREDIENTS
1 cup very hot water
2 tablespoons baking soda
4 tablespoons melted butter
1/2 cup sugar
1 teaspoon cinnamon
CREAM CHEESE FROSTING INGREDIENTS
2 ounces softened cream cheese
1 tablespoons butter, softened
1/2 cup confectioners sugar
1 tablespoons milk
DIRECTIONS
With your mixer, combine flour, salt, sugar, and yeast. Then add in 1 cup warm water and mix until well combined. You could also do this by hand or use a food processor. Knead the dough until it is smooth.
Sprinkle flour in the bottom of a bowl. Place the dough in the bowl and cover it. Allow it to sit for about 30 minutes to rise.
Knead the dough for 30 seconds to 1 minute. Divide the dough into 4 equal sections. Form each section into strips about 8 inches long and about 1 inch wide. Cut each strip into 8 pieces so that you have 32 pretzel bites.
Pre-heat your oven to 475 degrees.
In a shallow dish combine one cup of very hot water with 2 tablespoons baking soda. Whisk well to combine.
Place pretzel bites in the water/baking soda mixture and allow to site for one minute. Then flip the pretzel bites and allow to sit in the mixture for one minute longer. Arrange the pretzels on a greased baking sheet.
Allow the pretzel bites to rest for about 5 minutes, then place them in the oven for 10-11 minutes, or until the pretzel bites are nice and brown.
While the pretzel bites are baking, melt 4 tablespoons of butter (1 minute in the microwave does the trick) and in a small bowl combine 1/2 granulated sugar with 1 teaspoon cinnamon. Dip each pretzel bite in butter, then in the cinnamon sugar mixture.
With your mixture, cream together cream cheese and butter. Add in confectioners sugar and mix until smooth. Add in 1-2 tablespoons of milk depending on your desired consistency.
Serve pretzel bites with cream cheese frosting on the side.
Recipe from
CenterCutCook