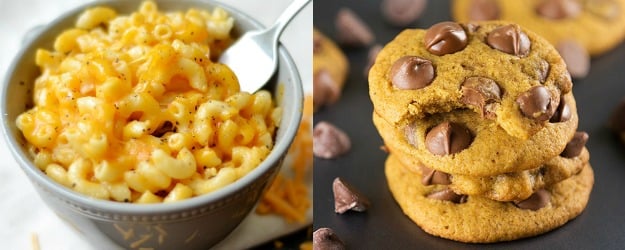 I put together this meal with the kids in mind! But who doesn't like mac n' cheese? And pumpkin chocolate chip cookies? This quick and easy dinner idea is delicious and not only will the kids love it, you will too whether you're 30 or 80!
There's no need to stop at the drive-thru on the way home from work to get dinner. Make this super simple, super quick Instant Pot Mac N' Cheese.
Did you catch our Dinner Club debut last week where I shared the perfect fall meal? I'm back for week 2 of CenterCutCook.com's dinner club.
On the menu this week is Instant Pot Mac N' Cheese. Mom guilt always kicks in when I'm making Mac N' Cheese, so I try to serve some other yummy things alongside it so that Miles isn't just eating a bowl of Mac N' Cheese for dinner and nothing else. But let's be real, that happens sometimes too! ;)
To keep things super simple, I'll pick up a rotisserie chicken from the grocery store. My favorite place to get a rotisserie chicken is Costco. They're priced super reasonable and they always taste the best.
Whenever I'm looking for a healthy, simply side dish for dinner, I always turn to fruit. I'll cut up some fruit while the Instant Pot is working its magic and then dinner is ready to go.
For dessert, you HAVE to make these Pumpkin Chocolate Chip Cookies. They are SO perfect for fall and so yummy.
Click each of these links to get all of the recipes you'll need to make this meal:
2. Buy a rotisserie chicken OR make my Roasted Chicken
3. Cut up fruit – here's my handy guide for How to cut up a pineapple
4. Make these Pumpkin Chocolate Chip Cookies
Remember, if you make this meal for your family, please take a picture and tag it on Facebook or Instagram using the hashtag #CCCDinnerClub
Have a great week, I'll see you next time!
xxoo,
Ashley