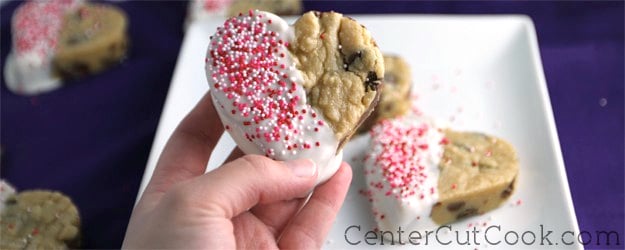 It seems as though Valentine's Day is the one day out of the year that it is acceptable to be a little cheesy. At least that's the way it works around here. We typically don't like to spend a lot of money on a Hallmark holiday, but we do like to acknowledge it, even if it's with a gigantic poster. I decided to extend Valentine's Day into 7 days this year, and surprise my husband with a little treat or gift for the 7 days leading up to Valentine's Day. Most of it is on the cheesy side, but if it involves food or a back massage, he won't mind!
For the first day, I decided to make his favorite chocolate chip cookies cut into hearts. And thanks to an idea from a friend (Thanks Chloe!), I increased the awesome factor by dipping half of the cookie in white chocolate and added sprinkles. They turned out pretty cute, but I might be a little biased. The whole idea behind giving him cookies was that they were all for him, every single one of them, and he didn't have to share. He insisted though. :)
To make these heart shaped cookies, I began by baking my favorite recipe for chocolate chip cookie bars in a 9 x 13 inch pan. Then I used a cookie cutter to carefully cut out hearts, dipped them in chocolate, topped them with sprinkles, put them in a plastic bag, made a little sign, and called it a day. Unfortunately I don't know the source for my chocolate chip cookie bar recipe, I've had it written on a worn recipe card for years.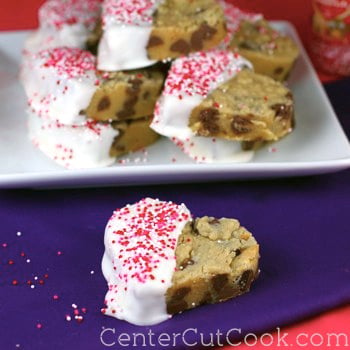 INGREDIENTS
1/2 cup butter, softenend
1/2 cup shortening
3/4 cup sugar
3/4 cup packed brown sugar
2 eggs
1 teaspoon vanilla
2 1/2 cups flour
1 teaspoon baking soda
1 teaspoon salt
2 cups (1-12 ounce bag) semisweet or milk chocolate chips
1 package white chocolate or vanilla almond bark
sprinkles
DIRECTIONS
Pre-heat oven to 375 degrees.
Grease a 9 x 13 inch pan.
In the bowl of your electric mixer, combine butter, shortening, sugar and brown sugar. Beat for 3 minutes.
Add in eggs and vanilla and beat for an additional 2 minutes.
Turn the speed to low and add in flour, baking soda and salt. Scrape down the sides of the bowl as you go.
Fold in chocolate chips until they are distributed throughout the dough.
Spread dough into the baking dish.
Bake for 15-20 minutes. I usually bake for around 15 minutes because we like our cookies on the softer side.
Allow to cool completely. If you want to eat the chocolate chip cookie bars as-is, stop here. If you want to turn them into dipped chocolate chip cookies, continue on.
Place the pan of cookies in the freezer for about 10 minutes. This will make cutting them out and dipping them easier.
Cut out cookies using a cookie cutter and place on wax/parchment paper.
Melt white chocolate according to the directions on the package.
Take one cookie at a time and hand dip into the white chocolate, covering half the cookie.
Immediately top with sprinkles.
Allow the chocolate to set for a few minutes.
Enjoy!