When I think of stroganoff, I'm instantly brought back to my childhood days of requesting Beef Stroganoff from my grandma any time I'd sleepover at her house. Beef stroganoff defines comfort food for me. While this Slow Cooker Beef Stroganoff recipe is a favorite, I thought I'd share another favorite with you, this Easy Chicken Stroganoff made in a skillet!
Most of the chicken stroganoff recipes I've come across are made in the slow cooker with cream of mushroom soup. I wanted something that could be made on the stovetop in 30 minutes or less, with a delicious sauce that didn't include the cream soup. I wanted something a little on the healthy side, a little lighter in calories, but not lacking in flavor. Thankfully, this recipe for quick and easy Chicken Stroganoff fits the bill!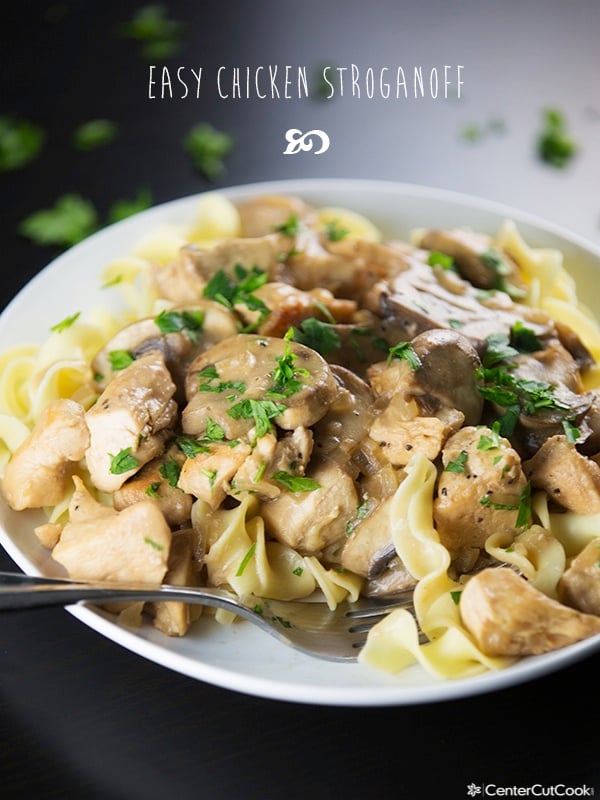 The sauce consists of simple ingredients, and like I mentioned, no cream soup. All you'll need is a little chicken broth, worcestershire sauce, a splash of balsamic vinegar, and to add a little creaminess, sour cream or greek yogurt. It's the perfect simple, light, sauce for this chicken stroganoff recipe!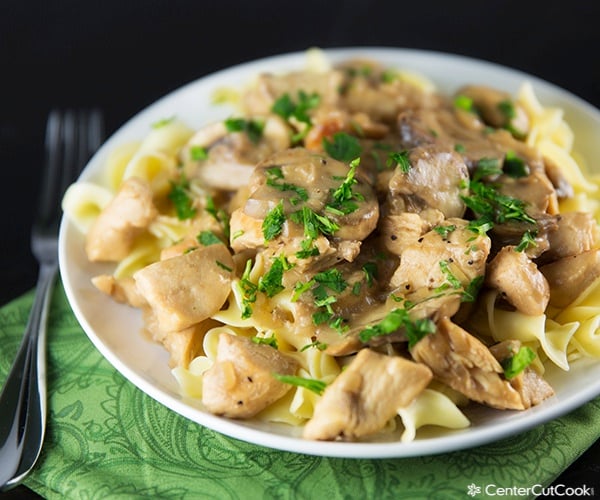 My favorite part about this recipe are the fresh mushrooms! Feel free to leave those out if you don't like them, but they are tender and delicious and I'd definitely recommend using fresh mushrooms over the canned variety.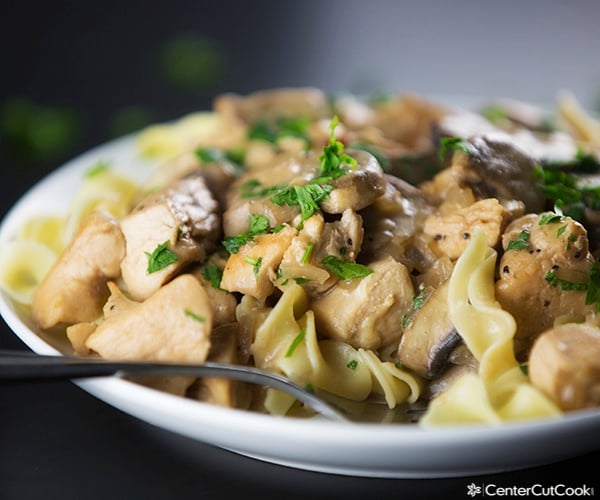 Of course, stroganoff, whether beef or chicken, would not be the same without the egg noodles. I always buy the extra wide no yolk egg noodles to serve with this. Sometimes I mix the noodles with the chicken sauce while other times plate the noodles and add the sauce on top. Either way, you can't go wrong.
Ready in under 30 minutes, this is a meal your whole family will enjoy!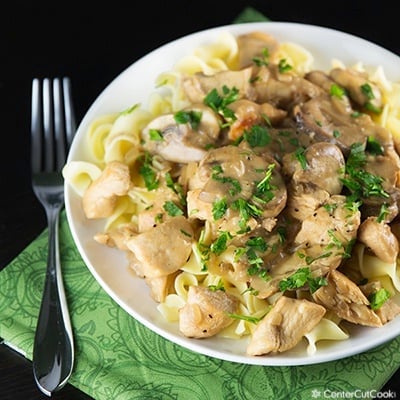 INGREDIENTS
12 ounces wide egg noodles, cooked according to package directions
1 small yellow onion, finely chopped
8-10 ounces mushrooms, cleaned, stems removed, sliced
1 tablespoon olive oil
1 tablespoon butter
1 pound boneless skinless chicken breasts cut into small chunks seasoned with salt, black pepper, and garlic powder
2 tablespoons all-purpose flour
1 cup chicken broth
1 tablespoon worcestershire sauce
1 tablespoon balsamic vinegar
1/2 cup sour cream or plain Greek yogurt
Chopped fresh parsley for garnish
Additional salt and pepper to taste
DIRECTIONS
Cook egg noodles according to package directions.
Heat 1 tablespoon olive oil over medium high heat. Add in finely chopped onion and mushrooms and sauté for about 5 minutes, or until the onions and mushrooms are tender. Remove the veggies from the pan and set aside.
Melt 1 tablespoon butter over medium-high heat. Add in chicken chunks and cook for 5-7 minutes, until the juices run clear and the chicken is cooked through.
Sprinkle 2 tablespoons flour in the pan.
Add in 1 cup chicken broth, 1 tablespoon worcestershire sauce and 1 tablespoon balsamic vinegar. Stir to combine and whisk out any flour clumps. Bring to a gentle simmer and cook until the sauce starts to thicken, about five minutes.
Add mushrooms and onions back in. Reduce heat to low. Stir in 1/2 cup sour cream or plain Greek yogurt.
Season to taste with additional salt and black pepper.
Garnish with chopped fresh parsley and serve over egg noodles.
Recipe from
CenterCutCook