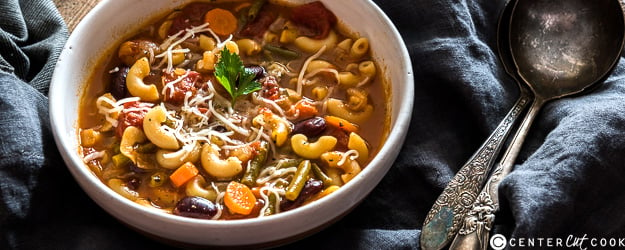 If you want to follow a healthy diet and get fit, cooking soup for dinner is one of your best options.
A well designed soup recipe will be super easy to prepare and will take no effort to cook. It will make veggies taste so good that you'll devour several servings of them within minutes. The soup will fill up your stomach quickly, so you'll feel full and satisfied without taking in too many calories. It's also well-balanced in nutrition, with vitamins, fiber, protein, and a small amount of carbs. So you can serve it as a one-dish meal in 30 minutes. Isn't it amazing?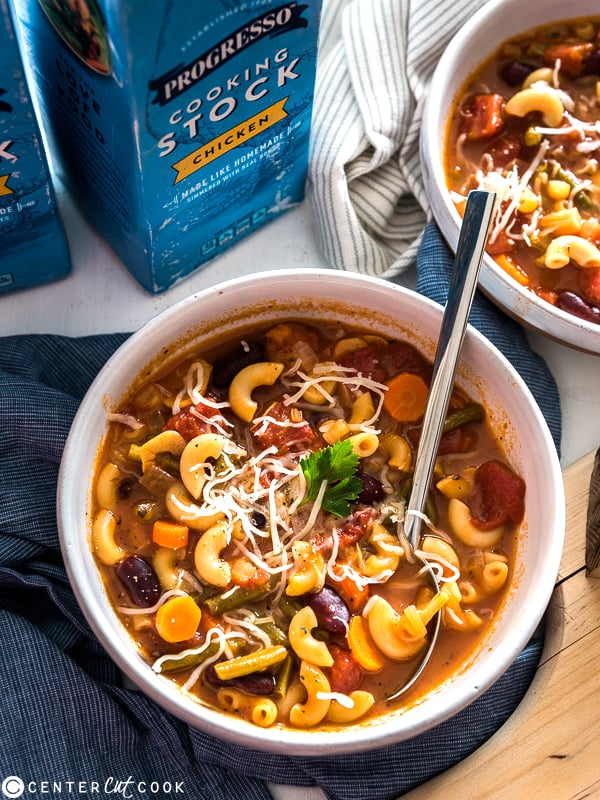 Today I want to teach you the laziest way to cook a classic Minestrone soup without compromising on flavor. It includes 15 minutes of active cooking, and your dinner will be ready in 30 minutes.
Let's look at the work flow:
Chop the onion, celery, and garlic. (use a chop wizard to make this step even faster)
Heat olive oil in a pan and add the three ingredients we just cut. Cook and stir occasionally, for 4 minutes.
Open the cans of tomato, tomato paste, green beans, and kidney beans.
Add diced tomato, tomato paste, and herbs into the pot. Cook until it starts to bubble, 2 to 3 minutes.
Add Progresso chicken stock and bring to a boil.
Wash, peel, and slice carrot while heating up the stock.
Add the rest of the ingredients and cook for 10 minutes.
How easy!
Why does this easy version work?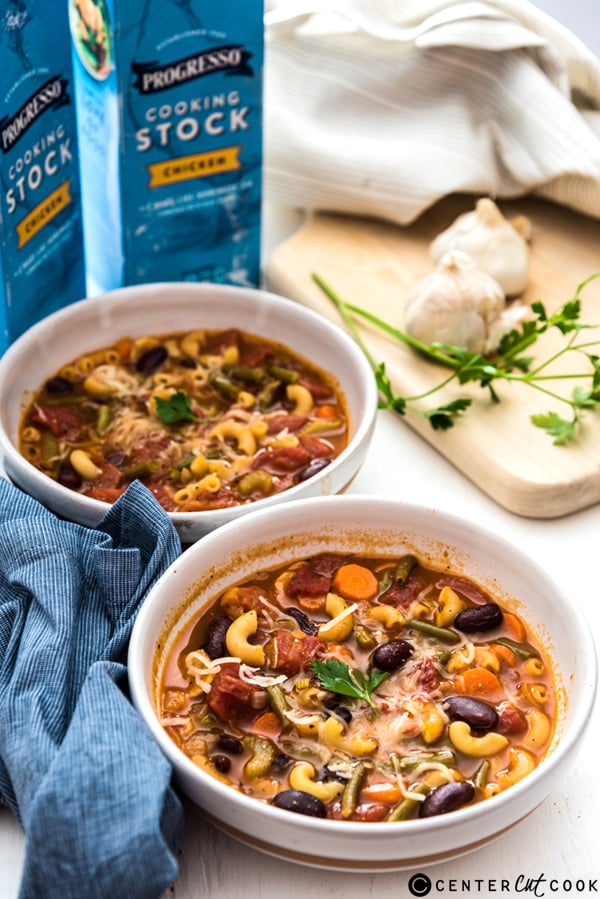 A lot of minestrone soup recipes require you to saute the vegetables first, which takes a long time. But in fact, you can skip this step without compromising the flavor. Because you're cooking a ton of veggies with little oil and mild heat, the saute process won't add much value to the soup. In this recipe, I gently cook the diced tomato and tomato paste instead, so it releases a rich aroma and creates a very hearty soup base within minutes. All the veggies, beans, and pasta will be cooked through at the same time without any problem.
Right before serving, I love to scatter a thick layer of shredded mozzarella cheese on the soup (instead of parmesan cheese). It makes the soup almost as rich and cheesy as lasagna soup, only healthier!
Also, Progresso has teamed up with Food Network to offer a chance to win $5,000 in a Fresh & Easy Recipe Contest. All you have to do is submit a recipe using your favorite Progresso soup or stock!
Happy cooking!
This is a sponsored conversation written by me on behalf of Progresso. The opinions and text are all mine.
INGREDIENTS
2 tablespoons extra virgin olive oil
1 onion, diced
2 stalks celery, sliced
4 cloves garlic, sliced
28 oz. can no-salt-added diced tomato
6 oz. can tomato paste
1 teaspoon dried oregano
1 teaspoon dried basil
64 oz. (2 boxes) Progresso chicken stock
2 carrots, peeled and sliced
14.5 oz. can cut green beans
15 oz. can kidney beans, drained
1 cup elbow pasta
Salt and black pepper to taste
1/2 to 1 cup shredded Mozzarella cheese (or 1/3 cup finely grated parmesan cheese)
DIRECTIONS
Heat the olive oil in a 6-quart pot over medium heat. Add onion, celery and garlic. Cook and stir until the onion turns translucent, 4 to 5 minutes.
Add diced tomato, tomato paste, oregano, and basil. Cook and stir until the tomato starts to bubble.
Add Progresso chicken stock. Cook over high heat until boiling.
Turn to medium heat. Add carrot, green beans, kidney beans, and pasta. Cook until the pasta and vegetables are tender, about 10 minutes. Taste the soup carefully and adjust the seasoning by adding salt. If the soup tastes too sour for you, you can add 1 to 2 teaspoons sugar to balance the flavor.
Right before serving, transfer soup into bowls, scatter with mozzarella cheese (or parmesan cheese), and grind black pepper on top. Enjoy!
Recipe adapted from
Ellie Krieger