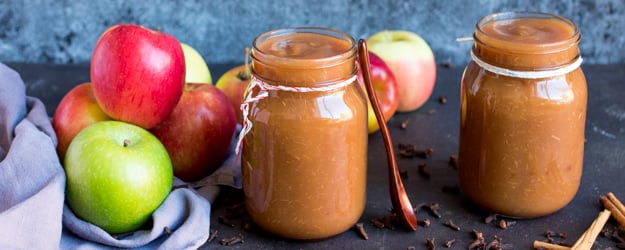 Apple Sauce and apple butter are always crowd please, but especially so during apple picking season. This recipe for Easy Stovetop Apple Butter is truly so easy but more importantly, so delicious.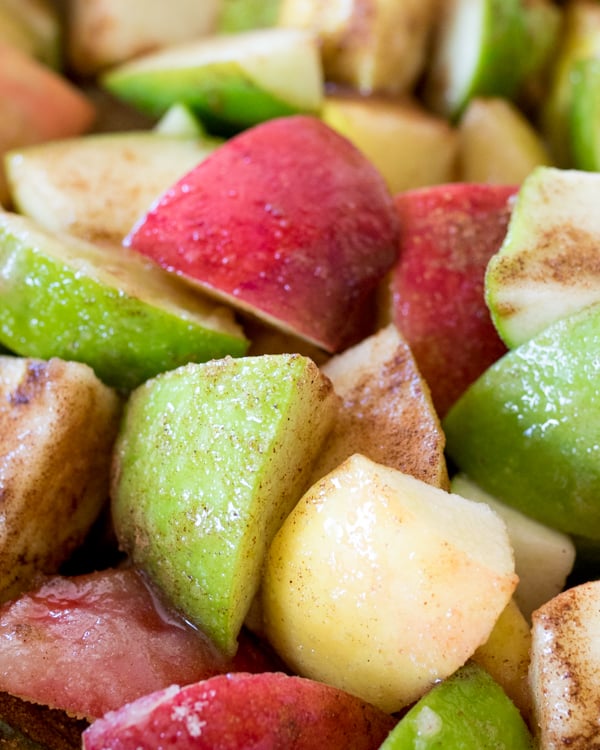 What is Apple Butter?
Did you know that Apple Butter is really just concentrated applesauce? It's apple sauce's richer, spicier, thicker cousin.
How Do I Make Apple Butter? Can I make it in the slow cooker?
There are a variety of ways that you can make Apple Butter including in your slow cooker which we sometimes do but you can also make it on the stovetop which is the recipe we are sharing today. The stovetop version is nice because its' a bit faster, although you do have to keep an eye on the pot as it cooks on the stove.
When you make Apple Butter on the stove, it will take about two hours to get that lovely thick consistency. At that point, after a short cooling time, you will blend it straight in the pan with an immersion blender.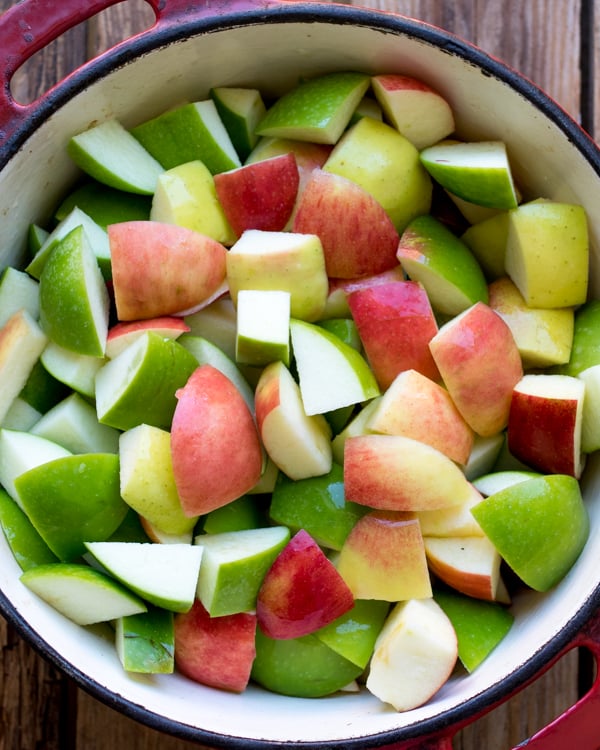 Do I have to peel the apple?
Some recipes call for keeping the peel on and others remove the peel. We do not generally peel the apples because we like the speckled appearance of the butter if the skins are left on. Not only that, but it saves time and effort making it even easier.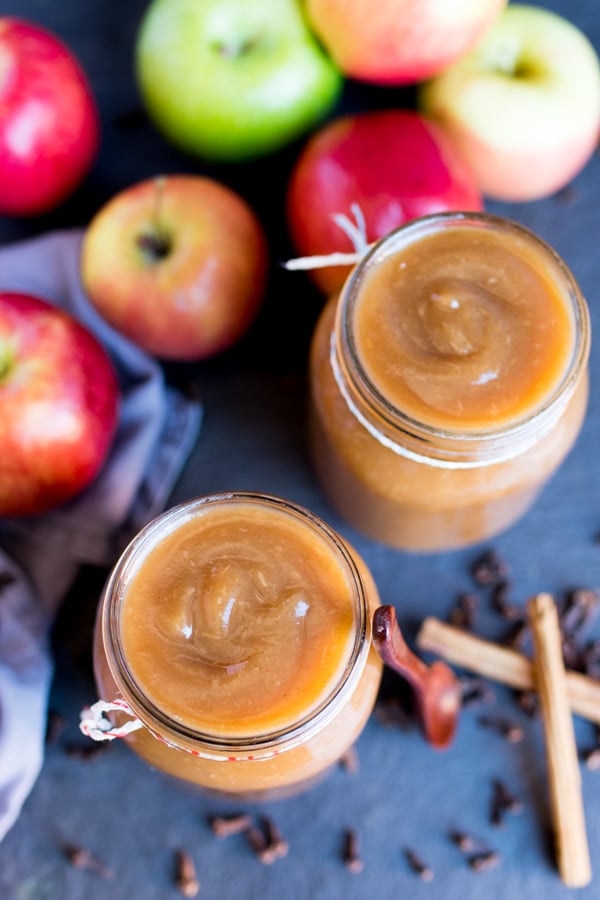 What can I use Apple Butter for?
Apple Butter is delicious with a spoon right out of the jar! But it's also so delicious on toast and pancakes (Like our Applesauce Pancakes!) and we've even been known to spread it on these Baked Apple Cider Donut Holes which is always a great idea.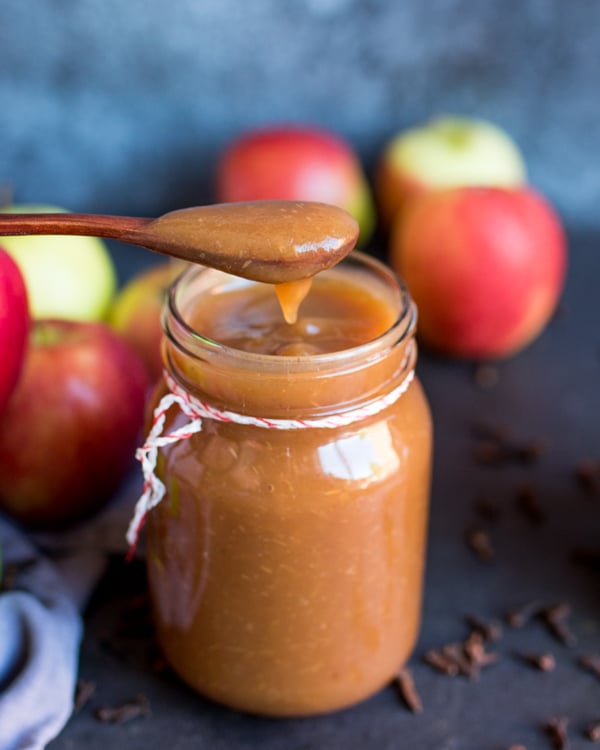 While you can buy apple butter in the grocery store, it always tastes so much better fresh and is such a great way to use up some of those apples you picked at the apple orchard.
Please note: Apple Butter is not actually made of butter. In fact, there is no butter in the recipe! It got its name from the smooth, buttery consistency — it's smooth like butta'! :)
This recipe is always a staple in this house come fall, and I have a feeling once you try it, it'll be a staple in your house too. Enjoy!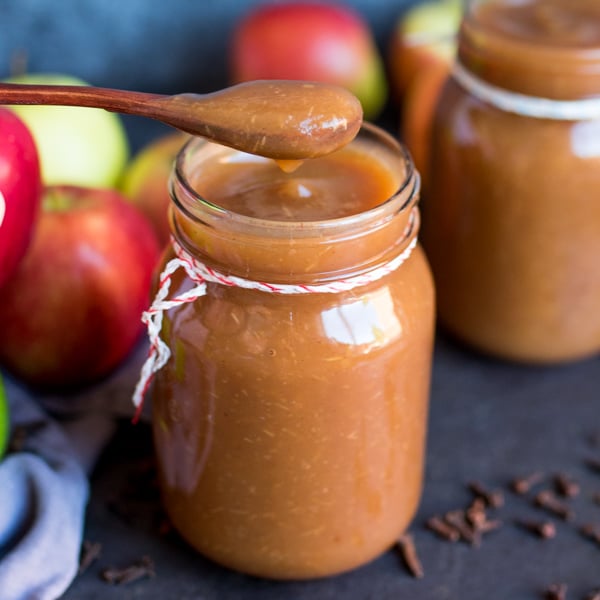 INGREDIENTS
16 medium sized mixed apples (I like to use 4 Bramley apples and 2 Granny Smiths for a bit of tartness, then the rest sweet apples such as Jazz and Pink Lady), cored and chopped into bite-size chunks
1 cup apple juice
1 cup granulated sugar
2 tbsp lemon juice
1/8 tsp salt
1 1/2 tsp cinnamon
1/2 tsp mixed spice
1/4 tsp ground cloves
DIRECTIONS
Place all of the ingredients into a large heavy-based pan or dutch oven. Mix together.
Bring to the boil, then turn down to a low heat. Place a lid on and simmer for 2 hours, stirring every 10-15 minutes to make sure the apples don't catch on the bottom of the pan.
Remove the lid and leave to cool for 20 minutes, then blend using a stick blender until smooth.
Eat warm straightaway or place in sterilised jars and refrigerate. The apple butter should keep for 3-4 weeks.