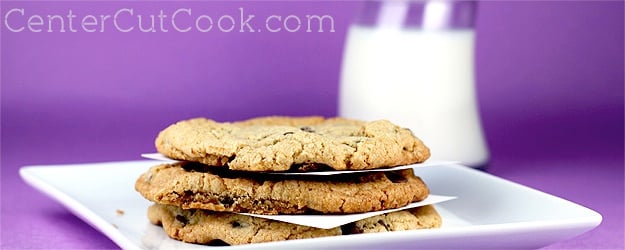 There are a bazillion chocolate chip cookie recipes out there and everybody usually has a favorite go-to recipe, even if it's the one on the back of the bag of chocolate chips. Most of them are pretty similar and contain the usual suspects. The key to the recipe I'm sharing with you today is actually finely ground oatmeal which you don't typically see in recipes. Yes, oatmeal. Sounds a little weird, right? But the result is perfect. These Everyday Chocolate Chip Cookies are moist, chewy, and downright delicious.
My original intent for this recipe was to turn the dough into cute little cookie cups by scooping the dough in a muffin tin. If you'd like to talk about a major FAIL in the kitchen, my attempt at making cookie cups would definitely work! I baked them and watched as the middles totally sank as they cooled (which I sort of expected), but then it was impossible to get the cookie cups out in one piece without them falling apart. Once I knew this little experiment wasn't going to work, I switched back to making gigantic chocolate chip cookies which you see pictured. I'll attempt the cookie cups another day.
You can make normal sized cookies, or get a little adventurous and make the gigantic ones. The baking time will just be a bit longer for the big guys. If you've never ground oatmeal before, just scoop it in your blender or food processor and pulse until the consistency is really fine. You should have no oatmeal clumps. Just make sure you don't use instant oats, because that's not the same. You can use old-fashioned oats, or rolled oats.
Lastly, feel free to add walnuts. I am definitely not a fan of nuts in my chocolate chip cookies, because then they'd be chocolate chip walnut cookies, but make them however you'd like. :)
PS: For a terrific chocolate chip cookie bar, checkout this recipe.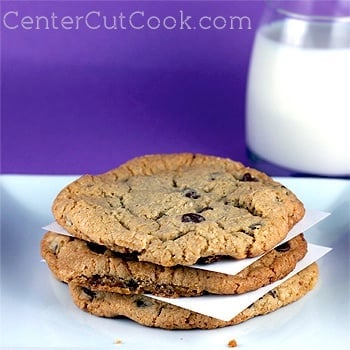 INGREDIENTS
DIRECTIONS
Pre-heat your oven to 350 degrees and lightly grease cookie sheets.
With your mixer, cream butter, sugar, brown sugar, eggs, and vanilla extract until smooth.
In a separate bowl sift together ground oatmeal, flour, salt, baking powder, and baking soda.
Add the dry ingredients to the wet and mix well. Fold in chocolate chips.
For large cookies, form golf ball sized mounds of dough and place on your cookie sheets. For smaller cookies, use a tablespoon to drop dough onto cookie sheets.
Baking times are going to vary depending on the size of cookies. For the smaller cookies, bake anywhere from 6-8 minutes. For the larger cookies, bake for 8-10 minutes or until the cookies are a light golden brown. Keep a close eye on these cookies, you don't want to over-bake them!
Allow cookies to cool on a wire rack.