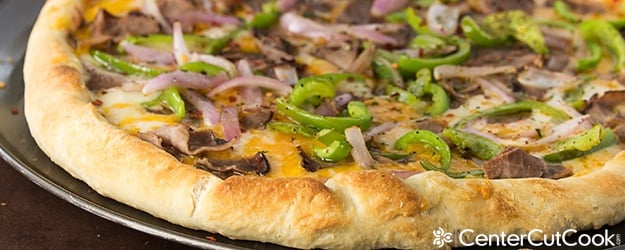 If I had to pinpoint one of the recipes that gets made over and over and over again in this house, it's this recipe for Fast and Easy Pizza dough because it is seriously the fastest and easiest pizza dough I have ever made. No joke. Those of you who have already tried the recipe can vouch for this statement. Because it is so easy to make, I find myself trying to come up with different topping combinations.
I am still trying to get back into the grind after vacation, and truth be told, I haven't really felt like jumping into complicated, time consuming recipes just quite yet. Last night we needed something fast and easy to make, so I turned to my tried and true recipe for pizza. But this time, I wanted to change it up a bit and be more adventurous than our standard pepperoni pizza. We had been craving these Philly Cheesesteak Sandwiches, so I thought, why not try and make a Philly cheesesteak pizza with peppers, onions, tender beef, and provolone and cheddar cheeses?
Now now, before you start yelling at me telling me that peppers do NOT belong on a Philly Cheesesteak, let me just say that it's simply a personal preference. If you don't like 'em, leave them off. It's as simple as that. There's something about the combination of peppers and onions that I just love on a Philly!
Let's start with the dough, shall we? You can of course use pre-made crust, but this Fast and Easy Pizza Dough literally comes together in minutes. Honest. And it's SO good! I roll the dough into an 18 inch circle, then use my fingers to roll the edges so that it looks all fancy. Then I brush a little olive oil all over the crust and pre-bake it for about 8 minutes in a 450 degree oven. This helps it crisp up really nicely!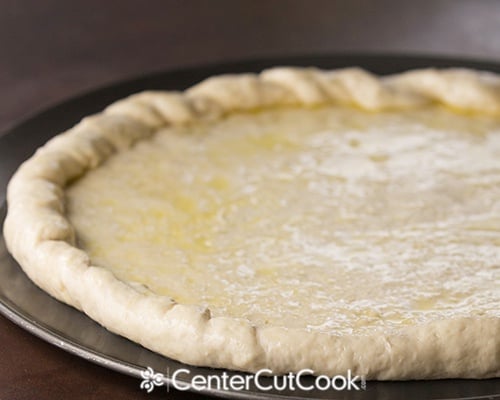 While the crust is pre-baking, you'll want to sauté some peppers and onions (if you wish). I heated about a half tablespoon of olive oil and sautéed the peppers and onions until they were tender, and then seasoned them with a little salt and pepper. The purple onions add a nice color which is why I chose them over a yellow onion.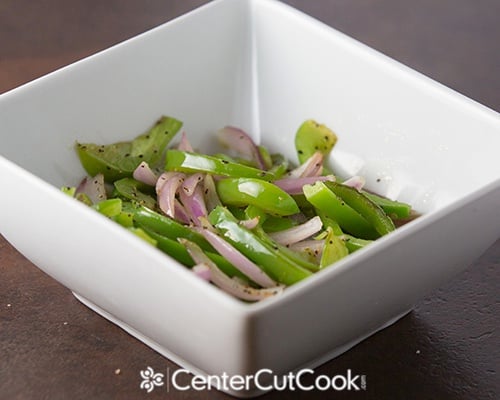 In place of steak, I used about 1/2 pound of deli roast beef that I chopped into small pieces. I found that 1/2 pound of beef was actually quite a lot, so you may want to cut back to about 1/4 pound of beef. Just chop the deli slices into small bite-sized pieces.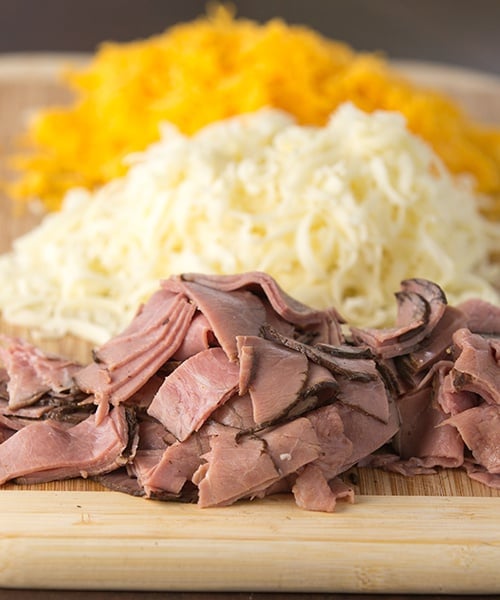 As for the cheese, I stuck with Provolone which is the more traditional route to take with a Philly, but also threw in some sharp cheddar cheese. Not only does the cheese combination look cool, it also tastes delicious.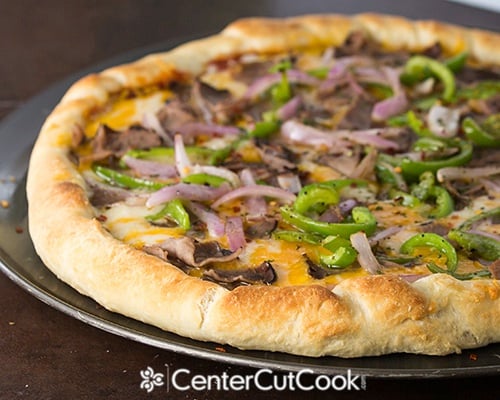 Once the crust has pre-baked for about 8 minutes, you'll top the crust with sauce, cheddar and provolone cheese, the sautéed peppers and onions, and the chunks of beef. Pop it in the oven for another 10-12 minutes or until the crust is golden brown, and the cheese is all melted and bubbly! Yum!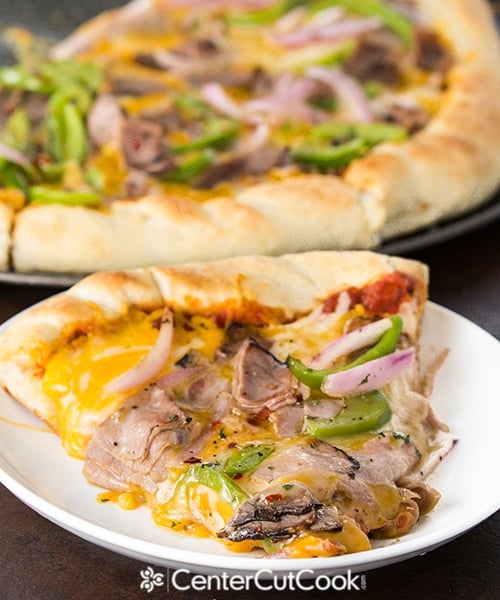 This pizza is best eaten fresh! While we ate some as leftovers, the crust loses the crispiness when it is reheated the next day. There you have it… Fast and Easy Philly Cheesesteak Pizza in the comfort of your very own home in just 30-35 minutes! Enjoy.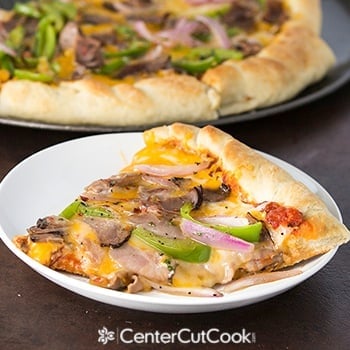 DOUGH INGREDIENTS
PIZZA INGREDIENTS
2 tablespoons olive oil
2 cups sharp cheddar cheese, shredded
2 cups provolone cheese, shredded
1/4 pound deli roast beef, chopped into bite sized pieces
1 green pepper, chopped
1/2 of a small purple onion, chopped
Pizza Sauce (I usually use about 1 cup of sauce, use however much you'd like)
DIRECTIONS
Pre-heat your oven to 450 degrees.
In a large bowl combine water and yeast and stir until the yeast is dissolved.
Add in flour, honey, salt and olive oil and use a wooden spoon to combine. Once the ingredients are well combined with the spoon, use your hands to knead the dough for a few minutes.
Form the dough into a ball and let it rest for 10 minutes.
Pre-heat your oven to 450 degrees and spray a 16 inch pizza pan with non-stick cooking spray.
Roll the dough out into a 16 inch circle. Roll the edges of the dough a bit.
Brush the crust with 2 tablespoons olive oil and pre-bake the crust in the oven for about 8 minutes.
While the crust is pre-baking, heat half a tablespoon of olive oil over medium heat and sauté the onions and peppers until tender. Season with a bit of salt and pepper.
Spread sauce on the pre-baked crust. Top with cheddar and provolone cheese, chopped deli roast beef, and the sautéed peppers and onions.
Bake for an additional 10-12 minutes, or until the crust is crispy and the cheese is melted.
Cut into slices and enjoy!
Recipe from
CenterCutCook