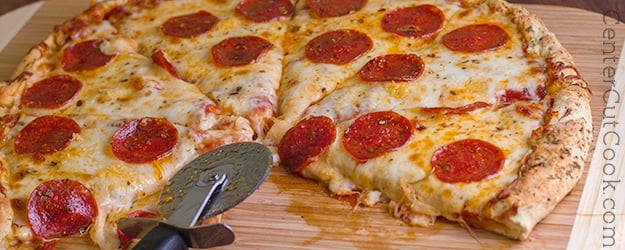 It's pizza night in your house and you've got a couple of options. Option 1. Call up the nearest pizza place to get a pie delivered, and wait and wait for it to arrive while your tummy growls to let you know that it's taking way.too.long for that pizza to arrive. If pizza night in your house is the same night that it is in my house (either a Friday or Saturday), the place you order from is SLAMMED and you can expect to wait at LEAST an hour. Option 2. Buy frozen pizza dough or pre-packaged crusts from the grocery store. They're good, but not great. Option 3. Make this super fast and easy homemade pizza dough in minutes and have your entire family oohing and aaahing over your pizza making capabilities!
This is the fastest and easiest way I know of to make homemade pizza dough at home. It requires only a few ingredients, and simply a wooden spoon and your hands to mix the dough together. There's no fussing with chilling the dough over-night, and there's no hassle of dealing with kneading dough and letting it rise! Not only is this dough super simple to make, it's tasty!
I've been making this recipe for several years now, and have perfected it along the way. The beauty with pizza making is that you can get creative and add any toppings and sauces you'd like. We make BBQ chicken pizzas in this house, almost more than we make a traditional pizza with a tomato based sauce. We're also pretty big fans of Mexican Pizzas!
If it's pizza night in your house, no need to bust out the frozen pizza or frantically order out and wait all night, just make your own dough in about 15 minutes!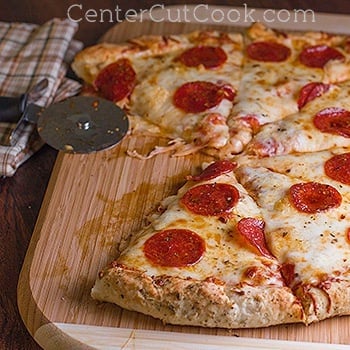 DOUGH INGREDIENTS
PIZZA INGREDIENTS
2 tablespoons olive oil
3/4 teaspoon Italian seasoning (if you don't have this, use 1/8 teaspoon basil, 1/8 teaspoon oregano, 1/8 teaspoon garlic powder
Mozzarella cheese
Toppings
DIRECTIONS
In a large bowl, combine water and yeast and stir until the yeast is dissolved.
Add in flour, honey, salt, and olive oil and use a wooden spoon to combine. Once the ingredients are well combined with the spoon, use your hands to knead the dough for a few minutes.
Form the dough into a ball, and let it rest for 10 minutes.
Pre-heat your oven to 450 degrees and spray a 16 inch pizza pan with non-stick cooking spray
Roll the dough out into a 16 inch circle. Roll the edges of the dough.
Combine 2 tablespoons olive oil with Italian seasoning and brush the entire crust with this mixture.
Place the crust in the oven for 8 minutes.
Remove from the oven and add sauce, cheese, and toppings.
Return the pizza to the oven for 10-12 minutes, or until the crust is crispy and the cheese is melted.
Cut into slices and enjoy!
Recipe from
CenterCutCook