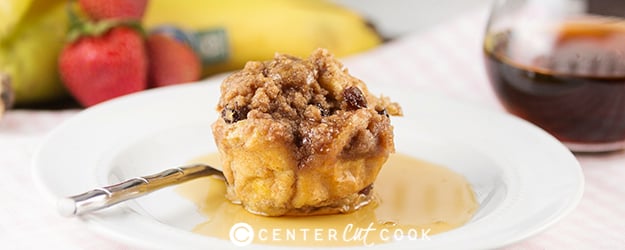 When it comes to breakfast, I typically choose sweet over savory which means options like pancakes and french toast are my go-to choices! Oh, and cinnamon rolls too! But typically it's pancakes or french toast, especially french toast made with my homemade challah. Actually, I love french toast in any form whether it's french toast casserole, stuffed french toast, or today's recipe for French Toast Muffins with a maple cinnamon streusel topping. Oh boy, are they delicious!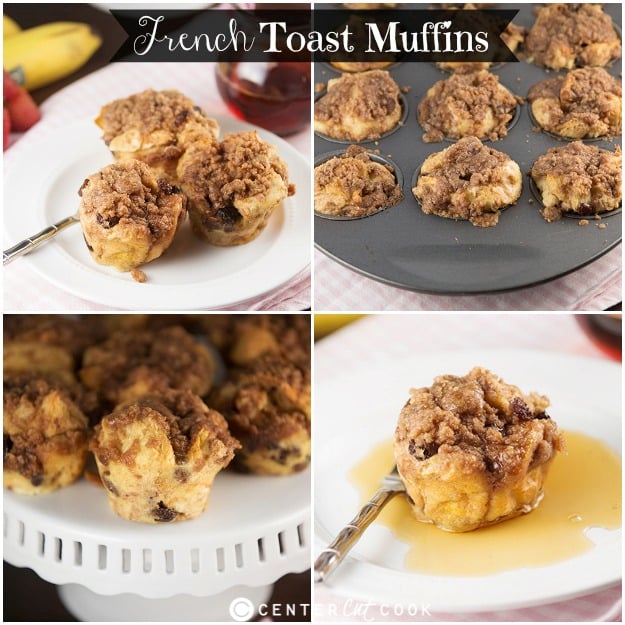 One of my favorite food blogs is Two Peas & Their Pod which is where I first discovered the concept of French Toast Muffins. I decided to put my own little twist on this brilliant idea and share it with you today. You are going to love these french toast muffins, especially with the maple cinnamon streusel topping. You know how delicious a cinnamon streusel topping is, right? It's even better with just a hint of real maple syrup!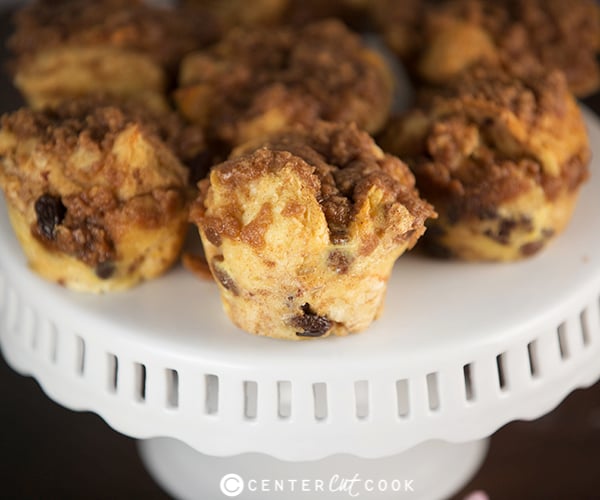 I decided to toss in some raisins to make a cinnamon raisin version of French Toast Muffins, but feel free to leave those out if you aren't a fan of raisins. The method is pretty simple – you'll cut up a loaf of homemade challah, french bread, or raisin bread into bite sized pieces. Then you'll mix together the liquid, just like you'd do for french toast. You'll need milk, eggs, brown sugar and a little vanilla. In a large bowl you'll toss together the bread pieces with the liquid, and then scoop it into a greased muffin tin. Right before popping 'em into the oven, you'll top each muffin with that insanely delicious maple cinnamon streusel topping.
25 minutes later, you've got yourself scrumptious French Toast Muffins perfect for a special weekend breakfast, brunch, or even a quick snack. I drizzled some warm maple syrup over each muffin and they were perfection.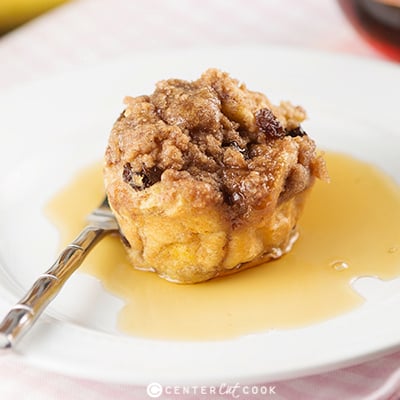 Enjoy!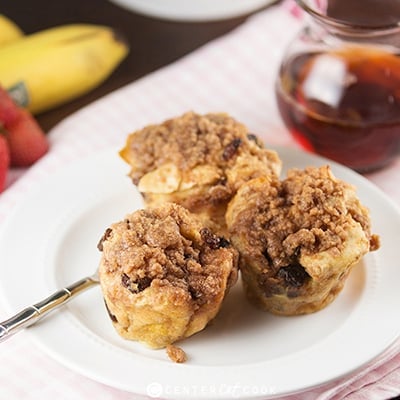 MUFFIN INGREDIENTS
8-10 cups bread cubes (Use homemade challah, a 1 pound loaf of french bread or a 1 pound loaf of cinnamon raisin bread cut into bite sized pieces)
2 cups milk (I used 1%)
5 large eggs
3 tablespoons brown sugar
2 teaspoons vanilla
1 teaspoon cinnamon
Handful of raisins *optional
MAPLE STREUSEL TOPPING INGREDIENTS
1/4 cup cold unsalted butter, cut into small cubes
1/4 cup brown sugar
1/4 cup all purpose flour
1 teaspoon cinnamon
Pinch of salt
2 tablespoons real maple syrup
DIRECTIONS
Pre-heat your oven to 350 degrees.
In a large bowl whisk together 2 cups milk, 5 large eggs, 3 tablespoons brown sugar, 2 teaspoons vanilla and 1 teaspoon cinnamon.
Place the bread cubes in a large bowl. Pour the liquid mixture over the bread crumbs and use a large spoon to toss the bread with the liquid mixture. Add in a handful of raisins if you wish. Set aside.
Prepare a muffin tin by spraying it with non-stick cooking spray.
Make the streusel topping: In a small bowl add in cubes of butter, 1/4 cup brown sugar, 1/4 cup all-purpose flour, 1 teaspoon cinnamon and a pinch of salt. Use your fingers or a fork to incorporate the butter into the ingredients. Mix until you're left with a crumbly topping, then stir in 2 tablespoons real maple syrup. Set aside.
Use a 1/2 cup measuring cup to place a heaping 1/2 cup full of bread mixture into each muffin cup. Repeat util all 12 muffins cups are full.
Divide the cinnamon mixture evenly among the muffins.
Bake for 23-25 minutes or until the tops of the muffins are a nice golden brown.
Allow the muffins to cool for a few minutes before serving.
To serve – drizzle syrup over each muffin.
Recipe adapted from
Two Peas and Their Pod