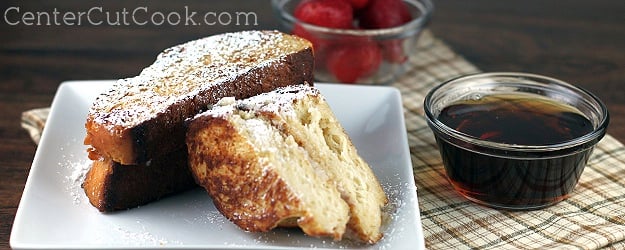 Earlier this week, I introduced you to Challah (egg bread), which is super delicious in its own right, but even more delicious when it's used to make French Toast. Typically when I make french toast, I simply use a combo of eggs, milk, and a little vanilla. This time around since I went through the trouble of making homemade Challah, I decided to try a new recipe that I was hoping would impress. The result? The Best French Toast I've ever had. Ever.
There are three components to the Best French Toast. First is definitely the bread. Either make a loaf of Challah yourself (it is worth the work, I promise), or buy a loaf from your bakery. Don't use any ole bread from the grocery store, it will definitely not turn out the same! The second component to the best french toast is your egg mixture that includes eggs, milk, brown sugar, vanilla, and cinnamon (yum!). And finally, the third component which is just optional, but adds so much flavor to the french toast, is a cream cheese filling.
This recipe is just perfect for a special occasion for so many reasons! It looks pretty, and tastes wonderful. It does take some effort to make the homemade Challah, so you likely won't be making this every weekend. You should also know that this recipe is decadent… in a good way! What I mean by that, is that it may leave you feeling like you just ate dessert for breakfast (not ALWAYS a bad thing…).
FRENCH TOAST INGREDIENTS
8 slices Challah (egg bread) cut about 2 inches thick
1 1/2 cups milk
3 eggs
3 tablespoons brown sugar
1/2 teaspoon cinnamon
1 teaspoon vanilla
1/2 tablespoon butter
CREAM CHEESE FILLING INGREDIENTS
4 ounces cream cheese, softened
3 tablespoons butter, softened
3/4 cup powdered sugar
1/2 teaspoon vanilla
DIRECTIONS
Pre-heat your oven to 350 degrees if you would like your french toast stuffed with the cream cheese filling, otherwise skip this step for plain french toast.
In a large bowl, whisk together milk, eggs, brown sugar, cinnamon and vanilla. Pour the egg mixture into a 9 x 13 inch dish.
Dip each piece of bread into the egg mixture for 20 seconds per side.
Heat a large skillet or griddle to medium heat. Melt 1/2 tablespoon of butter in the pan. When the butter stops foaming, place slices of bread in the pan. Cook for several minutes per side, until the french toast is browned. Repeat the process until all pieces of bread have been cooked. If you want plain french toast, stop here. If you want cream cheese stuffed french toast, continue to step 5.
In the bowl of your mixer, combine all of the ingredients for the cream cheese filling and mix until smooth.
Slather some of the cream cheese mixture on one piece of the cooked french toast. Top with another piece of toast (sandwich stye) and place on a baking sheet. Continue the same process until all pieces of french toast have the cream cheese mixture.
Bake for about 8 minutes. Cut each "sandwich" in half on a diagonal and serve immediately.