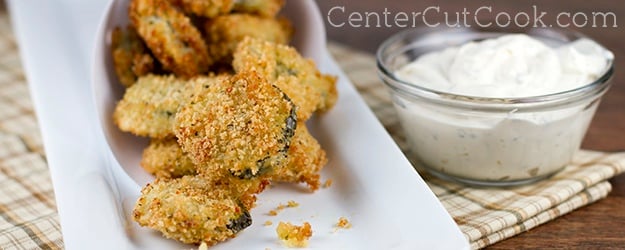 Woah, let me tell you about these fried pickles, yo! They are utterly fan-fricken-tastic. And I'm saying that even though I am NOT a member of the pickle fanatic's club! Crispy, crunchy, and when dipped into cool ranch dip (the homemade kind)? You just might end up eating enough of these babies to realize you're too full for supper and skip it altogether. So much for calling this an appetizer!
Ashamed. That's how I feel, a little, at the fact that fried pickles ended up being our entire dinner, one Friday evening. You start with these things, and you can't stop. And before you know it, the pickles are almost gone, and the thought of eating anything else just does NOT sound good. I'm lucky I was able to snap a few pics of these things before they were gone.
Hubby has been bringing up these fried pickles just about every day since. "Man, those fried pickles were really good" or "I wish we had more fried pickles left." He really doesn't mean that, because, well, they are fried and leftovers just aren't the same. You want to eat these fresh, just a few minutes after they're done cooking and have had a few minutes to cool down. It may be shocking, but we did have some leftover, and did eat them the next day, and they were just okay. So eat these fresh!
The process for making these pickles is actually quite simple, and surprisingly not too messy. And if you think fried pickles sounds weird, at least I didn't make something like fried twinkies, fried butter, or deep fried cupcakes. Yeah, those things really exist, at least at the Iowa State Fair they do, home of all things fried and/or on a stick (and I can vouch for that because it would have been just wrong to have lived in Iowa for 4.5 years and not attend one of the most talked about events in the entire state).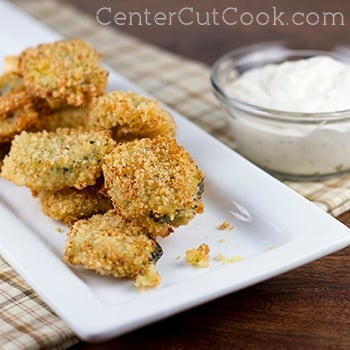 INGREDIENTS
DIRECTIONS
Open the jar of pickles and reserve 3/4 cup juice. Set aside.
Drain any remaining juice and arrange the pickles in a single layer on a cookie sheet to dry. I used paper towels to help absorb any moisture. You want the pickle slices as dry as possible so that the coating adheres to it.
In a large bowl, whisk together pickle juice, ranch dressing, tabasco sauce, egg, flour, and cornstarch. Whisk until well combined.
In a shallow dish (I used a cake pan), combine panko bread crumbs and ranch seasoning packet.
Dip each dried pickle into batter, allowing the excess batter to fall, then dip each pickle into the panko mixture and set aside. Continue dipping and coating each pickle.
Heat 1-1.5 inches of oil in a large skillet. When the oil has reached about 360 degrees, carefully place a few pickles in the skillet at a time and cook for about 3 minutes, or until both sides are crispy and brown.
Remove the cooked pickles from the oil, and place on paper towels to drain.
Continue cooking pickles in batches until all are cooked.
Serve pickles immediately with homemade ranch dip.
Recipe adapted from
Cuisine at Home April, '12