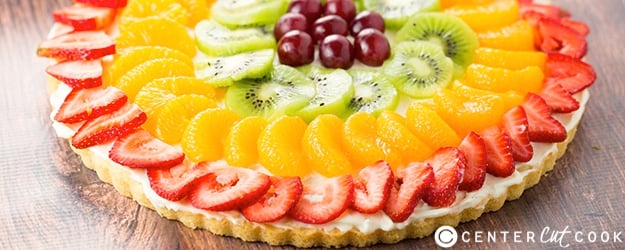 Fruit Pizza is one of those recipes that looks so much more complicated to make than it actually is. It is so easy to make, and comes together quicker than you'd probably expect. You'll start by making the crust which is essentially sugar cookie dough. Once the crust bakes and cools, you'll top it with a cream cheese spread and any of your favorite fruits! With only about 20 minutes of hands on time, Fruit Pizza is a great option to entertain with.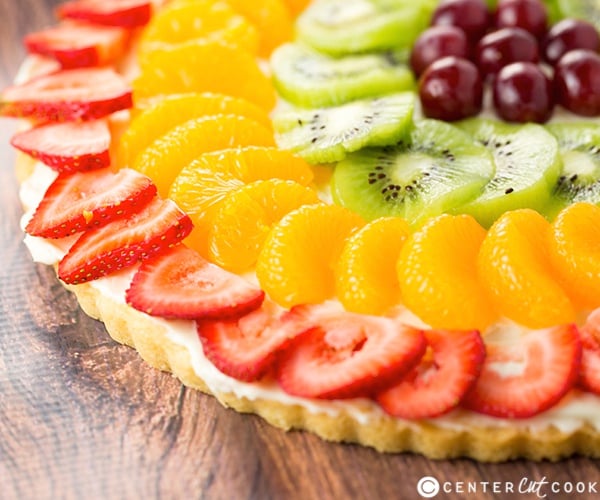 The crust on this fruit pizza is essentially one big soft sugar cookie! I pressed the cookie dough into an 11.25 inch tart pan, but you could also use a 10-12 inch pizza pan. The dough is not going to look perfect which is just fine. Some of those imperfections look way less obvious after it has baked. As the cookie crust is baking, you'll prepare the cream cheese glaze/frosting which is my favorite part!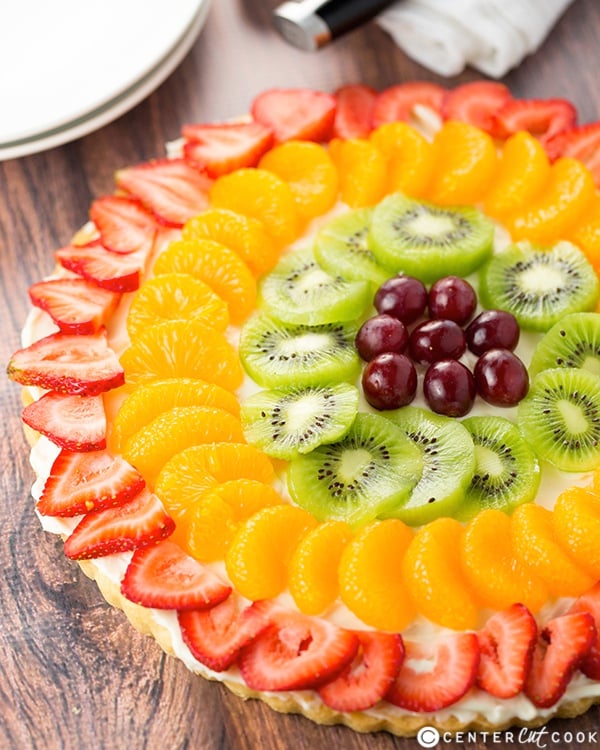 As far as fruit goes, I used strawberries, mandarin oranges, kiwi and grapes because they are all fruits I had on hand, but you could get creative and use whatever fruits you'd like. And if you're creative, have fun making this fruit pizza a piece of art work! I have seen so many gorgeous fruit pizzas floating around Pinterest. There are lots of fun ways to arrange the fruit to give it a different vibe. Example: use only strawberries and blueberries to give it a more patriotic theme. I loved the colorful look of using a variety of fruits, and I arranged them in the order that you'd find them on the rainbow.
This fruit pizza is best served chilled, but can be eaten at room temperature. Doesn't it look gorgeous? Enjoy!
If you're looking for a similar option loaded with berries, do try our Red White and Blue Patriotic Dessert Tart Recipe. It's perfect for patriotic entertaining but delicious all summer long when berries are in season.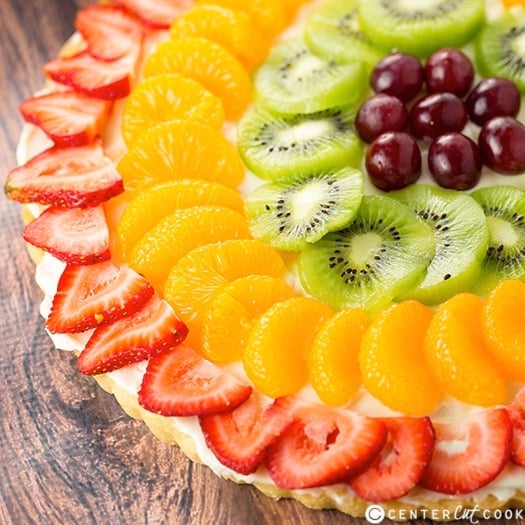 CRUST INGREDIENTS
FROSTING INGREDIENTS
8 ounce package cream cheese, softened
1/2 cup confectioners' sugar
1 teaspoon vanilla extract
Pinch of salt
FRUIT INGREDIENTS
Fresh fruit cut into slices – I used strawberries, kiwi, grapes, and mandarin oranges
DIRECTIONS
Prepare a 10-12 inch pizza pan or tart pan by spraying it with non-stick cooking spray.
In a large bowl sift together flour, baking powder and salt.
With your mixer, combine butter and sugar and cream together until smooth.
Add in the egg, then the vanilla and mix to combine.
Add the dry ingredients into the wet and mix until everything is combined.
Chill the dough for 30 minutes in the refrigerator.
Preheat your oven to 350F.
Lightly flour your hands, then use them to shape the dough into a circle large enough to fit your pan. I used a tart pan and used my hands to press the dough to the edges. It's not going to look perfect.
Bake for 14-16 minutes, or until the edges start to lightly brown.
Allow the crust to cool completely.
To make the frosting, use your mixer to beat the cream cheese for about 30 seconds. Add in confectioners' sugar, vanilla extract and a pinch of salt. Mix until well combined.
Spread over the crust, then arrange fruit on the top of the pizza. You can eat the pizza immediately or chill the pizza for the best result. Enjoy!
Recipe from
CenterCutCook