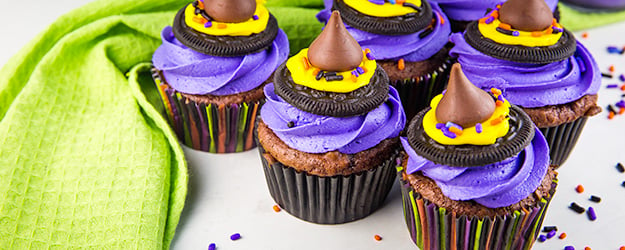 Witch Hat Cupcakes are such a yummy Halloween treat and one of our favorite Halloween Party ideas that both kids and adults just love.
Whether you're looking for Halloween treat ideas for coworkers, or for your child's classroom, these cupcakes are easy to make and so fun to eat.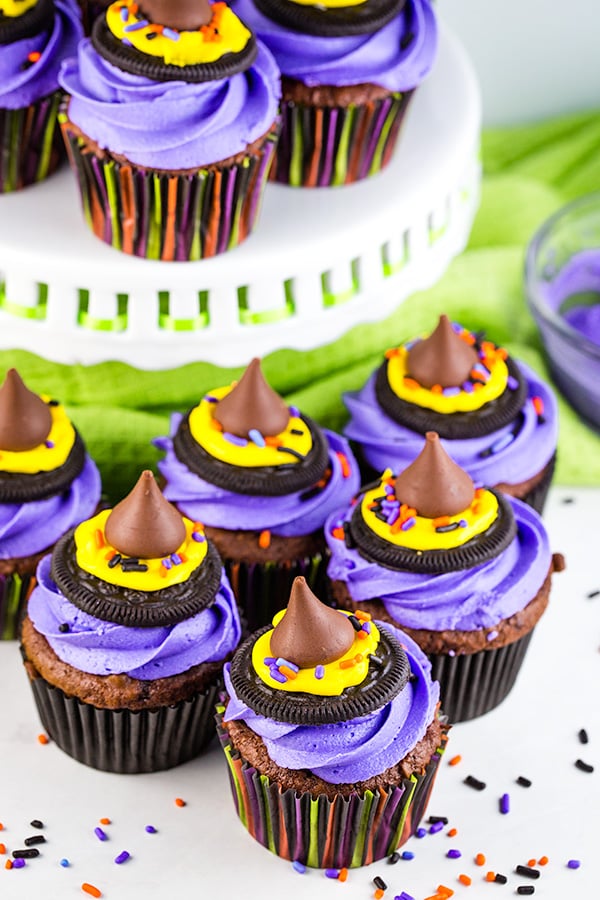 CAN I USE A BOX MIX?
The concept is simple. You will start with a box mix of Devil's food cake that you'll doctor up a bit to make the cupcakes more moist and even more delicious.
If you'd like to make the box mix as written on the box, feel free, but adding in the pudding mix and sour cream is super easy but makes the cupcakes even more amazing.
HOW DO I DECORATE THE CUPCAKES?
If you search around the internet, you will find a variety of ways to decorate witch cupcakes. The method that I am sharing with you today is the same method that a local bakery used. It's my favorite because it's super cute and easy to do.
You will start with a basic buttercream frosting. When it comes to adding food coloring to the frosting you have a few options, we used purple and yellow but other cute options would be green or even orange. Add a few drops of food coloring, then stir to combine. If you'd like the color to be darker or more intense, keep adding a few drops more until the color looks good to you.
After the cupcake is frosted, you will place a single Oreo cookie (you will remove the frosting and separate 12 Oreos so that you have a total of 24 Oreo cookies) right on top.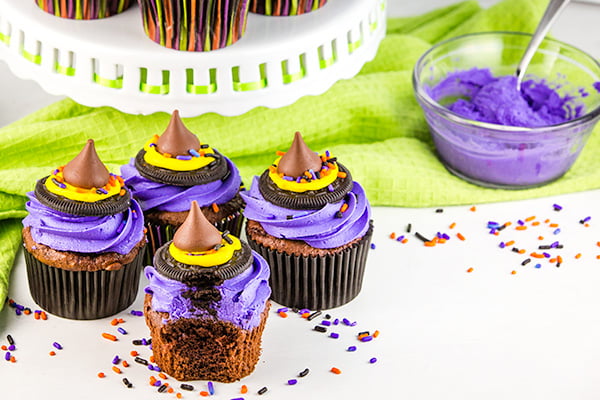 On top of the cookie you will pipe a dime-sized amount of yellow frosting then place an unwrapped Hershey's kiss right on top. Add a few sprinkles to the yellow frosting and you're done!
SO cute!
CAN WITCH CUPCAKES BE USED AS A SCHOOL HALLOWEEN PROJECT?
These witch hate cupcakes lend themselves well for a school Halloween project. If you decide to use this for a project that kids will complete, make sure that you have the cupcakes made and frosted. You will also want to make sure that the other ingredients are prepped – Oreo Cookies are already separated with frosting removed, and the Herhsey kiss is unwrapped.
Not only are these cupcakes great for children's parties, they also work well as a Halloween treat for your co-workers.
This recipe makes 24 cupcakes. Have fun sharing them with your kids, co-workers, neighbors, etc!
If you are looking for another fun Halloween treat idea, these Spider Cookies are also so cute and so fun!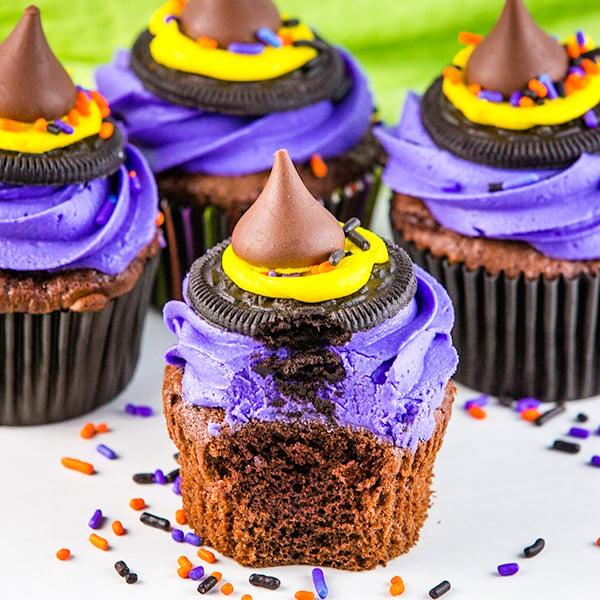 CUPCAKE INGREDIENTS
1 box Devil's Food cake mix
1 – 3.9 ounce box instant chocolate pudding mix
1/2 cup sour cream
1/4 cup vegetable oil
1 cup 2% milk
4 large eggs
FROSTING INGREDIENTS
WITCH HAT ASSEMBLY INGREDIENTS
24 cupcake liners
Halloween sprinkles
12 Oreos (pulled apart and the cream filling scraped off)
24 Hershey Kisses (unwrapped)
CUPCAKE DIRECTIONS
Preheat oven to 350 degrees F. Line cupcake pans with liners and set aside.
In a large bowl, combine Devil's Food Cake mix, chocolate pudding mix, sour cream, oil, milk and eggs.
Turn on mixer and beat on low speed until ingredients are all incorporated. Then, turn the mixer up to medium speed for about 2 minutes.
Fill cupcake liners 3/4 of the way full. About 3 tablespoons of batter.
Bake 16-20 minutes or until a toothpick inserted in the center of a cupcake comes out clean.
While the cupcakes are baking, start on the frosting.
FROSTING DIRECTIONS
Place butter in the bowl of your mixer and beat on medium-high speed for about 5 minutes, or until the butter starts turning a soft white color. Turn off mixer.
To the butter, add powdered sugar, milk, vanilla, and salt. Turn on your mixer to the lowest speed just until the powdered sugar is well incorporated then turn the speed up to high for about 2 minutes. If your frosting is too thick, add more milk one tablespoon at a time. If it is too thin, add a little more powdered sugar until you've reached the perfect consistency. You want it to have a medium stiff consistency.
In a small bowl, add about 1 cup of frosting. Add a couple drops of yellow food coloring and mix it together using a fork. Set aside- you will be using this as the brim of the hat.
Add about 5 or 6 drops of purple coloring to the remaining frosting. Mix well until you don't see anymore white frosting.
Fill a piping bag with the purple frosting (I used a 1M tip).
Once the cupcakes have cooled, pipe the purple frosting on each cupcake.
ASSEMBLY DIRECTIONS
Place an Oreo cookie on top of each frosted cupcake.
Fill another piping bag with the yellow frosting (no tip needed for this part). Cut a slit in the bag and pipe a dime sized amount of frosting onto the middle of an Oreo cookie.
Place an unwrapped Hershey Kiss on top of the yellow frosting (push down lightly on the Hershey Kiss so that it will stay put).
Put some sprinkles around the yellow frosting.
Recipe credit:
Brittany Jenkins