If you were coming to my house this summer, I'd likely be making these Ham and Cheese Sliders and Chocolate Lasagna. Those are two of my go-to recipes.
Summer is the season for fun, parties, and quick and convenient meals that can be shared and these little sandwiches are absolutely perfect for sharing.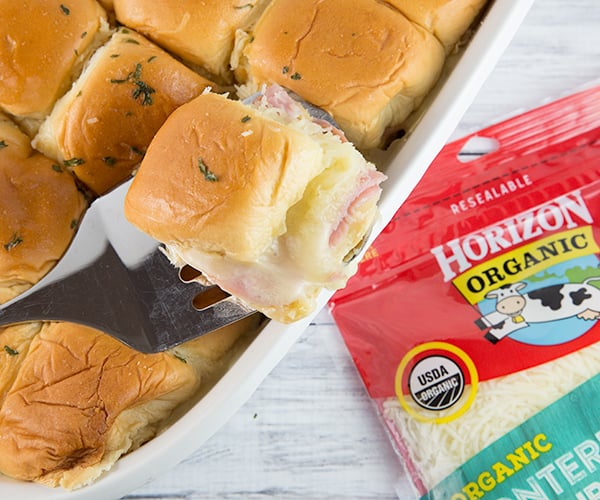 Simply stated, these ham and cheese sliders are the perfect party food!
The combination of ham and cheese go together just as perfectly as peanut butter and jelly. It's a classic combo that both the kids and adults will enjoy whether you're making them for a party or for a quick and easy weeknight dinner.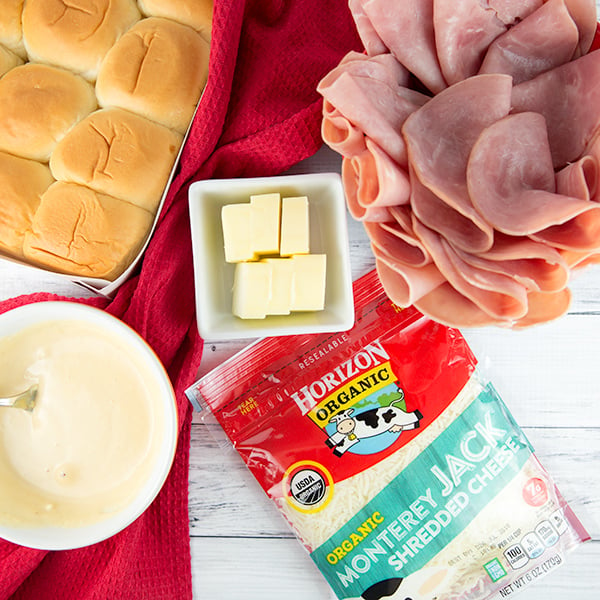 Traditional hot ham and cheese sandwiches are great, but these are even better!
The method for these tasty little ham and cheese sliders is simple. You'll start with a package of Hawaiian rolls. You could also use dinner rolls.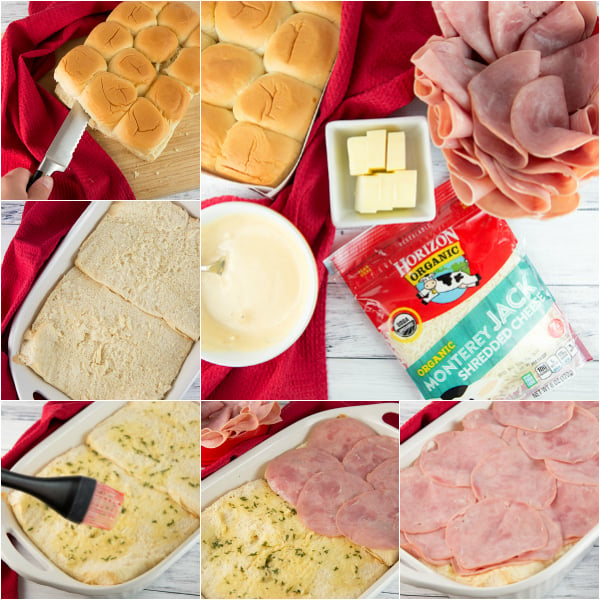 The best part about these sandwiches is that you will not be assembling individual sandwiches which can take some time. Just slice the tops off the entire package of rolls, leaving them all in-tact.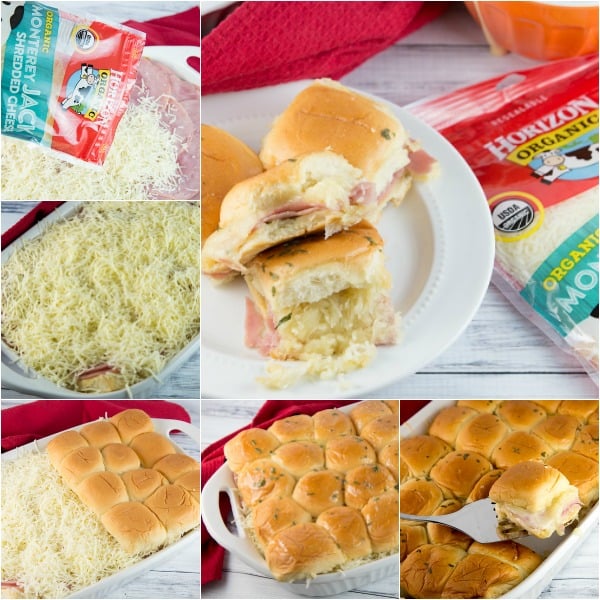 You'll place the bottoms in a 9×13 inch pan, and then brush them with a delicious mixture of melted butter, garlic powder and parsley.
Next layer on lots of sliced deli ham, and Horizon Organic Monterrey Jack Cheese. Don't skimp on the cheese! I used 2 – 6 ounce packages of shredded Horizon Organic Monterrey Jack Cheese. Add more if you want your sandwiches extra cheesy!
Place the tops on the sandwiches, brush with the remaining butter/garlic/parsley mixture, cover tightly with foil and bake.
The time to prepare these sandwiches is under 10 minutes which means you will not be stuck in the kitchen preparing food for your family and/or guests.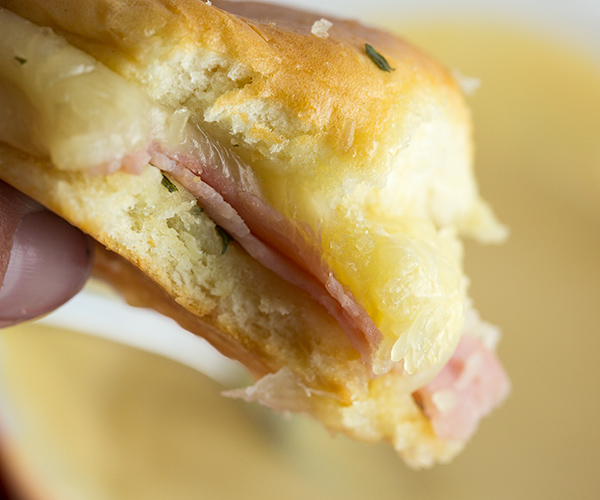 Feel free to add in 1 teaspoon poppy seeds to the butter mixture if you wish. I left them out because my 3 year old isn't crazy about poppy seeds.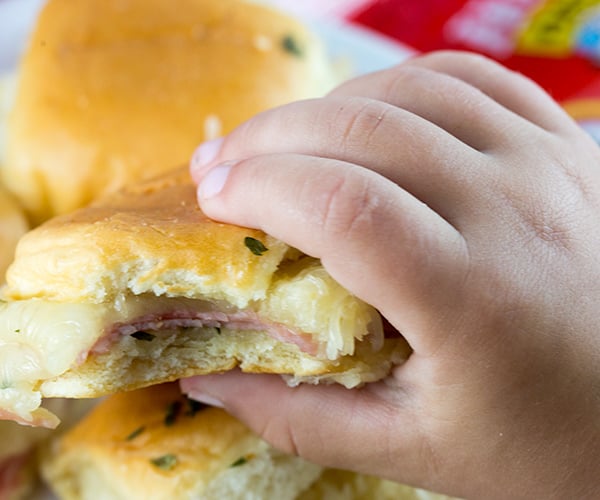 What he is crazy about though, is the dipping sauce! Is my child the only child that LOVES to dip his food. It doesn't matter what it is, he wants a dipping sauce.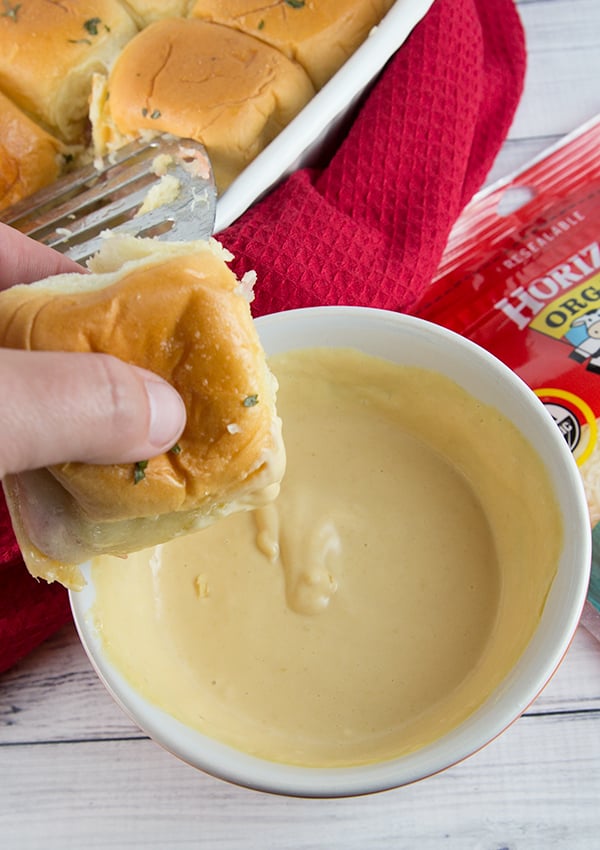 I combined equal parts mayo with honey mustard to create a tasty, simply dipping sauce that is 100% kid approved.
Trust me when I say, you need these Ham and Cheese Sliders in your life whether it's for a quick weeknight meal or for feeding a crowd!
Enjoy!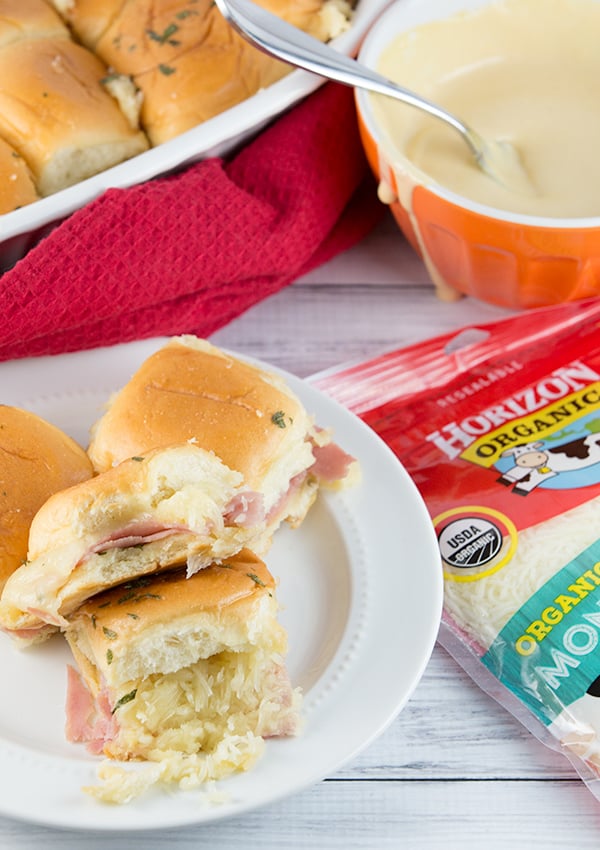 This is a sponsored conversation on behalf of Horizon Organic. All thoughts and opinions are my own. Thank you for supporting the brands that make CenterCutCook possible.
INGREDIENTS
2- 12 count packages Hawaiian Dinner Rolls (24 total), cut in half lengthwise, making sure to keep all of the rolls together. Do not separate
6 tablespoons Horizon Organic Butter, melted
1/2 teaspoon garlic powder
1 teaspoon dried minced parsley or 1/2 teaspoon fresh parsley
14 ounces Honey Deli Ham
2 – 6 ounce packages Horizon Organic Monterrey Jack Shredded Cheese
1/3 cup mayo
1/3 cup honey mustard
DIRECTIONS
Preheat the oven to 400 degrees F
Slice Hawaiian Dinner Rolls in half lengthwise (slice across the entire package of rolls. No need to individually separate the rolls)
Place the bottoms of the rolls in a 9 x 13 " baking dish
Combine melted Horizon Organic Butter with 1/2 teaspoon garlic powder and 1 teaspoon dried minced parsley.
Brush the rolls with 2 tablespoons melted butter mixture
Layer Honey Deli Ham on the bottom
Sprinkle with Horizon Organic Cheese
Top with the roll tops.
Brush with remaining butter
Cover tightly with foil and bake for about 15-20 minutes, or until the rolls are heated through and the cheese has melted.
While the sliders are baking, make the dipping sauce by combining 1/4 cup mayo with 1/4 cup honey mustard.
Slice into individual sandwiches and serve with dipping sauce on the side.