The original recipe for Chocolate Lasagna for all of the chocolate lovers out there with layer upon layer of goodness! This no-bake chocolate dessert recipe featuring Oreo cookies, cream cheese, Cool Whip, and Chocolate Pudding has been loved by millions since 2013!
When I first shared this recipe for Chocolate Lasagna in 2013, I had no idea that it would be seen and enjoyed by millions of people all over the world. It is the first recipe I shared that ever went viral, and as I like to say, it put me on the map! My late husband deemed this Chocolate Lasagna dessert his favorite dessert recipe of all time and for very good reason. With layer upon layer of sweet deliciousness, there is so much to love!
Let's start by talking about the Oreo Cookie Crust.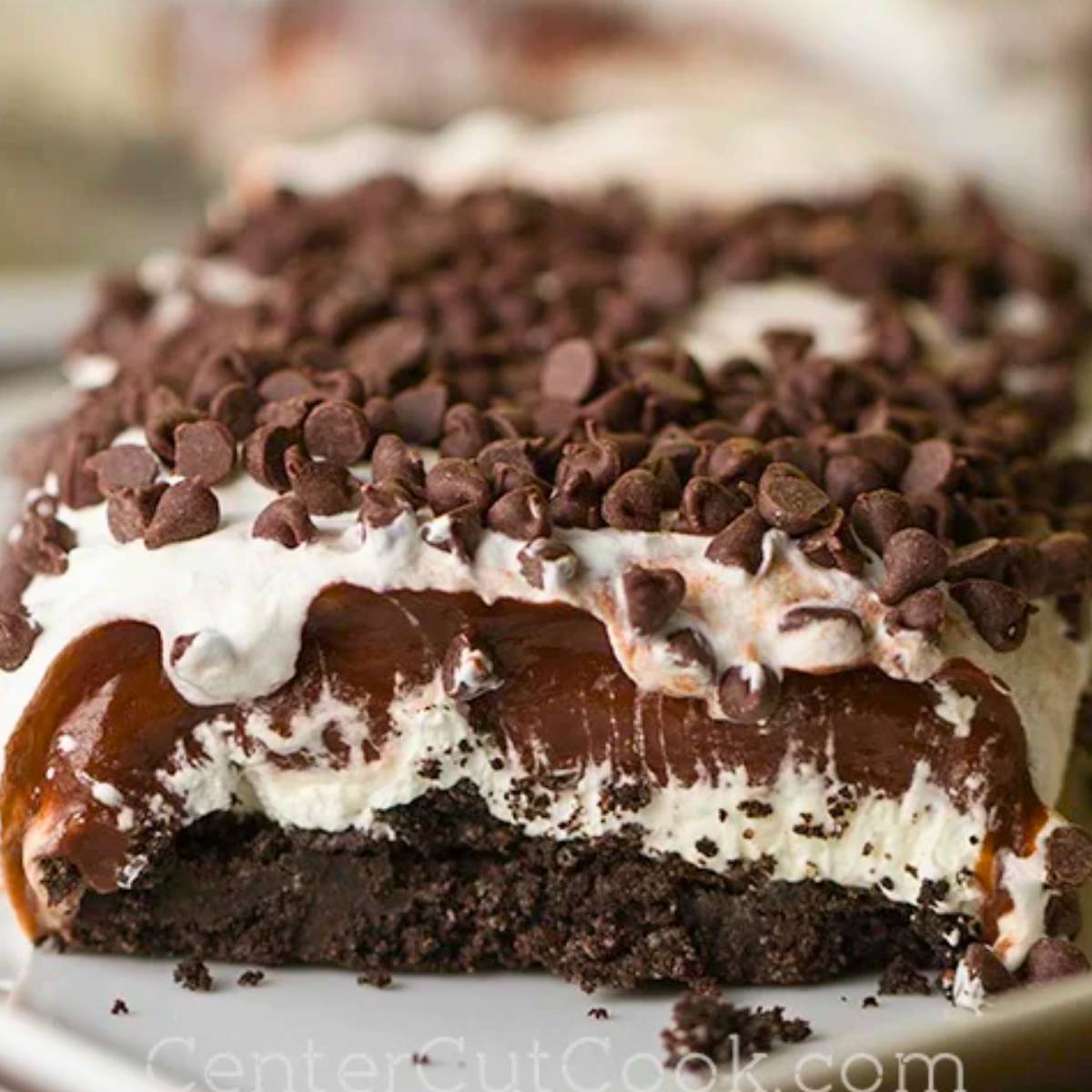 How to Make Chocolate Lasagna
Here is a brief overview of how this chocolate lasagna dessert comes together. I share more about each layer below. For the full recipe including all measurements, scroll to the recipe card at the bottom of the post.
Make the Oreo crust. Combine crushed Oreos with melted butter and press into a 9×13 pan.
Make the cream cheese layer. Whip together the cream cheese, sugar, milk, and cool whip. Spread it over the crust.
Make the chocolate pudding. Whisk together the instant pudding mix and milk until it thickens. Spread it over the cream cheese layer. Allow the dessert to rest for about 5 minutes so that the pudding can firm up further.
Add the final layer. Spread the remaining Cool Whip over the top. Sprinkle mini chocolate chips.
Freeze or chill until set. Enjoy!
Oreo Cookie Crust
This no bake Chocolate Lasagna recipe starts with an irresistible Oreo Cookie Crust which consists of crushed Oreos mixed with a little butter. You will want to use regular Oreos versus the Double Stuff variety and you'll need all 36 cookies that come in a typical package of Oreos (minus the one or two or three that you are obligated to sample before crushing them…). Begin by crushing the Oreo cookies into very fine crumbs. Use a food processor if you have one, otherwise, add the cookies to a large ziplock bag and use something like a rolling pin to crush them.
Combine the fine Oreo cookie crumbs with 6 tablespoons of melted butter, then press into a 9 x 13 inch baking pan.
After pressing the cookie/butter mixture into a 9 x 13 inch baking pan, you'll get working on the next layer! What I love about this recipe is that the layers are actually quite light. Maybe not in calories, but this dessert will NOT sit in your stomach like a brick like some desserts!
Cream Cheese Layer
The first layer after the Oreo Cookie Crust is a white layer, which consists of cream cheese that you've whipped until fluffy, sugar, a little cold milk, and some Cool Whip. Not whipped cream, Cool Whip! Once that's spread over the chocolatey Oreo crust, you'll prep the chocolate layer!
Please note for this step that you will need granulated sugar and not powdered sugar.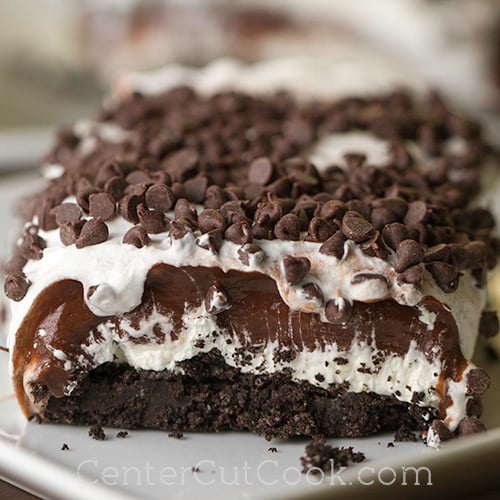 Chocolate Pudding Layer
The chocolate layer is simply chocolate pudding. Seriously, how easy is that? You will need two boxes of chocolate instant pudding, the 3.9 ounce package. Make sure it's instant pudding guys, and not the cook-and-serve variety. I didn't realize that I had bought the cook-and-serve kind, so I sat there whisking and whisking…. and whisking the mixture waiting for it to thicken up and it never did. Then I realized what I had done and had to make an emergency trip to the grocery store to buy instant pudding!
At any rate, once the pudding has thickened up a bit, you'll spread it over the cream cheese layer. Yum yum. At this point, let it rest for about five minutes before continuing on to the next step.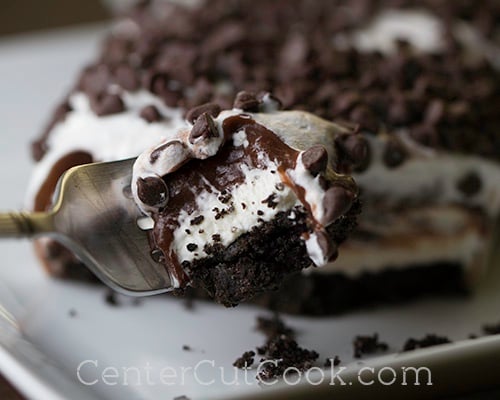 Cool Whip Layer
The very last layer is simply a little more Cool Whip that you'll spread over the top. Because this is Chocolate Lasagna, I figured I'd throw in just a bit more chocolate to complete the experience of Chocolate Lasagna, so I sprinkled a bunch of mini chocolate chips on top. It was the perfect addition! You could also top this Chocolate Lasagna with chocolate curls.
If you're familiar with the Chocolate Lasagna that Olive Garden serves (served? I hear they no longer sell it), this is nothing like it. Their layers were more cake-like and a baked chocolate lasagna recipe while this Chocolate Lasagna recipe is just light and fluffy layers of pudding and Cool Whip with a little cream cheese mixed in.
We really loved this Chocolate Lasagna. Each layer complimented the next just perfectly! And, it makes a big 9 x 13 inch pan so that you will have plenty for sharing. Oh, and did I mention that it's a no-bake treat? I love it when I come across a fantastic treat that requires no oven!
Recipe Tips
Make sure to use regular Oreo cookies and not the double-stuff variety.
Have your cream cheese at room temperature so it whips up easily.
To easily spread your next layer, put the pan in the freezer for a few minutes.
Top this Chocolate Lasagna with mini chocolate chips, crushed Oreos, or chocolate curls for a beautiful presentation.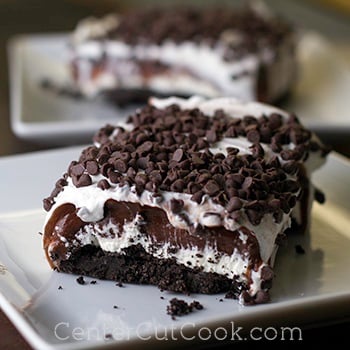 Storing Chocolate Lasagna
Store this no bake dessert in the refrigerator for up to four days. It is a great recipe to make ahead of time for a party or picnic and pull out when you are ready to serve it.
More dessert lasagna recipes
If you make this chocolate lasagna recipe or any of my other desserts, please leave a comment and let me know what you think. I love hearing from you!
Chocolate Lasagna
The original recipe for Chocolate Lasagna for all of the chocolate lovers out there with layer upon layer of goodness! This no-bake dessert recipe featuring Oreo cookies, cream cheese, Cool Whip, and Chocolate Pudding has been loved by millions since 2013!
Ingredients
1

package

Oreo Cookies (about 36 cookies)

Regular Oreos, not double stuff

6

tbsp

butter

melted

8

ounces

cream cheese

softened

1/4

cup

granulated sugar

2

tbsp

cold milk

1% or 2%

12

ounces

Cool Whip

divided

2

packages

Chocolate Instant Pudding (3.9 ounces each)

3 1/4

cups

cold milk

1% or 2%

1 1/2

cups

mini chocolate chips
Instructions
Transfer the Oreo crumbs to a large bowl. Stir in 6 tablespoons of melted butter and use a fork to incorporate the butter into the cookie crumbs. When the butter is distributed, transfer the mixture to a 9 x 13 inch baking dish. Press the crumbs into the bottom of the pan. Place the pan in the refrigerator while you work on the additional layers.