As I mentioned yesterday in my Dipped Chocolate Chip Cookies post, for Valentine's Day this year, I am giving my hubby a little treat or gift for the seven days leading up to Valentine's Day. One of his favorite candies is peanut butter cups, so instead of buying a boring bag from the store, I decided to make my own homemade peanut butter cups!
I've made peanut butter cups before, but the recipe I've used in the past just had peanut butter mixed in with the chocolate. There was no peanut butter in the middle. Half the fun of peanut butter cups is when you bite into them and find peanut butter! This is a new recipe that I tweaked a bit and they turned out just perfect, and are so simple to make.
Other things I love about this recipe: swap out the sprinkles and you can use these peanut butter cups for any time of the year. They taste better than store-bought. The recipe makes 3 dozen which means you'll have plenty to keep and [hopefully] plenty to give away. Enjoy!
*Note: Make sure to use sea salt. There is a distinct difference in taste and it's SO much better than table salt in this recipe.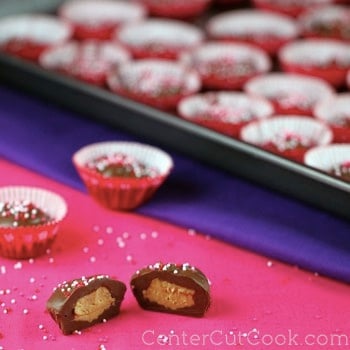 INGREDIENTS
1 cup creamy peanut butter – divided
1 1/2 tablespoons butter, softened
1/2 cup confectioners' sugar
1/2 teaspoon sea salt
12 ounce bag semisweet chocolate chips
4 Hershey's candy bars (1.55 ounces) broken into pieces
Mini cupcake liners
Sprinkles
DIRECTIONS
In the bowl of your mixer, combine 1/2 cup peanut butter, butter, confectioners' sugar, and sea salt. Set aside.
In a large bowl, add chocolate chips, candy bars, and 1/2 cup peanut butter. Melt in the microwave. I initially started with 1 minute on 50% power, stirred, then continued heating in 20 second increments until everything was melted.
Line a baking sheet with parchment or wax paper.
Use a spoon or a squeeze bottle to fill the bottoms of the mini cupcake liners with about 2 teaspoons of chocolate – enough to just fill the bottom.
Place about 1/2 teaspoon of the peanut butter mixture from step 1 in each cup. Top with an additional teaspoon or two of chocolate to cover the peanut butter. Top with sprinkles.
Place the tray in the refrigerator for about 30 minutes to firm up.
Recipe adapted from
Taste of Home