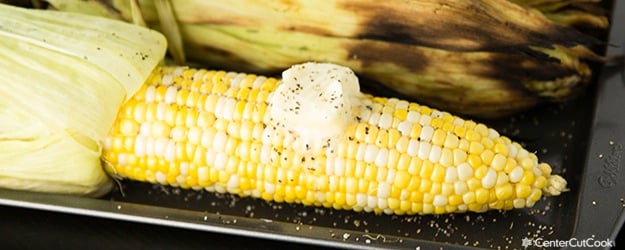 Grilled corn is one of the best things about summer! This easy recipe will guide you through how to perfectly grill corn!
I know it's September, and while most of you are starting to focus more on soup and casseroles and less on the grill, I still wanted to share this recipe with you! One of my favorite recipes for the grill happens to be corn! So simple, yet so delicious!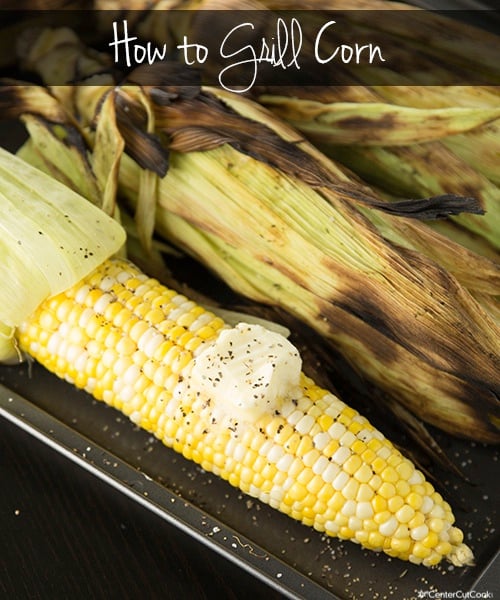 Have you ever wondered how to grill corn? Over the years we've played around with different methods of grilling corn. We tried cooking the corn with the husks still on, and with the husks off. We also tried cooking corn in foil. The method I'm going to share today is the one that has worked the best for us!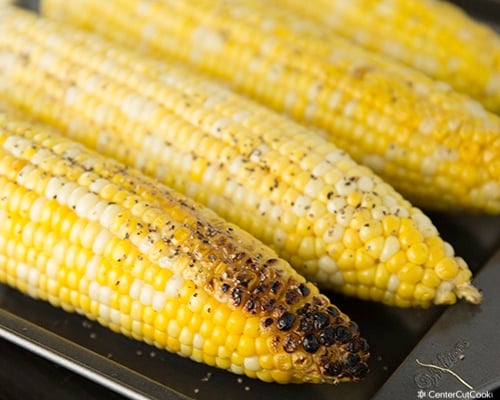 I always spread butter over the corn while it's still hot and sprinkle it with salt and pepper. Some people get really creative with the toppings by adding a variety of seasonings and herbs, but I've always preferred the simplistic route.
One of the most important aspects to successfully grill corn is to choose fresh, juicy, ripe corn. Make sure the corn you choose has bright green husks. I like to pull back part of the husk in the grocery store to make sure that the ear of corn I am buying looks okay.
Grilled corn is definitely one of the best things about summer! This recipe is super easy and the end result should be perfectly grilled corn. Enjoy!
INGREDIENTS
DIRECTIONS
Prep the corn by removing several of the outer husks, but leaving enough of them in-tact so that the corn is still covered.
Carefully pull the remaining husks down to expose the corn, but do not rip them off. Remove all of the silk from the corn, then put the husks back in place so that the corn is covered.
Fill a clean sink with water and soak the corn for 20-30 minutes. This will help prevent the husks from burning (although, they will still get the charred look).
Pre-heat your grill to medium heat, around 350 degrees. Remove the corn from the water and shake off the excess water.
Place the corn, with the husks still in tact on the grill and cook for about 15-20 minutes. Rotate the corn every 5 minutes so that all sides can cook.
At this point you can remove the corn from the grill, or you can pull the husks back and place the corn directly on the grill if you'd like a charred look. Just be sure not to over-cook the corn, otherwise it'll be mushy.
Allow the corn to cool for a few minutes before carefully removing the husks. This part can be a bit messy. Spread butter over the warm corn and season with salt and pepper. Serve immediately.