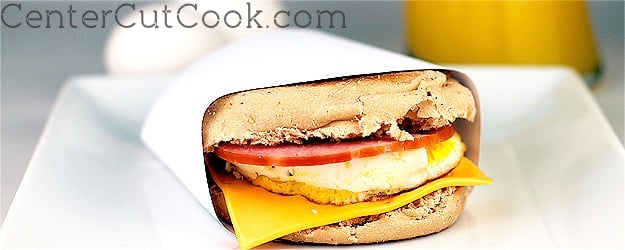 I could probably talk to you all day about my dislike for McDonalds and other fast food restaurants. Watching Super Size Me several years ago helped solidify these feelings, but I'm not going to turn this into my little soap box. One of my beefs (haha) with McDonalds is the insanely high amount of sodium that most of their food contains and the fact that it's easy to consume a whole day's worth of calories, fat, and sodium in one "meal."
If I had to choose one item from their breakfast menu that is remotely "healthy," and I use that term loosely, it would be the Egg McMuffin. There's no need to go to McDonalds to enjoy it, however, because you can very easily make it at home, round egg and all, and cut some calories in the process!
Before I even start explaining how to make your own Egg McMuffin at home, I should probably disclose that I hate eggs. There, I said it. Seriously, if I had to choose one food that I despise, it's eggs. I've tried every way of cooking them, and I still can't stomach them. It's something with the texture, therefore, I have not tried this version of the breakfast sandwich (I make mine without the egg), but my husband has, and he approves. :)
Now, to keep it real, I should probably also disclose that when I make this tasty sandwich, I usually do not make circular eggs because really, it's more fuss than it's worth, but it does look cool. Usually I just scramble an egg, pour it in my 8 inch skillet, fold it over omelet style after a few minutes of cooking, and then fold it again so that it's more like a triangle that fits on an english muffin nicely.
So how does one go about getting the infamous circular egg? There's two ways that I know of. First, you can purchase an egg ring or other gadgets at stores like Bed Bath and Beyond. Or, you can be resourceful like I am and empty out a tunafish can, cut off the top and bottom, wash it, and cook the egg that way. Just place the tuna can on your skillet, spray the sides with some cooking spray to prevent the egg from sticking, crack the egg into the circle, then use a fork to poke the yolk so that it spreads across the top of the egg. This will allow it to cook evenly.
One more thing I'd like to mention is that I usually cook multiple eggs in one sitting, then freeze them. Each egg gets wrapped individually with some plastic wrap, then if I know I'm going to make my husband a breakfast sandwich in the morning, I put the cooked egg in the fridge overnight to thaw. In the morning, it literally takes 2 minutes to make his breakfast. I have yet to freeze the whole sandwich Jimmy Dean style because my method of just freezing the egg works well and is still pretty quick.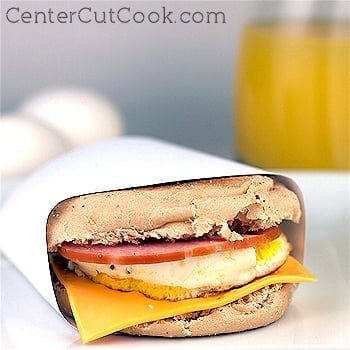 INGREDIENTS
English Muffin (I buy Thomas' Light Multi-Grain – 100 calories)
1 Slice of American Cheese – 60 calories
1 Large Egg – Approximately 90 calories
1 slice Canadian Bacon – 40 calories
Butter- optional (I don't use it)
Total Calories: 290
DIRECTIONS
Heat a small non-stick skillet to medium heat. Either cook the egg with an egg ring or tuna can (refer to paragraph above for more info) to get a circular egg or scramble an egg in a bowl and pour into the skillet to cook.
While the egg is cooking, lightly salt and pepper.
Toast an english muffin in the toaster. When the muffin is toasted, immediately place a piece of cheese on the bottom. *Optional – you can spread the english muffin with butter, but I usually omit this.
In the skillet that your egg is cooking in, heat 1 piece of canadian bacon for about 30 seconds on each side.
Place the cooked egg on top of the cheese, top with canadian bacon, and then the top portion of an english muffin.
Serve immediately.
*Note: If you are making this in the morning with an already cooked egg, just toast your English Muffin, then assemble the sandwich and microwave for about 1 minute or until the entire sandwich is heated. This is the method we use during the weekdays when things are hectic and it's much faster than going through the drive-thru.
Recipe adapted from
A CenterCutCook Original!