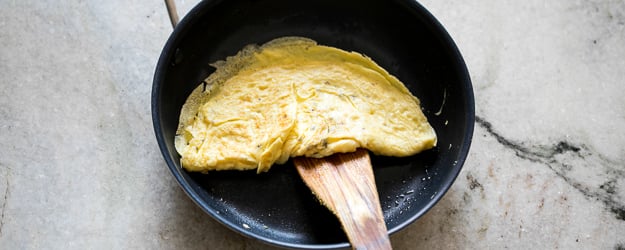 Making an omelet may look simple but I've had botched up omelettes way too many times. There have been burnt bottoms, overcooked dry eggs, completely undercooked centre etc. But an omelet is such a simple, easy breakfast and so popular that it should be darn near perfect. And it's totally possible to do, especially if you follow some simple tips and tricks while making it.
I learnt it the hard way, because while growing up, my sister was always a picky eater when it came to eating her eggs. And since eggs were so quick and easy, we would make them very often. Over the years I realised that the trick to a great omelet is crispy edges, cooked bottom and a creamy centre. Where every bite is a delight. I love filling mine up with some freshly grated cheese and chives and folding it over so that the cheese melts.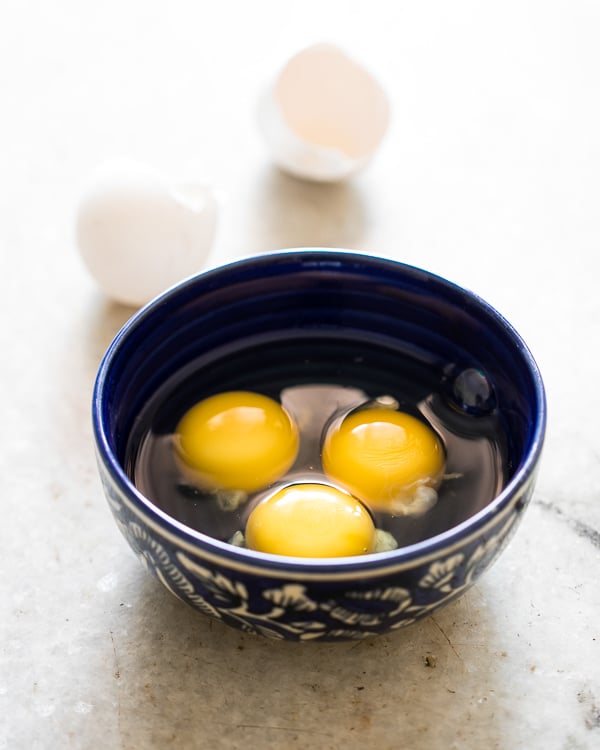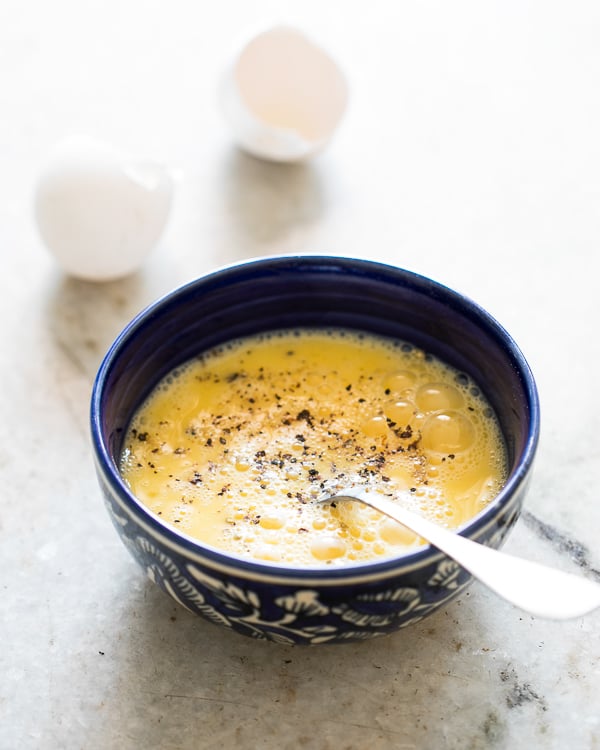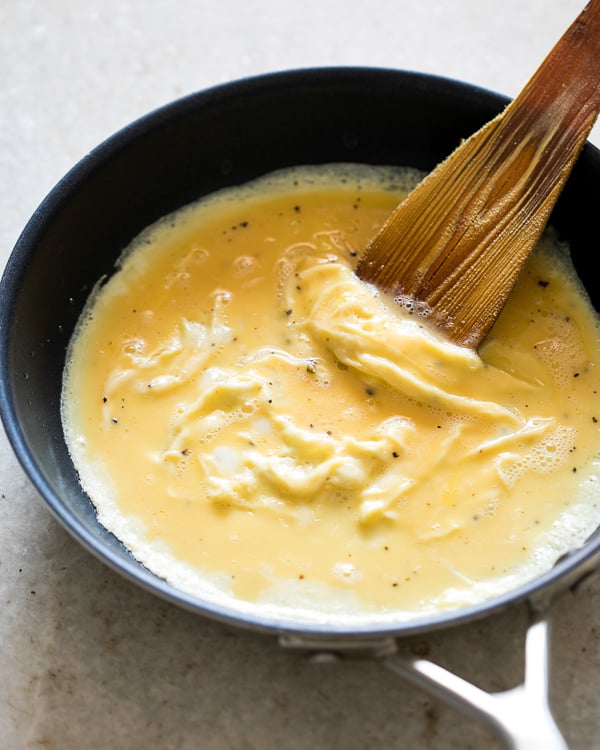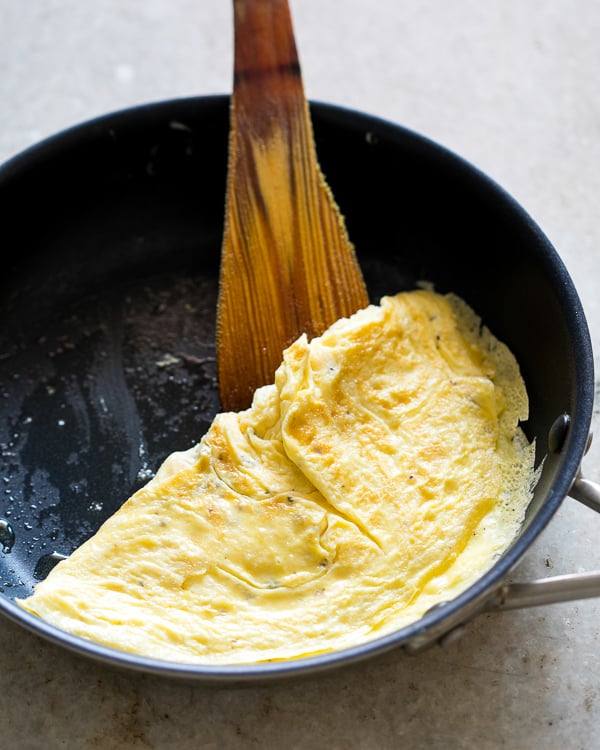 Here are some simple tips to use when making an omelet at home that will make sure you have the perfect breakfast every time:
Use a non stick skillet: While I love my cast iron pan, I prefer a non stick pan when making an omelet. This ensures that the omelet doesn't stick to the bottom and slides out perfectly any time.
Whisk your eggs well: A light omelet is made out of eggs which have been whisked well. So don't be lazy about this step. The more you whisk your eggs, the lighter and fluffier your omelet is. You can easily use a blender for this step too.
Use butter instead of oil: While I don't have anything against oil, butter is just better when it comes to making an omelet, adding flavour to the finished product
Pre-cook your filling: If using a vegetarian filling for your omelet or something like bacon, pre-cook it before adding it to the omelet. This makes sure there is no wateriness or weird uncooked meat. You'll have to use your judgement here, because ham for example can be added as is.
There you go. You are already on your way to making the best omelet. Follow the recipe instructions and you will never go back to bad omelettes.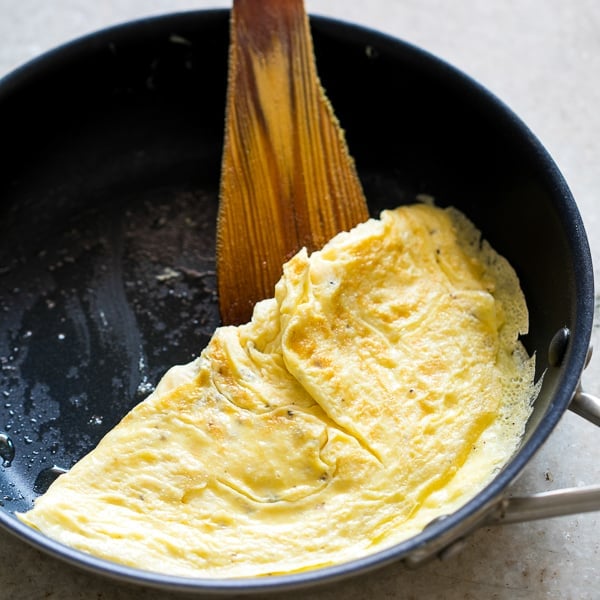 INGREDIENTS
3 large Eggs
2 teaspoons Butter
Salt and pepper to taste
1/4 cup pre-cooked filling (optional)
2 tablespoons shredded cheese (optional)
DIRECTIONS
Crack all the eggs into a bowl and season with salt and pepper. Whisk well till frothy.
Heat butter in a 10 inch non stick skillet and coat it well with melted butter. Once the pan is hot (but not smokey), add the whisked eggs so that the eggs coat the bottom.
Gently use a spatula to push the edges towards the center, and let uncooked eggs take up the empty space. You'll have to tilt the pan so that uncooked egg mixture takes up the empty space. Keep doing this till most of the egg looks cooked, and the omelet has light waves.
Cover the omelet for a minute to let the bottom cook. Take off the cover. The bottom should be light and crisp but the top should still look creamy, but there shouldn't be any loose flowing egg.
Add any filling and cheese if using, in the center of the omelet. Fold one side on top of the filling, and then fold the other side on top to overlap. Or you can just fold the omelet in half.
Slide the omelet onto a plate and serve immediately.
Servings: 1