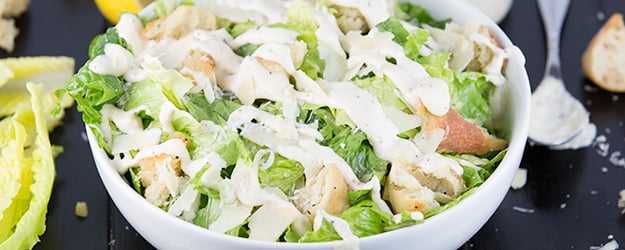 Ceasar salad is a classic recipe found in restaurants everywhere. The key to a good caesar salad is always in the dressing. I wanted to create a caesar dressing that was simple yet creamy that would taste just like I was eating a caesar salad at my favorite restaurants.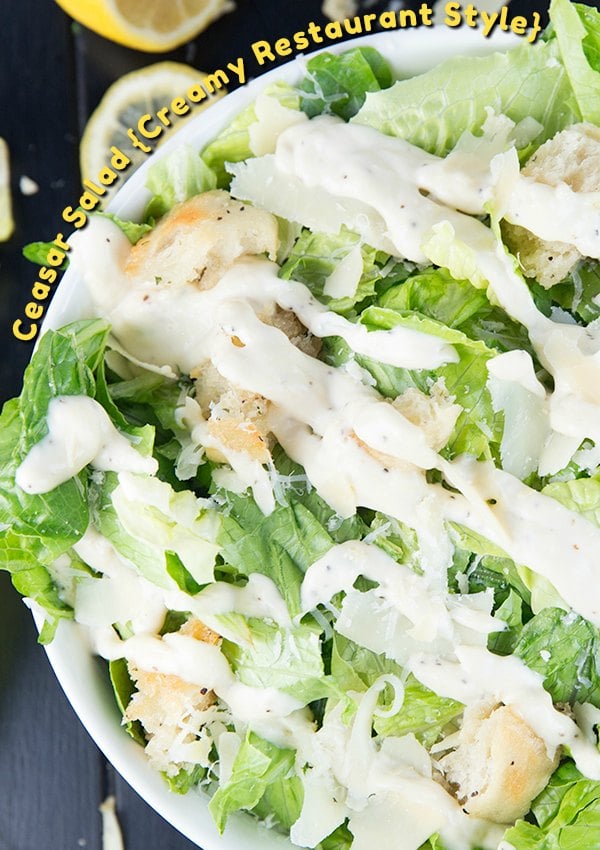 But, I also wanted to make it without anchovies and without raw eggs. This dressing is SOOOOO delicious and I was able to achieve that restaurant quality creamy dressing without using anchovies or eggs.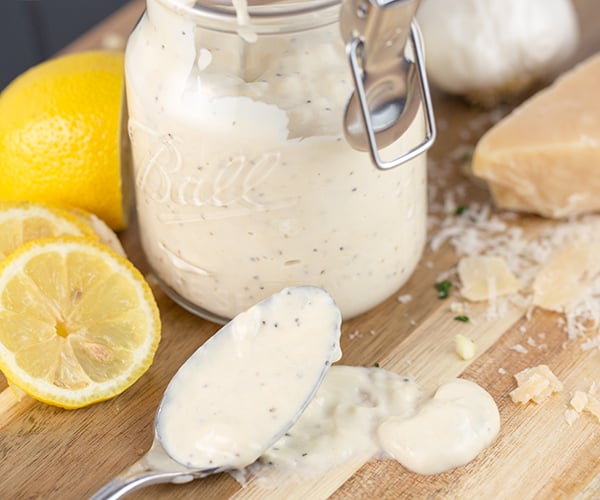 Ceasar Salad Ingredients
A classic caesar salad has a few main ingredients. First you'll need romaine lettuce. Another key ingredient is those crunchy delicious croutons. You can use croutons from the grocery store OR I've included instructions on how to make homemade croutons. They're easier than you think!
Ceasar Dressing Ingredients
Often times, a classic caesar dressing is made with anchovies and eggs. If you are searching for a dressing made with those ingredients, this dressing is not for you.
But if you're looking for a creamy caesar dressing without anchovies or eggs, look no further.
You've cooked with worcestershire sauce right? It's a common ingredient in so many recipes. Did you know that it's made with anchovies? Anchovies are just one of several ingredients in worcestershire sauce. I use it in this recipe in place of the anchovies and it's absolutely perfect!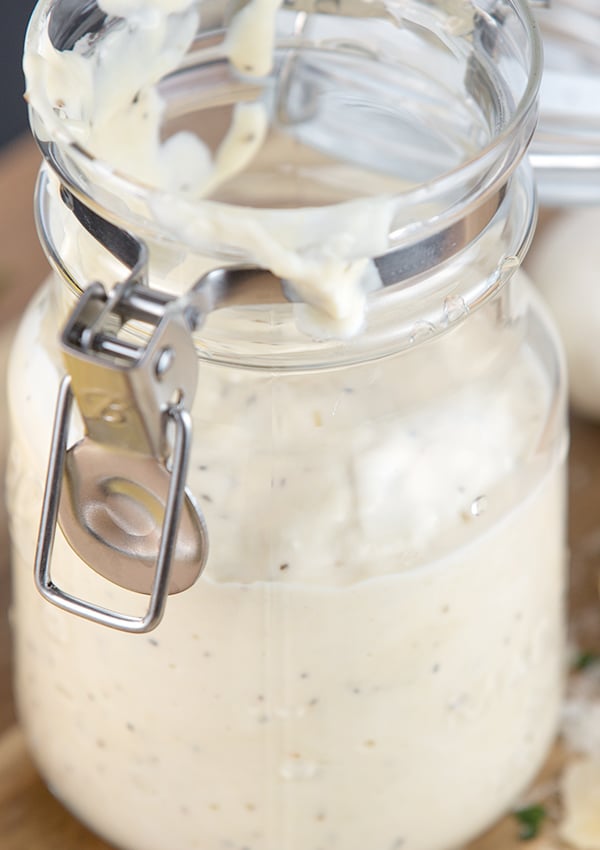 I placed all of the dressing ingredients in a large jar and just shook it up well to combine. You could also place the dressing ingredients in a large bowl and whisk them together.
Ceasar Salad Origin
I was digging around trying to find out just exactly where the caesar salad originated. For the longest time, I wrongly believed that it originated in Italy. Not so!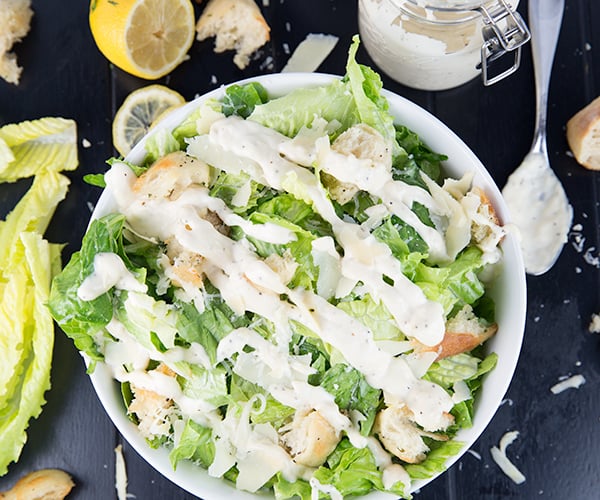 Rumor has it that the caesar salad originated with a restaurateur named Ceasar Cardini. He invited it in the 1920s in Mexico.
Ceasar Salad with Chicken or Shrimp
One way that you can turn this delicious salad into a filling, more satisfying meal is to grill some chicken or shrimp. Chicken Ceasar Salad is always a win!
I grilled chicken in my grill pan right on the stove top and it was a delicious addition to this salad.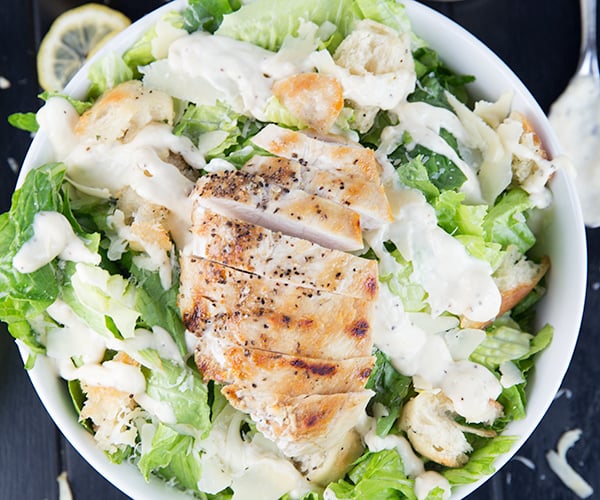 Shrimp cooks quickly, so grilled shrimp or even sautéed shrimp would be another delicious option.
Ceasar Salad Wrap
Another way that you could serve this is to make a Ceasar Salad Wrap. Use any wrap that you like, fill it with romaine lettuce, grilled shrimp or chicken, lots of fresh parmesan cheese, and give it a generous drizzle of homemade caesar dressing before serving.
Homemade Croutons
Aside from the homemade caesar dressing, my favorite part about this recipe is the homemade croutons. All you'll need is about 3 cups of bread torn into 1" chunks.
I used an Italian loaf from the grocery store.
Just toss the bread in a little extra virgin olive oil, season with a little salt and pepper and bake for about 10-15 minutes. It only take about 5 minutes of prep time to make these croutons and they are SO delicious.
Below you'll find the complete recipe for making Ceasar Salad with homemade caesar dressing (no anchovies or eggs required!) and homemade croutons.
When you're grating the parmesan cheese, use something like a microplane grater to get finely shredded cheese. It incorporates into the dressing so much better than larger chunks or shreds of parmesan cheese.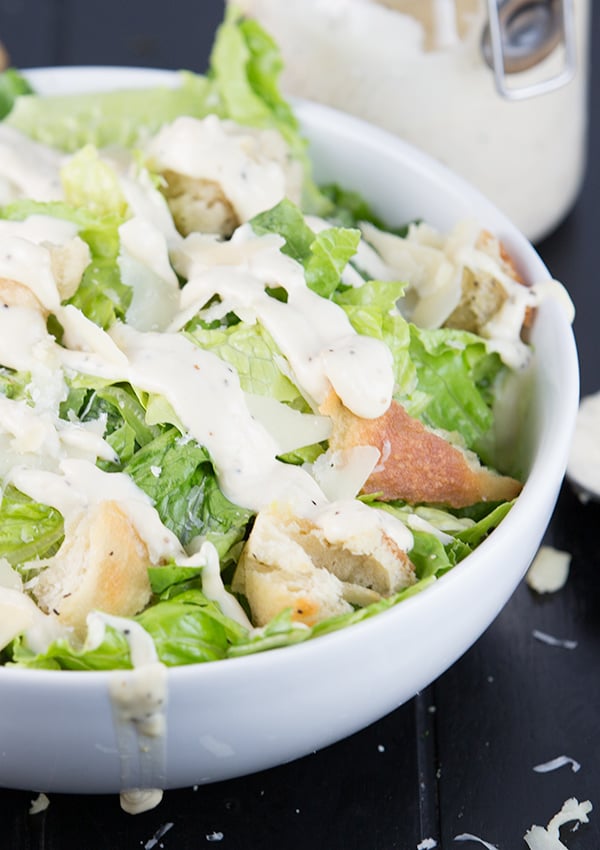 Whether you serve this as a side dish or as a main course, you are sure to love it! I like to serve it with my Spaghetti Pie with Chocolate Lasagna for dessert.
PS: If you want those beautiful large parmesan cheese shreds that you often see at restaurants, just use a vegetable peeler to peel off large pieces from a chunk of parmesan cheese.
Enjoy!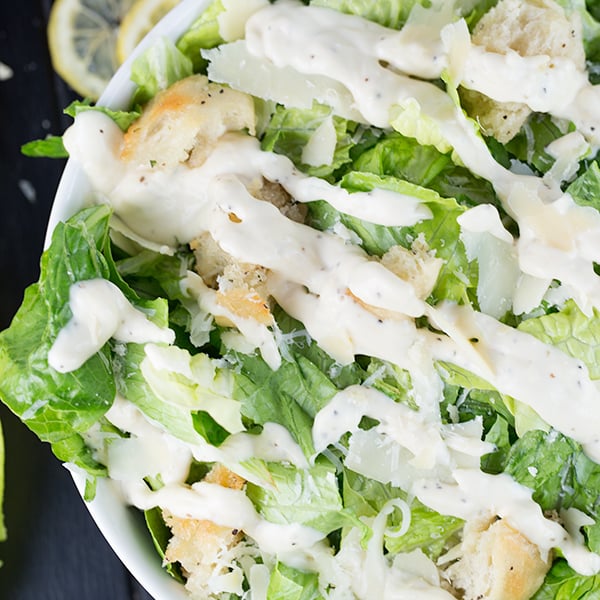 CEASAR DRESSING INGREDIENTS
HOMEMADE CROUTON INGREDIENTS
3 cups bread torn into 1" chunks
3 tablespoons extra virgin olive oil
Salt and pepper
CEASAR DRESSING DIRECTIONS
Place all caesar dressing ingredients in a large glass jar with a lid.
Shake well to combine all ingredients.
Alternatively, place all caesar dressing ingredients in a large bowl and whisk to combine.
Store in an air-tight container for up to two weeks.
HOMEMADE CROUTON DIRECTIONS
Preheat oven to 375 degrees F.
Toss bread chunks with 3 tablespoons extra virgin olive oil.
Season to taste with salt and black pepper.
Bake for 10-15 minutes or until the croutons are crispy and golden.
CEASAR SALAD DIRECTIONS
To make a caesar salad, chop up desired amount of romaine lettuce.
Top with fresh parmesan cheese, desired amount of caesar dressing, and homemade croutons.