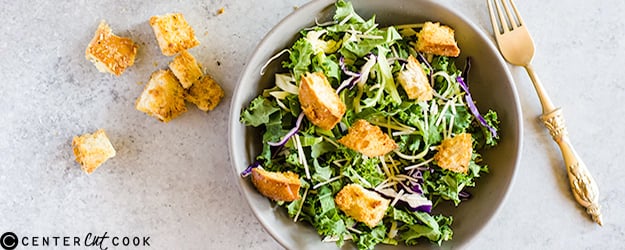 Okay, hands up, who else things that croutons are sometimes the best part of a salad? Yeah, me too! I love a good, flavorful crouton. Most of the time, I've had the regular croutons you get at the restaurant or from the store. The only time I've ever had homemade croutons was when my old room mate used to make them. She loved bold flavors and would pan roast hers in lots of garlic and fresh herbs. I finally decided it was time to make my own. And as it turns out, learning how to make croutons is a lot easier than you may think!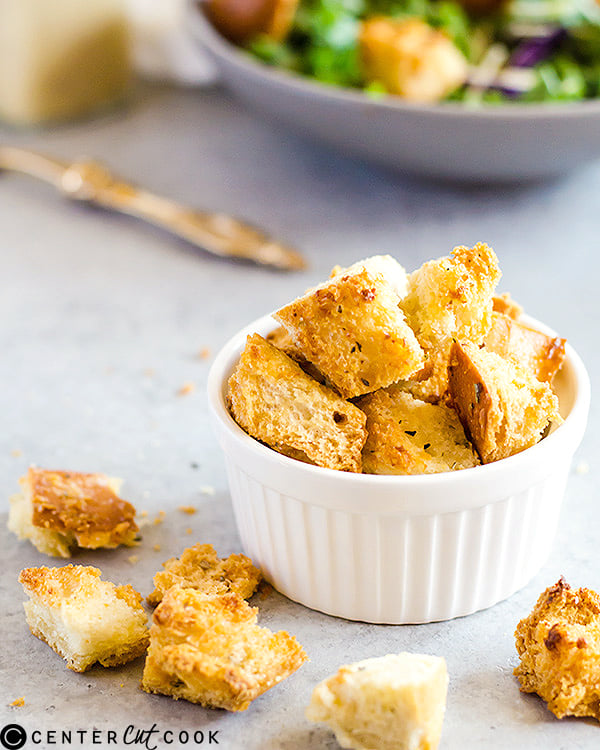 First, the bread. It should be slightly stale, but it doesn't need to be hard already. Sliced loaves of sandwich bread doesn't really work because it's too soft and the texture isn't right. A nice loaf at the bakery works best. It can be anything, baguette, ciabatta, an Italian loaf. And it doesn't need to be expensive. I used an Italian loaf that I found for only $1 at my local grocery store and it tastes just as good as any expensive bread when it is turned into croutons.
Second, you need to decide what kind of fat you are going to use. The usual choices are extra virgin olive oil or butter. Each has its own place for different dishes. For instance, a salad would do best with oil, while a soup would be better with a butter crouton. You can also experiment with other oils such as coconut oil. I wouldn't recommend vegetable or canola oil. You ideally want something with a bit of flavor to it.
Next, decide on any additional flavorings. In this tutorial on how to make croutons, I made garlic and herb croutons because they are my favorite. But you can use just about any flavors you want. You can even try cinnamon sugar for a sweet version! If you are going to use garlic you must finely dice it until it is almost paste-like. I recommend using a microplane (what you use to zest your citrus) or a garlic press. Any large bits of garlic will burn and taste acrid. Not good.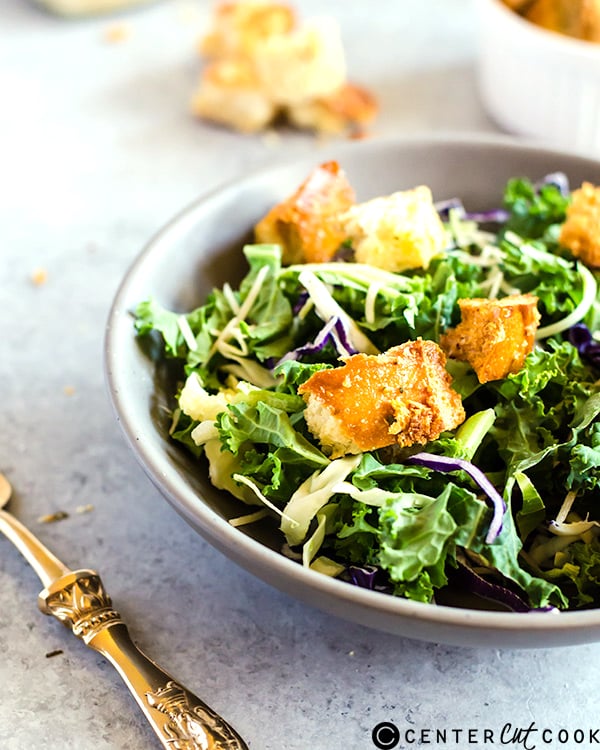 Once you've made your choices, making croutons takes just about 15 minutes, with most of it down time while it bakes, so you can make this in the oven while the rest of your food is cooking for dinner. Seriously, I was amazed at how simple and easy it was to make my own croutons!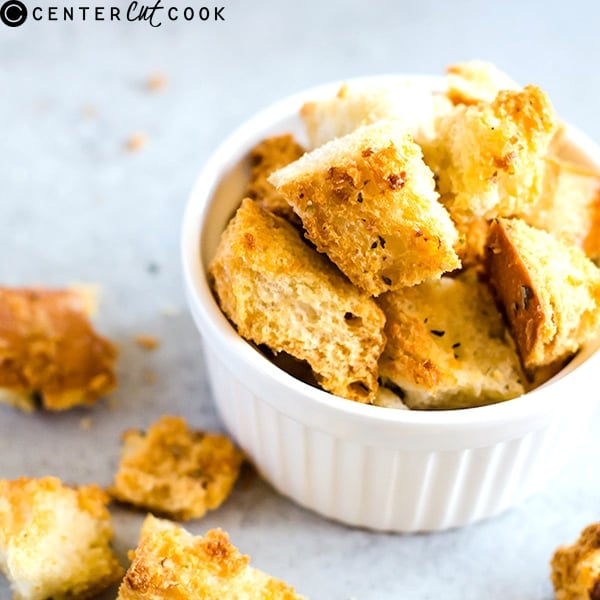 INGREDIENTS
1 loaf of your favorite bread
1/4 cup extra virgin olive oil (or butter)
2 cloves garlic (optional)
1/4 teaspoon salt
1 1/4 teaspoon Italian herbs mix (optional)
DIRECTIONS
Cut your bread into cubes. This doesn't have to be perfect, and you can even rip apart small pieces with your hands if you like.
Preheat the oven to 375 degrees F (we preheat after we break up our bread so the bread has time to dry out a bit more before baking).
If you are using garlic, grate it with a microplane or push through a garlic press. Alternatively, dice as finely as you possibly can. Add the garlic to your oil and heat the oil in the microwave for 30 – 40 seconds. You want the oil to get hot to speed up the infusion, but you do not want it so hot that it begins to cook the garlic. It should smell fragrant when you remove from the microwave.
Line a baking sheet with aluminum foil and brush with the garlic infused oil. Place the bread on the baking sheet and brush with almost all of the remaining oil (reserve about 1 – 2 teaspoons). Sprinkle with salt and half the Italian seasoning if using.
Bake for 5 minutes. Remove the baking sheet from the oven and turn the bread. Brush with the remaining oil and sprinkle with the remaining seasoning. Bake for another 5 minutes. The croutons should be hardened and golden brown. You can bake for an additional 3 – 5 minutes if you prefer darker croutons.
Serve warm, or at room temperature on top of soups, salads, chili, or eat plain.
Recipe adapted from
The Kitchn