There is nothing like waking up on Saturday morning and having waffles with the family. It is a tradition that most families have and one of my favorites. For the longest time we used to make our waffles out of the box until I realized that it is probably cheaper to make my own. Plus, they would probably taste even better.
Needless to say, I was right on both parts. All the ingredients to make waffles at home are probably already in your house, so the total cost of each waffle is mere pennies. And I am including the cost of using a waffle iron here.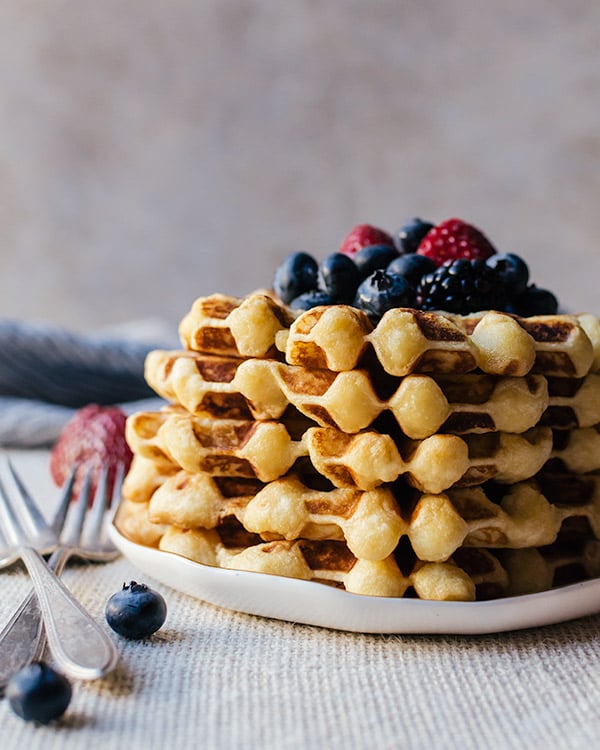 On top of that, homemade waffles taste so much better than boxed. You can customize them however you want. If I want something a little more decadent, I will use buttermilk or heavy cream in place of milk. Sometimes I will add a little more sugar if I want them more sweet, or take it out completely if I want a savory waffle. When I want to get a little fancy, I will even use brown butter in place of regular melted butter.
My favorite thing about this recipe is that it is perfect for anyone who is learning how to make waffles. All it takes is a whip, mix, mix, mix, then you are ready to cook! It's the first recipe I used when I taught my little sister how to cook before I left for college, and now it is the recipe my daughter makes with me on weekend mornings.
My main note for these waffles is that the whipped egg whites are what helps make the waffles light and fluffy while remaining crisp outside. You can always mix in the eggs whole into the milk, but the waffles will not be as crisp. Either way, they will still taste amazing and freeze really well.
I like to make a triple (yes, triple) batch on the weekends and freeze them for the week. We like to eat them for breakfast during the week. Sometimes I will even use them to make Nutella and strawberry or peanut butter and jelly sandwiches. Once every few weeks we will even have them for a chicken and waffles dinner!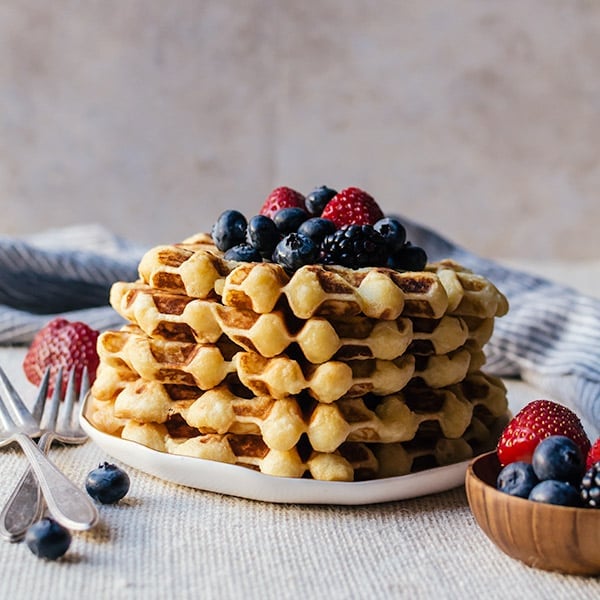 INGREDIENTS
DIRECTIONS
Preheat your waffle iron according to manufacturer instructions. Preheat the oven to the lowest setting.
Separate the egg whites from the yolks. Reserve the yolks, and beat the egg whites until they form stiff peaks. Set aside.
In a large bowl, mix together the flour, salt, sugar, and baking powder.
In a separate bowl, mix together the egg yolks, milk, melted butter, and vanilla.
Add the milk mixture into the flour mixture and mix until just combined. You don't want streaks of flour, but want lots of lumps in the batter.
Gently fold in the egg whites until there are no streaks of white, but there are still lumps in the batter.
Pour a heaping 1/3 cup of batter into the waffle iron and cook according to manufacturer instructions.
Leave cooked waffles on a wire rack in the warm oven until finished.
Servings: 7 waffles