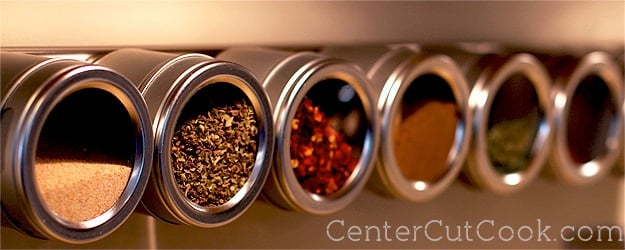 When I first got married, the only seasonings I had and knew how to use in the kitchen were salt and pepper. Despite receiving a handy dandy spice organizer as a shower gift, I had no clue which spices I'd need, or if I'd actually use them! I ended up buying just about every spice and seasoning found in the grocery store, only to find that most just sat there and never got used.
As I began to cook more often (and I'm talking really cook, not just frozen pizza and mac n' cheese that we so often consumed as college students), I started learning which spices I liked to use the most, and which ones recipes seemed to call for. Once I knew which ones I'd use, I was able to finally get rid of all the others and come up with an elegant, classy way to store them.
HOW TO STORE SPICES
When it comes to storing spices, there are all kinds of racks and organization systems out there, however, in my opinion, most are clunky and take up WAY too much counter space!
A couple of years ago I was fed up with the method I had, and desperate for a better solution. I wanted something that looked nice, and didn't take up my entire counter! After a trip to Ikea (drool), my problem was solved! Ikea sells these handy magnetic bars that just screw into the wall. They are so versatile!
I bought one strip, (but debated on buying two, one for knives and one for spices), a few containers, and for under $25, I had the perfect spice storage solution! The magnetic bar I purchased was large enough to fit 8 small containers for the spices I use most often (garlic powder, oregano, red pepper flake, cumin, basil, chili powder, onion powder, garlic salt).
For most of the spices, it's obvious what's in the container (e.g., red pepper flake), however for things like garlic powder and onion powder, it's more difficult to tell. To solve that problem, I used a simple labeler I already owned to label each container.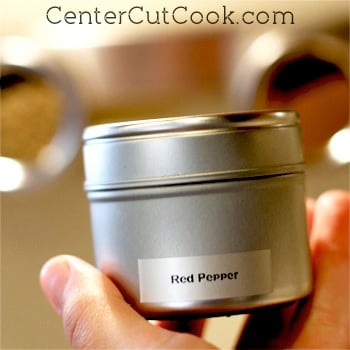 I couldn't be more happy with this solution. Not only is it a space-saver, but it looks classy! I can't tell you how many times we've had guests over that comment on how cool it looks.
If you'd like to do something like this, below you'll find links to products similar to what I used (It's been a couple years, I don't know remember the specific brand I bought). Amazon sells several different options as well.
Magnetic Rack – $8.99 – IKEA
Rack/Canister Set – $12.97 – Amazon
I've also seen the little containers at stores like Target, Meijer, and Wal-Mart. In fact Meijer is where I bought my canisters because IKEA at the time only sold large canisters (I've since seen all different sizes at IKEA).
So now that you've got a storage solution for your spices and herbs, which ones are worth keeping on hand?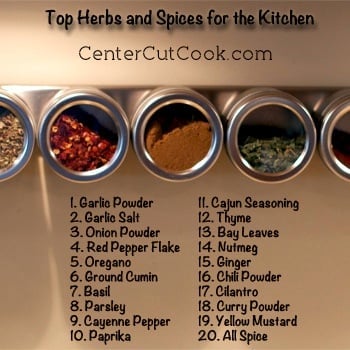 TOP HERBS AND SPICES FOR THE KITCHEN
Garlic Salt
Onion Powder
Red Pepper Flake
Basil
Parsley
Cayenne Pepper
Thyme
Ginger
Chili Powder
Cilantro
Curry Powder
Yellow Mustard
All Spice