Think Indian food is difficult? This easy recipe for an Indian version of the fried cabbage will change your mind.
If you've always had fried cabbage the southern way, with loads of bacon, it's really time to switch things up a bit. This vegetarian version doesn't need a long list of spices or ingredients, but is extremely delicious and will never make you miss the bacon. I mean, who doesn't love a clean version of a recipe which has no processed ingredients, no bacon – just pure plant based flavours.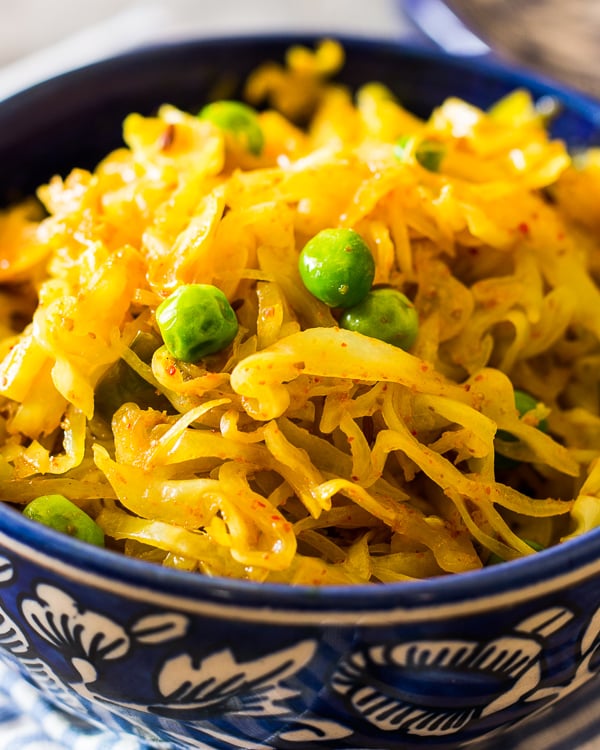 We love making this at home because it's perfect for a quick weeknight dinner. Chop your cabbage in a food processor and then saute it up with some light spices for an easy, flavorful dish that will truly make you wonder why you ever thought Indian food was complicated!
It goes really well with naan or chapatis, but if you don't have those, just grill up your favorite meat and have this Indian fried cabbage as the perfect side!
INGREDIENTS
1 Head Cabbage, shredded or finely chopped
2 tablespoons Oil
1 teaspoon Cumin Seeds
1 inch Ginger, grated
1 teaspoon Paprika Powder
1 tablespoon Coriander Powder
3/4 cup frozen or fresh Green Peas
Salt to taste
DIRECTIONS
Heat oil in a pan and add cumin seeds and ginger. Saute for a minute and add cabbage, paprika, coriander powder and salt.
Mix well, and add 1/4 cup water.
Cover the pan and cook for 8-10 minutes till the cabbage is fork tender.
Add in the green peas and cook for another minute or too. Serve hot.