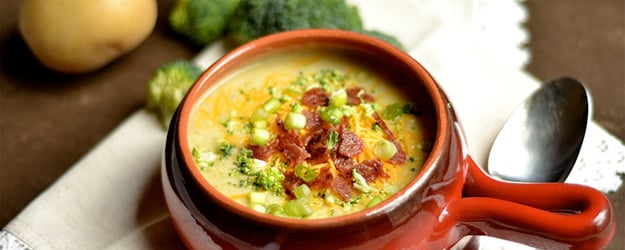 Easy Instant Pot Cheddar Broccoli and Potato Soup is a classic family favorite soup! It is easy to make in the Instant Pot and takes less than 30 minutes from start to finish.
Cheddar Broccoli and Potato Soup is an easy crowd pleasing meal in my family. Who would possibly complain about cheese, bacon, potatoes, and broccoli all served up in a creamy soup? Normally this soup requires several steps, maintenance, and almost an hour of cooking time. Not anymore when you make this soup in the Instant Pot!
There is something to be said about the convenience of the Instant Pot. I'm not quite willing to give up my slow cooker, but the Instant Pot is sure getting a lot more attention these days! Meals that normally taste better after cooking for several hours can easily be made in less than 30 minutes in the Instant Pot. This is so important when you are feeding your family on a busy and tight schedule. An Instant Pot is so versatile and you can make everything from soups to dessert, and breakfast to a variety of meat. EVERYTHING is so much faster in the Instant Pot!!
For this soup, you will need basic soup ingredients: garlic, butter, broccoli, potatoes, broth, half and half, and cheese. The bacon is optional; it really makes the soup taste like a loaded baked potato! Without the bacon, you can have a simple Meatless Monday meal. Other optional ingredients include sour cream, chives, or diced onion. Add in some crusty bread and a side salad for a complete dinner!
Looking for more irresistible Instant Pot recipes? Here are a few that you must try!
Instant Pot Mac and Cheese
Instant Pot Apple Crisp
Instant Pot Vegetarian Chili
How to Make Spaghetti in the Instant Pot
I hope you enjoy this super easy recipe for Instant Pot Cheddar, Broccoli and Potato Soup. It is easy to make, delicious, and always a family favorite. Enjoy!
INGREDIENTS
2 tbsp butter
2 cloves garlic, crushed
1 medium sized broccoli head, broken into large florets
2 lbs Yukon Gold Potatoes, peeled and cut into small chunks
4 cups vegetable or chicken broth, plus more if needed
Salt and Pepper to taste
1 cup half and half
1 cup shredded cheddar cheese
6 slices of bacon (optional)
Chopped green onion or chives for garnish
DIRECTIONS
Select the sauté function on the Instant Pot.
Once hot, add butter and crushed garlic. Saute about one minute, or until garlic begins to brown.
Add broccoli, potatoes, and broth. Season with extra salt and pepper. Secure the lid and select manual. Cook at high pressure for 5 minutes.
Once cooking is complete, select cancel and use the natural release for 10 minutes. Remove any remaining steam.
If using bacon, microwave or cook the bacon until desired crispiness. Set aside to cool.
Add the half and half and 1/2 cup of cheddar cheese. Blend with an immersion blender until smooth, or blend in batches in a large blender. If you want a thinner soup, add more broth. Add salt and pepper to taste.
Serve hot with remaining cheddar and bacon (if using).
Servings: 4-6 servings