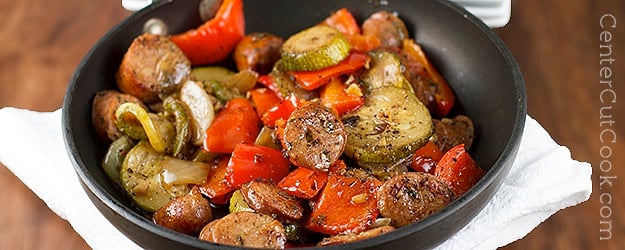 Woah, two chicken sausage dishes in one week? Yes, and I'll explain why! First, have you tried Italian Chicken Sausage before? It is so yummy, and such a great alternative to traditional pork Italian sausage (less fat, less calories, score!). Secondly, have you shopped at Costco before? It's all about buying in bulk so when I made the decision to buy Italian Chicken Sausage…at Costco…… it meant that I came home with A LOT… three pounds to be exact!
The first two pounds of chicken sausage was used to make two batches (one for entertaining, and one for my sister after she was recovering from surgery) of Italian Chicken Sausage pasta (yummy!), and the third pound was used to make this simple easy one-skillet recipe. I started by slicing up some veggies I had on hand into bite sized chunks (red bell peppers, onions, and zucchini). Next, I sautéed the Italian Chicken Sausage chunks until they were just about cooked through, then tossed in veggies and cooked them until they were tender. To add flavor to the dish, I stirred in about 3/4-1 cup of Italian dressing and let it simmer for a few minutes. This Italian Chicken Sausage skillet was served over rice, but you could eat it as is!
I love recipes like this that are easy, healthy, and come together super quick, not to mention the fact that it only requires one pan. ONE PAN! If you're looking for ways to use Italian Chicken Sausage, look no further. Enjoy!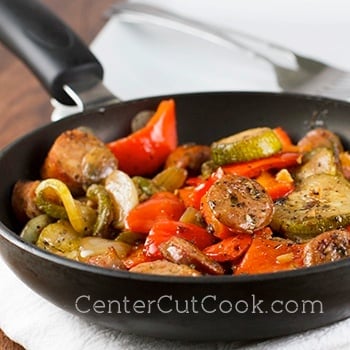 INGREDIENTS
2 red bell peppers, cut into bite-sized chunks
1 yellow onion, cut into bite-sized chunks
1 zucchini cut into 1/4 inch slices
1 pound Italian Chicken Sausage, cut into bite sized chunks
1-2 tablespoons olive oil
1 cup Italian dressing of choice
DIRECTIONS
Heat 1 tablespoon of oil over medium-high heat. Add Italian Chicken Sausage chunks and cook until the sausage is heated through (the kind I bought were pre-cooked, and just needed to be heated to 165 degrees).
Remove sausage from the pan, and add a bit more oil if necessary. Cook veggies for about 10 minutes, or until they're tender.
Add cooked sausage back to the pan. Stir in Italian dressing of choice and cook for a few more minutes.
Serve over rice, or eat as-is. Enjoy!
Recipe from
CenterCutCook