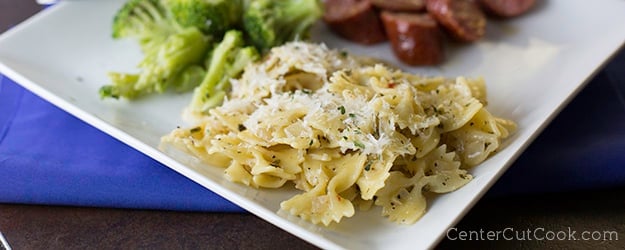 If you take a look around CenterCutCook, you will realize that I don't offer as many options as I probably could in terms of side dishes. There are a few favorites like Roasted Garlic Parmesan Broccoli or Roasted Cauliflower "Popcorn" but the truth is, I don't tend to get very creative with side dishes when I cook. We'll have a side salad, or some steamed veggies tossed in a little olive oil, but I can't say I put much thought into what goes alongside the main dish which contributes to the lack of options you see here. Don't worry, I'm going to get better about that!
I don't know about you, but I have bought my fair share of pasta pouches from the grocery store. I won't name brands, but there's a broccoli and cheddar version that I've made too many times to count. While there is a convenience to making pasta sides that come in a pouch, it is really pretty easy to make your own at home!
This Pasta Side Dish: Parmesan and Garlic Farfalle, comes together quickly and is full of deep flavor thanks to onions, garlic, parmesan cheese, and the combination of dry white wine and chicken stock. I am not a wine drinker, so I don't usually keep wine on hand. My grocery store sells these little 1-cup bottles that work perfectly for cooking.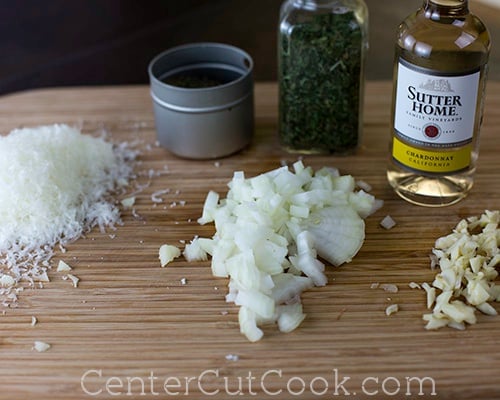 To start you'll need to begin cooking about 2 cups of dry pasta according to package directions. Then, you'll need about 1/2 of a medium sized yellow onion, chopped, 2 minced garlic cloves, and a little olive oil. You'll start by heating olive oil in a pan and adding in the onion. Once the onion is translucent, you'll add in the garlic. I LOVE the smell of garlic and onions cooking! At this point I also added in a little red pepper flake for some heat. If you don't like a little spice, leave it out.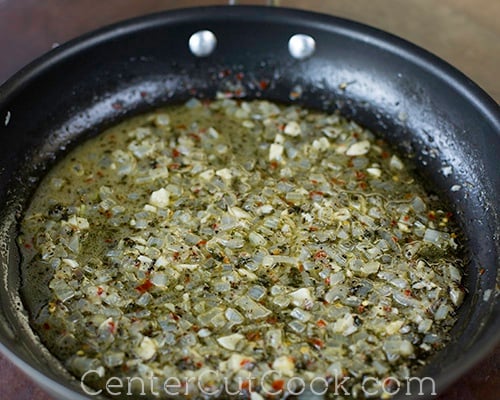 Once the garlic is fragrant (this only takes a minute or two), you will add in a little butter, some white wine, and chicken stock or broth. Then you'll bring it to a rolling boil, before adding in a few more spices and reducing the heat to medium-low. At this point the sauce will reduce down and the flavors will intensify. Right before it's done, you'll stir in a little parmesan cheese before tossing the pasta with this delicious sauce!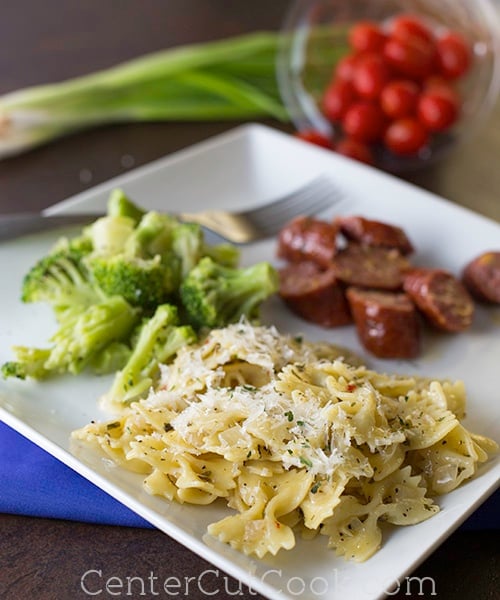 I topped the pasta with a little more parmesan cheese and it was just perfect as a side dish! You will get about 4 side servings from this recipe. It can be served alongside so many different main entrees! I just love versatile, easy side dishes, don't you? This was tasty enough that I could see myself tossing in some sautéed veggies, adding a little chicken, and making a meal out of it.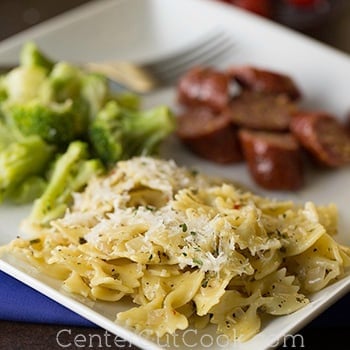 INGREDIENTS
1 1/2 cups uncooked farfalle, or other pasta or your choice
1/2 of a medium sized yellow onion
2 garlic cloves
1 tablespoon olive oil
1/2 teaspoon red pepper flake
1/2 cup dry white wine
1/2 cup chicken broth
2 tablespoons butter
1/2 teaspoon dried basil
1/2 teaspoon dried parsley
1/2 cup fresh finely grated parmesan cheese + more for garnish
DIRECTIONS
Cook pasta according to package directions.
In a non-stick skillet, heat olive oil over medium-high heat. When hot, add in onions and sauté for a few minutes until translucent. Add in garlic, red pepper flake (if you want a bit of heat), and cook a minute or two longer.
Add in 2 tablespoons butter, dry white wine, and chicken broth. Bring to a rolling boil, then reduce heat and add in dried basil and parsley. Simmer for 10-15 minutes, or until the sauce reduces down quite a bit. Stir frequently. Add in parmesan cheese. When the cheese has melted, toss the cooked farfalle with the sauce. Garnish with a little more parmesan cheese and serve as a side dish.
Recipe from
CenterCutCook