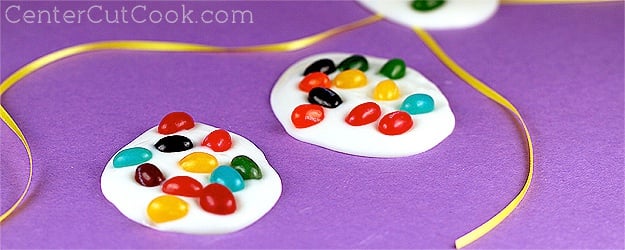 With Easter quickly approaching, I was trying to think of some fun, cute ideas for treats to make that were quick and easy. Nothing was coming to mind until I started flipping through a cookbook that Costco puts out each year and saw this CUTE idea to make Jelly Bean Bark in the shape of eggs. I took a look at the ingredients list and saw that it simply required two, and knew this was the treat for Easter '12. How can you beat two ingredients and 10 minutes of your time for this cute treat?
I must admit that it's been YEARS since I've bought jelly beans because we're not huge jelly bean kinda people. But, can you imagine my surprise when I was browsing the candy aisle at Target the other day and found that there are now fifty bazillion brands of jelly beans out there? There's the standard Jelly Bellies, and then all kinds of other flavored jelly beans like Jolly Ranchers. Not only are there Starburst jelly beans, but they also have a bag exclusively for the red and pink ones (my fave!). I would have used just the red and pink Starburst jelly beans for this treat, however I loved the look of all different colors.
With one package of white chocolate, I was able to make 12 decent sized egg shaped pieces of Jelly Bean Bark. How much bark you'll get from this recipe all depends on how big or small you make the eggs. To help make the process of creating egg shaped pieces easier, I used a squeeze bottle that I filled with the chocolate. Then I could just squeeze out the shape that I wanted without a huge mess. If you don't have a squeeze bottle, you could always use a spoon to create the egg shape.
If you're still looking for a main dish for Easter, checkout this recipe for Roasted Chicken with Lemon and Garlic. It may not be the traditional ham that you're used to, but it is absolutely delicious, and perfect for a special occasion.
INGREDIENTS
1 bag of jelly beans
1 package white chocolate or vanilla flavored almond bark
DIRECTIONS
Melt the white chocolate or almond bark according to the directions on the package, making sure not to overheat it. Once it has melted and has a smooth consistency, pour the chocolate into a squeeze bottle.
Squeeze out chocolate in the shape of an egg (if you don't have a squeeze bottle, you could also do this with a spoon), and use a spoon to smooth out the chocolate if needed. Each piece should be about 1/4 inch thick. Immediately sprinkle jelly beans on top of the chocolate before it sets. Lightly push each jelly bean into the chocolate.
Allow the chocolate to set completely, about 10-15 minutes, before serving.
Recipe adapted from
Costco's 2002 Cookcook