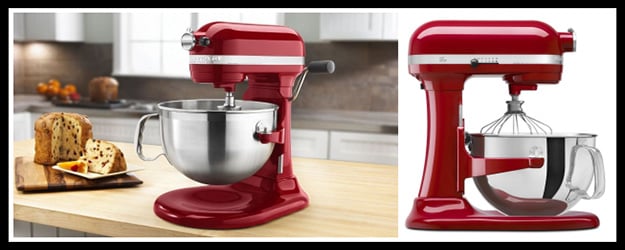 *This Giveaway is now closed! The winner is Christy M. – comment #2895 left on November 25th at 5:47PM. Thank you to all of you who helped me celebrate! I wish I could give everyone a fancy brand new KitchenAid mixer!*
There are certain times in life when you just need to stop what you're doing and CELEBRATE! You know, put on your dancing shoes and have a little fun? I've got my dancing shoes on and I'm hoping you'll join me as we celebrate CenterCutCook's two year anniversary! You guys… I have to tell you. I am smiling so big right now, just thinking about how excited I am that this little space of mine on the Internet has turned into everything I had dreamed it would become, and more.
When I started CenterCutCook two years ago, I was no stranger to blogging. Ryan and I had started a technology blog back in 2005, before "blogging" was ever a thing, so I fully understood all of the hard work it would take to turn it into what I had envisioned. Despite the long hours I knew I'd have to put in, I still wanted a space on the Internet where I could write about and share all of my favorite recipes. I have always loved to cook.
My only problem? I didn't know an ounce about food photography but having nice photographs to go alongside my recipes was something I knew I wanted. It all seemed so daunting in the beginning! All of my favorite food blogs had hundreds of recipes, how was I ever going to have a collection of recipes for visitors to browse, and how on Earth was I going to figure out how to photograph food in a way that made it actually look appetizing?
I took it one day at a time, one recipe at a time, and slowly but surely, I started building up a respectable collection of recipes and my photography gradually improved with each photo that I took. Two years later I have 337 mouth-watering recipes and hundreds of thousands of people visit CenterCutCook each month. In the beginning, I didn't even make enough money to cover my operating expenses. For the first six months of working on it full-time, I averaged $3 a day. Last year at this time, after working on CenterCutCook FULL-TIME for a year, I was up to $10 a day. You may be wondering what kind of income I'm earning today… I'm not going to go into those details, but I'll put it this way – it's quite a bit more than the $10 per day I was making last year if I can run out and buy this fabulous $300+ mixer for this giveaway! ;)
Thank you, to all of you who take the time to try the recipes that I make, leave comments, and follow me on social media. The CenterCutCook Facebook page recently reached 100,000 "likes" which just blows my mind! I am so thankful to all of you because without you, I wouldn't be able to do what I do!
As long as I am thanking people, I need to give a huge shoutout to Ryan as well. He's the designated taste-tester in this house, and my hubby for the last 10 years. Ryan helped me get this website off the ground and manages my server and anything and everything technology related. I don't know what I'd do without him!
Thank you, thank you, for everything you do to support me and my little piece of the Internet! And now… the fun part! Who is ready to win a KitchenAid Stand Mixer?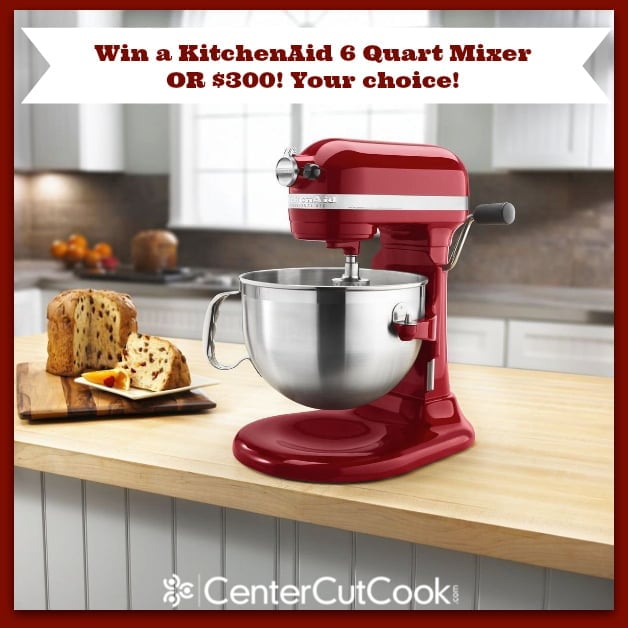 —GIVEAWAY!—
To help celebrate, I decided we needed to have an awesome giveaway, so I went out and bought a shiny red KitchenAid stand mixer. Of course, I only want the best for you so I splurged and went with the top of the line KitchenAid Professional 6 Quart Mixer! There is no task too large for this mixer! It's an absolute beast, in the very best way possible! And I'm giving one away to one of you! Are you excited?
I know some of you already own a KitchenAid mixer, so if by chance you win and you don't want this beautiful red KitchenAid, you have the option of receiving a $300 Amazon.com gift card instead. The choice is yours!
—TO ENTER—
Simply leave a comment below telling me something that you're thankful for! If you'd like, also tell me where you're from. I love hearing where everyone is from. :) Be sure to include your email address where it asks for it (this is not published publicly) so that I can contact you if you are the winner! A winner will be chosen randomly using random.org.
Who can enter? This giveaway is valid only if you live in the United States and are 18 years of age or older. I'd love to offer this giveaway to everyone, including those of you living in another country, but unfortunately due to the different laws in each country, I am unable to do so. This giveaway is void where prohibited. Only one entry per person. If you enter more than once, all entries will be deleted.
*If you live somewhere like Alaska or Hawaii where it would be too costly to ship the KitchenAid mixer, you will automatically get the $300 Amazon gift card.
The Giveaway starts at 12:00 AM central time on November 24th and ends on November 27th at 11:59PM. I want to make sure that whoever wins will have the mixer in time for holiday baking! Good luck and again, thank you for all you do to support CenterCutCook! xoxo