My Mom's recipe for classic, easy lemon bars is delightfully delicious! Some of the best recipes of all time incorporate lemons, from lemon cake to lemon tarts to lemon meringue pie and my favorite, lemon bars! This recipe comes together quickly and looks beautiful. It is perfect for serving at baby or wedding showers and delicious all year long.
I think that anyone that has lost a parent can relate to the nostalgia that comes from making a recipe that their parent used to make. My Mom's recipes takes me back to simpler times and delicious memories with my family. This Lemon Bar recipe was my mom's recipe. It wasn't until she passed away that I realized how special her recipes are to me. That's what is so special about family recipes is that they can be passed along for generations to come to help keep a loved one's memory alive.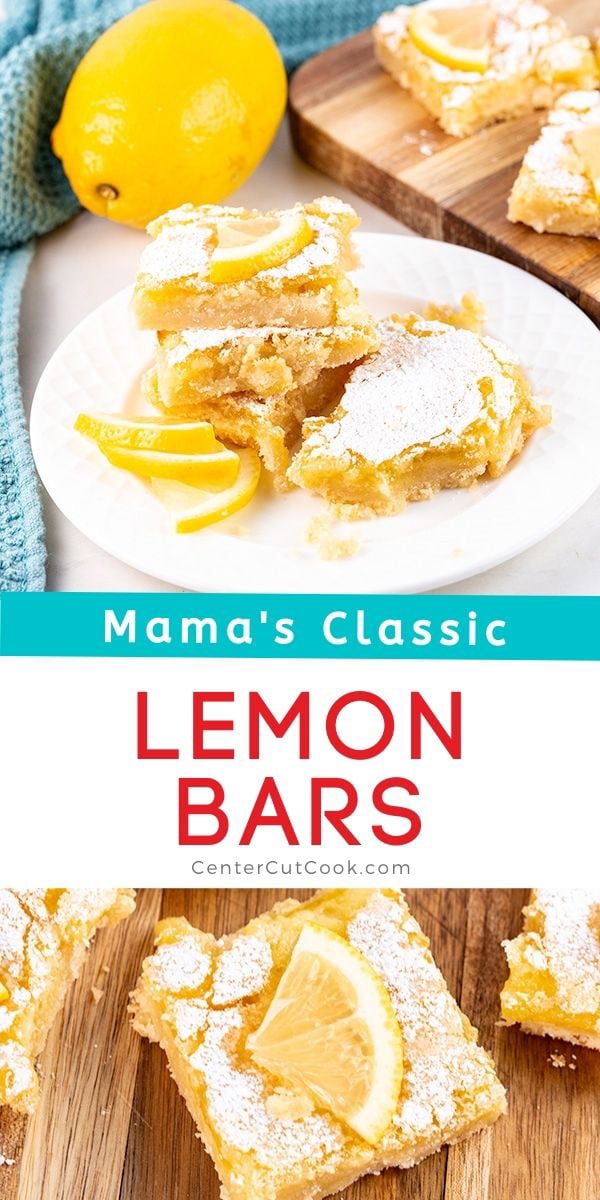 Now let's talk about these Lemon Bars. First things first, the crust.
How do you make the crust?
There are a variety of different ways that you can make the crust. Some lemon bar recipes recommend using a graham cracker crust. My mom's recipe calls for unsalted butter, flour, and powdered sugar. That's it! I like to add a pinch of salt but that's optional. You'll just cream together the butter, flour and powdered sugar, press it into a 9 x 9 baking pan and bake for about 15 minutes and your crust is done.
How do you make the lemon filling?
This recipe is so easy from the crust to the lemon topping. All you will need for the topping is 2 large eggs, sugar, salt, fresh lemon juice, baking powder and all purpose flour. You will spread the lemon topping over the hot crust, then bake for about 20-25 minutes until the top is very lightly browned.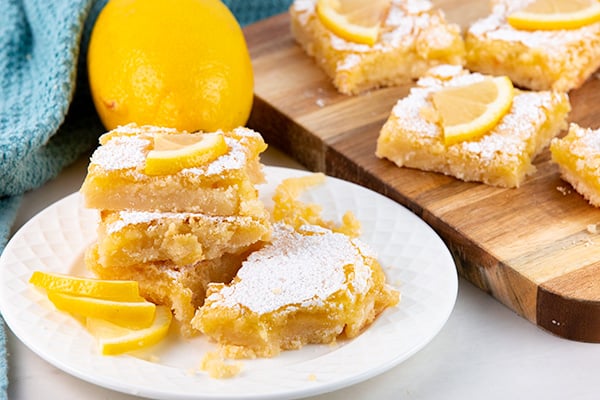 Can I use bottled lemon juice?
When you are making a recipe with lemon in the title, I always recommend using fresh lemon juice! It is essential for the best lemon flavor! You'll only need about 2 large lemons to get 1/3 cup of lemon juice, but I'd buy three lemons just to be certain that you have enough fresh lemon juice.
Pro tips for making Easy Lemon Bars
Try lining your 9×9 baking pan with parchment paper and make sure the paper hangs over the sides so that you can easily lift them out. This makes cutting so much easier and you won't have to deal with lemon bars stuck to the pan.
After the lemon bars have baked, allow them to cool at room temperature for about an hour, then place in the fridge to continue cooling for another hour. They will firm up as they cool. After they have cooled, sprinkle them with powdered sugar and then cut them into squares or triangles. You can garnish with a little wedge of lemon if you wish if you're serving it for an event like a baby or wedding shower. Just cut a thin round slice of lemon, then cut that lemon into 1/4s so that you're left with a little lemon wedge for each lemon bar.
Use a glass pan for the best result.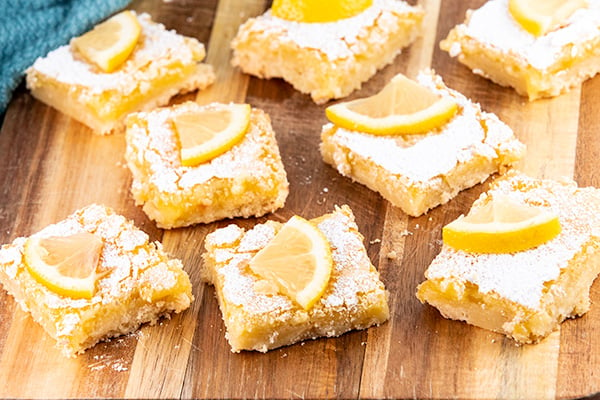 I hope you enjoy this simple recipe for Mama's Easy Lemon Bars. If you are looking for other delicious lemon desserts, here are a few more that you can try.
Blueberry Lemon Thumbprint Cookies
Starbucks Lemon Loaf Copycat
Iced Meyer Lemon Pound Cake
CRUST INGREDIENTS
LEMON FILLING INGREDIENTS
CRUST DIRECTIONS
Preheat oven to 350 degrees.
Line a 9 x 9 or 8×8 glass baking pan with parchment paper, making sure the paper hangs over the sides so that you can easily lift them out.
Cream together butter, flour and powdered sugar. Add in a pinch of salt.
Press into prepared baking pan and bake for 15 minutes.
LEMON FILLING DIRECTIONS
In bowl of mixer, beat the eggs, granulated sugar, salt, and lemon juice.
In a small bowl, sift together baking powder, and flour. Add the lemon mixture to the flour mixture and whisk to combine.
Spread over the hot crust.
Bake at 350 degrees for 20-25 minutes, or until lightly browned.
Allow the lemon bars to cool at room temperature for about an hour, then continue cooling in the refrigerator for 1-2 hours.
When the lemon bars are completely cool, lift them out of the pan.
Dust with powdered sugar for garnish if you wish, cut into squares or triangles and serve.
Servings: 9