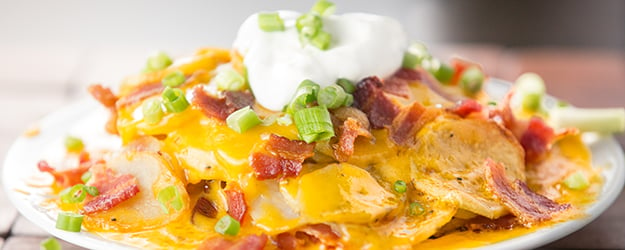 Nachos are one of those recipes you can make and know that just about anyone will enjoy. And it's SO easy too! My Cheesy Macho Nachos recipe is what I tend to make if I want more traditional nachos. Sometimes though, I like to change things up and use potato slices in place of tortilla chips like I've done in this recipe for Loaded Baked Potato Nachos!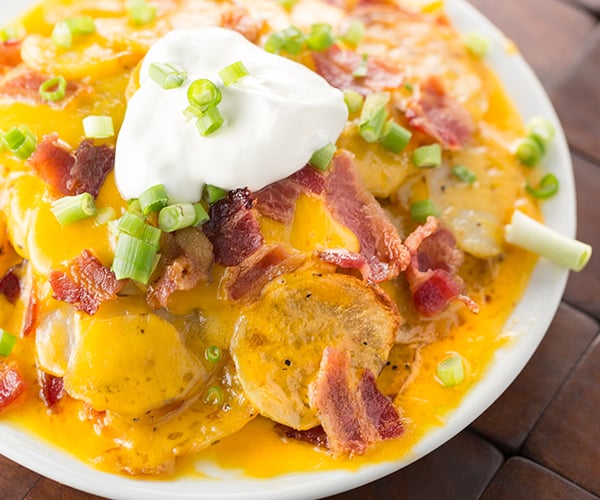 This recipe for Loaded Baked Potato Nachos follows the same principal as traditional nachos except I use potatoes and smother them with all of my favorite baked potato toppings – lots of melty cheddar cheese, crispy bacon, and diced green onions. The result is a cross between nachos and a baked potato, two things I absolutely love!
Be sure to shred your own cheddar cheese! Fresh cheddar cheese melts so much better than the pre-shredded kind from the grocery store. All you need is a simple box grater. Also, I recommend cooking your own bacon so that you have real bacon crumbles. Add a dollop of sour cream to the top and you're left with cheesy Loaded Baked Potato Nachos.
*Tip: Make sure that you evenly cut the potato slices for the best result. I used my food processor to get even slices. You can certainly use a knife, but cut them as evenly as possible, otherwise they will not cook evenly.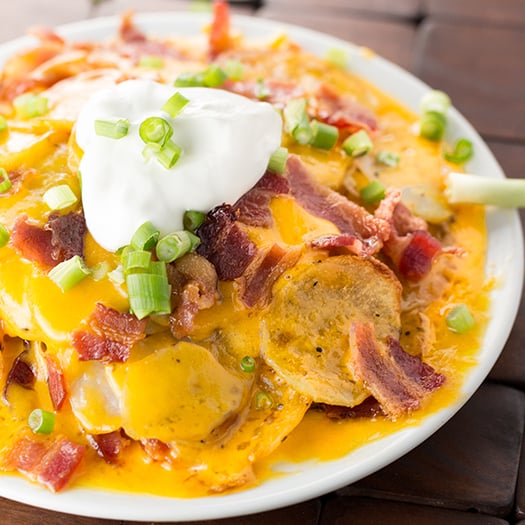 INGREDIENTS
4 russet potatoes cut into slices about 1/8 to 1/4 of an inch thick (I used my food processor for this)
3 tablespoons olive oil
1/2 teaspoon salt
1/4 teaspoon black pepper
8 slices bacon, cooked and crumbled
4 ounces cheddar cheese, shredded
4 ounces monterrey jack cheese, shredded
Sour cream for garnish
Green onion for garnish
DIRECTIONS
Pre-heat your oven to 425F.
Toss the potato slices with olive oil, salt and black pepper
Arrange in a single layer on a baking sheet that you've sprayed with non-stick spray
Bake for about 10 minutes, flip the potato slices, and continue baking for 10-15 minutes longer.
*Optional – Turn the broiler on and broil for a few minutes until the potato slices are crispy.
Remove the potatoes from the oven, turn off the broiler and turn the oven on to 400F.
On a baking sheet, arrange half of the potatoes. Sprinkle the potatoes with half the cheese and half the bacon. Top with remaining potatoes and sprinkle the remaining cheese and bacon on top.
Bake for about 8 minutes, or until cheese has melted.
Top with sour cream and green onions for garnish.
Recipe from
CenterCutCook