With the Super Bowl just days away, I'm sure about half of you are trying to figure out what you should make for the big game while the other half are yawing at the thought of watching football for several hours. Regardless of whether or not the Super Bowl is a big deal in your house, let's talk about this Buffalo Chicken Dip because it is a crowd pleaser, no matter the occassion!
Buffalo Chicken Wings rank up there as one of the most popular appetizers of all time (errrr maybe?… I didn't spend any time doing research to verify…), so it only makes sense that it is also delicious in dip form! This recipe is so simple and actually comes from the bottle of Frank's Red Hot Pepper Sauce. You start with creamy cream cheese, add in a little ranch dressing, some cayenne pepper sauce, a little mozzarella cheese, and shredded chicken, then bake until it's nice and warm. Once it's out of the oven, garnish with a little green onion and serve!
I served this dip with celery sticks, and a variety of other crackers and toasted chips. And the good news is that I feel like it's even better the next day so feel free to make this ahead of time. You'll need about two cups of shredded or chopped chicken. I decided to take the easy way out and bought a rotisserie chicken from the store and used that. It's a great solution if you're trying to make this in a jiffy.
If you're hosting a super bowl party this year, there's no need to fuss with making chicken wings when you can enjoy the same flavors in a simpler to make dip. With only five minutes of hands-on time with this recipe, you can't go wrong. Enjoy!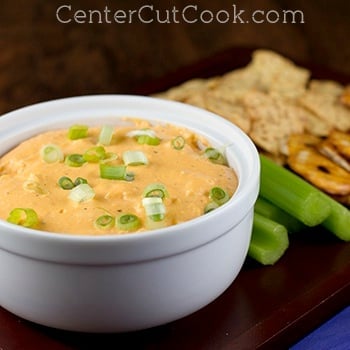 INGREDIENTS
8 ounce package of cream cheese, softened
1/2 cup ranch dressing
1/2 cup Frank's Red Hot Cayenne Pepper Sauce
1 cup shredded mozzarella cheese
2 cups shredded chicken or chopped chicken
1/2 teaspoon black pepper
Chopped green onion for garnish
Celery sticks, crackers, and toasted chips for dipping
DIRECTIONS
Pre-heat your oven to 350 degrees.
Use a food processor or a mixer to combine cream cheese, ranch dressing, black pepper, cayenne pepper sauce, and mozzarella cheese. Combine well.
Stir in chicken and pour into an oven safe dish and bake for 20 minutes or until it's heated through.
Top with chopped green onion and serve with celery and crackers.
Recipe from
Frank's RedHot Cayenne Pepper Sauce