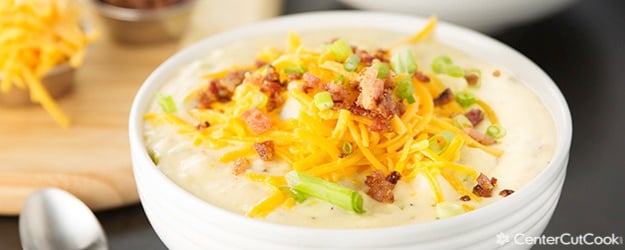 Ultimate Loaded Baked Potato Soup with tender potato chunks, fresh sharp cheddar cheese, crispy bacon, and green onion for garnish!
Ultimate Loaded Baked Potato Soup tastes just like a fully loaded baked potato but served up in a bowl of creamy goodness and topped with all of the best baked potato toppings! This is one of the best soups of the fall and we make it year after year with rave reviews.
I wish I could put into words how much I just adore this Ultimate Loaded Baked Potato Soup. I originally got the recipe from my sister-in-law a few years ago and it is supposed to be a copycat of Panera's Baked Potato Soup. I don't think it tastes like Panera's version, I actually think it tastes better!
Potatoes and soup define comfort food for me (and pasta and cheese too!), so when you combine them together, it's like comfort food heaven! The best part about this recipe? It comes together fast, it's easy, yet is so full of yummy baked potato goodness.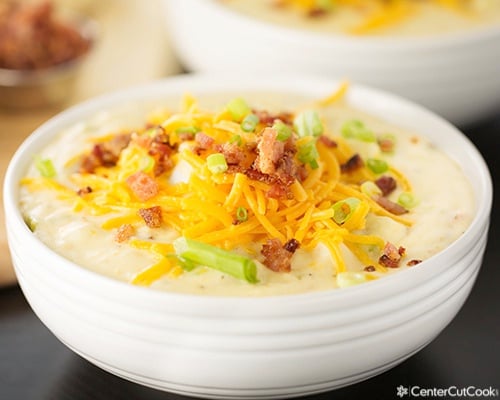 I don't know what you put on your loaded baked potato, but mine always has butter, sour cream, sharp cheddar cheese, chives, and crispy bacon. Guess what? This soup has ALL of those ingredients. I know some people prefer ham over bacon, so feel free to make that swap if you wish.
Not only will YOU enjoy this soup, but your kids will enjoy it too! If you're looking for delicious soup recipes for fall and winter, look no further, this is a soup the whole family will enjoy!
*Note, this is a rather thick soup which is exactly the way I like it. If you want a thinner soup, add a little chicken broth to thin it out.
INGREDIENTS
8 slices bacon cooked and crumbled (reserve about 2 tablespoons of crumbled bacon for garnish)
11 tablespoons butter
2/3 cup all purpose flour
7 cups milk ( I used a combo of whole milk and 1%, use whatever you have on hand)
4-6 potatoes, baked peeled and cubed (I typically cook them in the microwave to speed the process along)
4 green onions, chopped plus additional for garnish
2 cups sharp cheddar cheese, shredded plus additional for garnish
1 cup sour cream
1 teaspoon salt
1 teaspoon ground black pepper
DIRECTIONS
In a large stock pot, melt butter over medium heat. When the butter has melted, whisk in flour and allow the mixture to cook for a few minutes.
Slowly add in 7 cups of milk, 1 cup at a time, whisking really well between each cup.
When all 7 cups of milk have been added, continue whisking until the mixture starts to thicken a bit.
Add in cubed baked potatoes and green onions, then bring to a boil making sure to stir frequently.
Reduce the heat to low, then stir in bacon, cheese, sour cream, salt and pepper.
When the cheese has melted serve immediately. Garnish each bowl of soup with additional cheddar cheese, bacon crumbles, and chopped green onion.
This recipe typically serves 4-6.