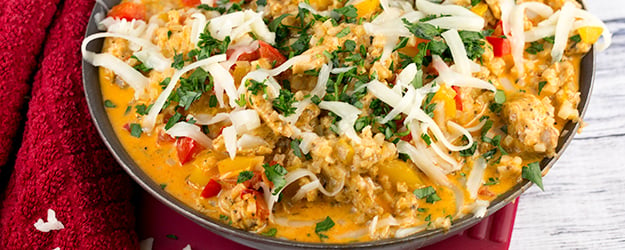 I am always looking for low-carb and keto snacks and meals that are loaded with flavor, easy, and delicious.
This One Skillet Chicken Bacon and Mushrooms in Parmesan Cream Sauce is a favorite, but I've got a new recipe to share that I think you'll love too.
Meet Low-Carb Cajun Chicken Skillet – it fits the bill! Not only is it loaded with flavor, it comes together quickly.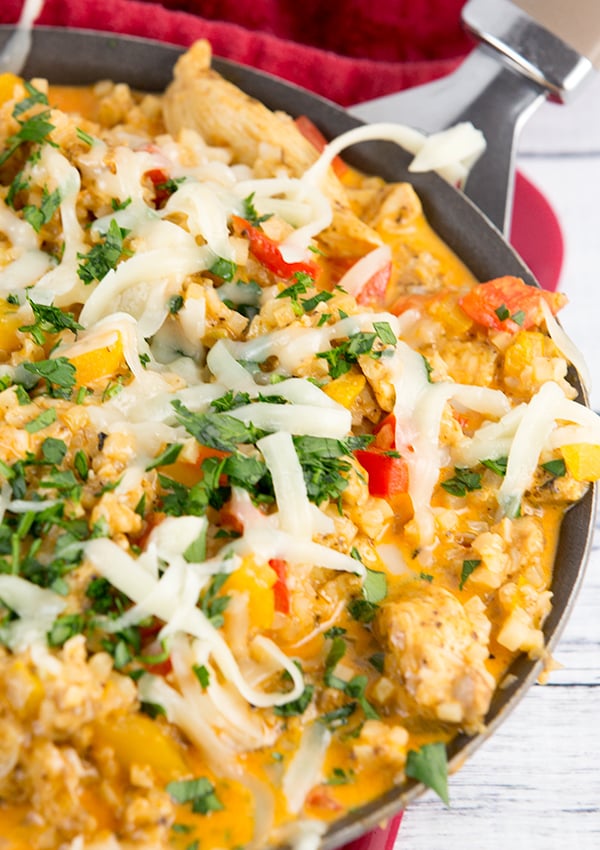 I like to serve this chicken skillet over riced cauliflower. One of my favorite kitchen shortcuts lately is to buy frozen riced cauliflower. It's so much quicker and easier than ricing a head of cauliflower.
Green Giant sells a 12 ounce bag of riced cauliflower that you steam right in the bag and it's super convenient. This is not at all sponsored. I'm just a big fan! :)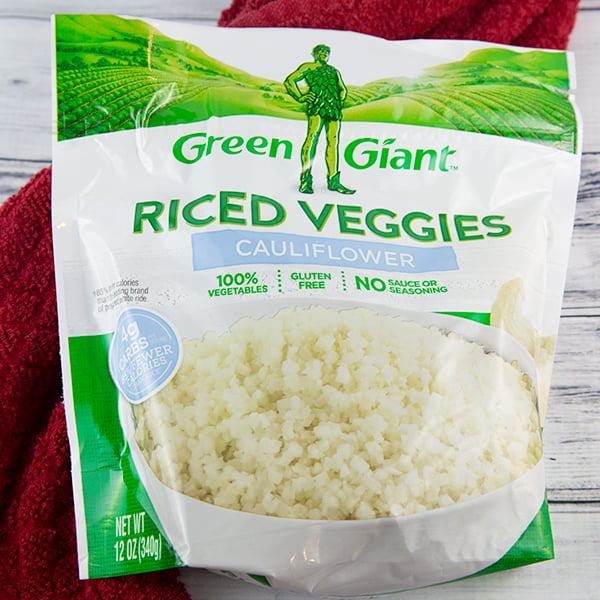 I generally try to eat low-carb/keto, so riced cauliflower is a great alternative to steamed rice but feel free to serve it over steamed rice if you'd like.
Sometimes I'll make the riced cauliflower for me and steamed rice for my little guy who seems to have mad cauliflower detection skills.
You can also stir the riced cauliflower right into the skillet instead of serving the chicken/sauce over the riced cauliflower. That's what I did for the photos that you see. The cauliflower was stirred right in.
But, I do have to say that I enjoy it both ways and for reheating purposes, it's better to keep the riced cauliflower separate and just spoon the cajun chicken mixture right over the riced cauliflower or steamed rice.
The cajun seasoning adds a lot of flavor to this recipe. I'm also a huge fan of smoked paprika which I added to this recipe. There's something about that smoky flavor that I just love when it's combined with cajun seasoning.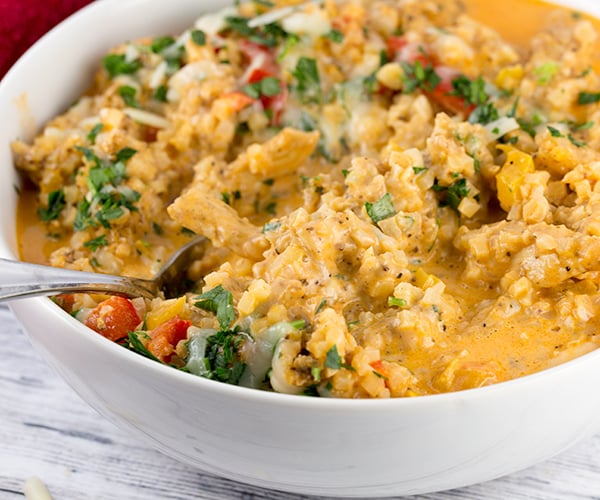 This Cajun Chicken Skillet is an excellent meal for busy weeknights made with ingredients you likely already have on hand.
Oh, and one more tip. I used thinly sliced boneless skinless chicken breasts and then cut them into small strips. You could use regular chicken breasts that aren't thinly sliced, but it'll just take more prep work on your part to cut them up.
I hope you enjoy this Low-Carb, keto-friendly Cajun Chicken Skillet.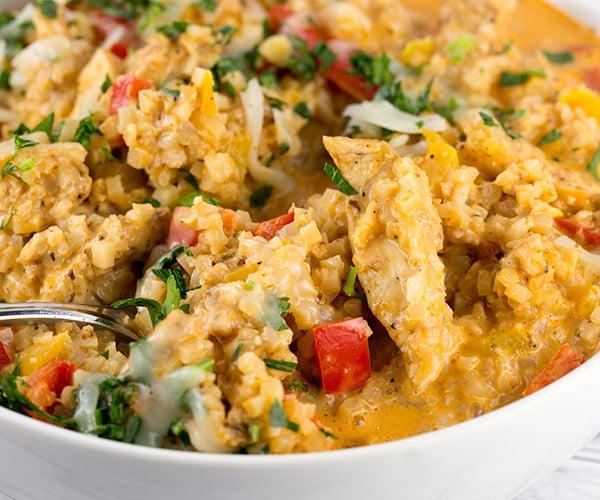 Enjoy!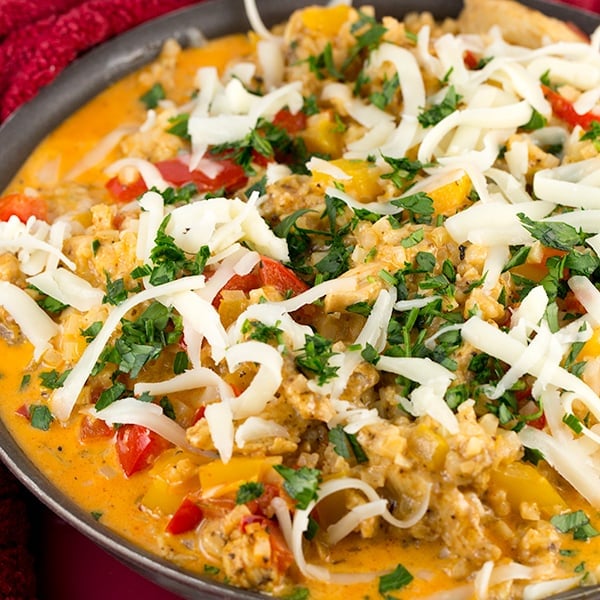 INGREDIENTS
1 pound boneless skinless chicken breasts, sliced thin, cut into strips
2 tablespoons cajun seasoning
2 tablespoons butter
1 red bell pepper, diced
1 yellow bell pepper, diced
2 cloves garlic, minced
1 teaspoon smoked paprika
Salt and pepper to taste
3/4 cup chicken broth
1/3 cup heavy cream
2 tablespoons tomato paste
8 ounces monterrey jack cheese, shredded
Parsley for garnish
12 ounces frozen riced cauliflower, cooked to package directions
DIRECTIONS
Cut thinly sliced chicken breasts into strips and toss with 2 tablespoons cajun seasoning.
Heat butter over medium high heat in large skillet.
Add chicken and saute' until chicken is cooked through and juices run clear – about 8 minutes.
Remove the chicken from the pan, cover and set aside.
To the pan add peppers. Saute' for about 4-5 minutes until peppers are crisp-tender.
Stir in garlic and cook for another minute, until fragrant.
Add in 1 teaspoon smoked paprika and salt and pepper to taste. I used about 1/2 teaspoon salt and 3/4 teaspoon black pepper.
Add in 3/4 cup chicken broth, 1/4 cup heavy cream and tomato paste.
Bring to a boil, then reduce heat and simmer uncovered for 8-10 minutes until sauce has thickened.
Return chicken to pan.
Over riced cauliflower or steamed rice).
Stir in cheese.
When cheese has melted, sprinkle with parsley and serve over cooked riced cauliflower or steamed rice. Alternatively, you can stir the riced cauliflower right into the skillet.