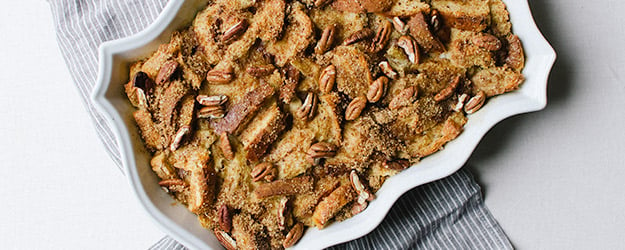 Breakfast has always been one of our favorite meals in our house. I love something hot, sweet and incredibly comforting. When I was a kid, French toast was always a treat for us and it still holds some of my fondest breakfast memories. Memories I love to share with my child.
I am terrible at making regular French toast, and always feel like I have a hard time keeping up with everyone's appetites on the weekends. That's where this maple cinnamon French toast casserole comes into play. I can make a large amount to satisfy everyone, plus it is foolproof. Anyone can make it and it will come out perfectly every single time.
What I love the most I love about this cinnamon French toast casserole is that you can make it the night before, then pop it right into the oven in the morning. That means no early wake up calls. You can bake it while you make coffee, and spend some time waking yourself or relaxing instead of working away in the kitchen. Of course, the recipe is so easy, you don't have to make it the night before, or even with a long waiting time.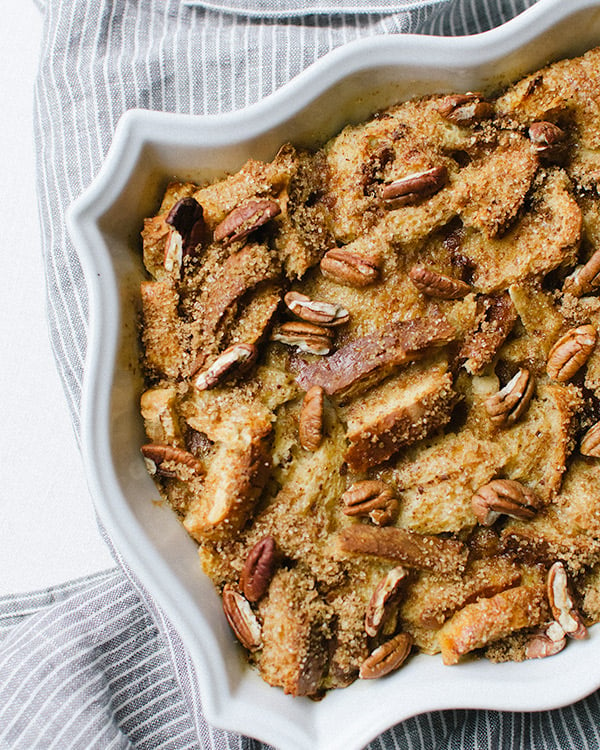 All you have to do is thoroughly mix the bread into the custard mixture and allow it to rest for a couple of minutes – at least 20 – for it to soak into the bread before baking. It's very important that you mix well so all the bread gets coated. The reason I prefer the overnight rest is for the bread to absorb all of the custard without missing an inch. Plus it really infuses all that cinnamon maple goodness. But, it's entirely up to you!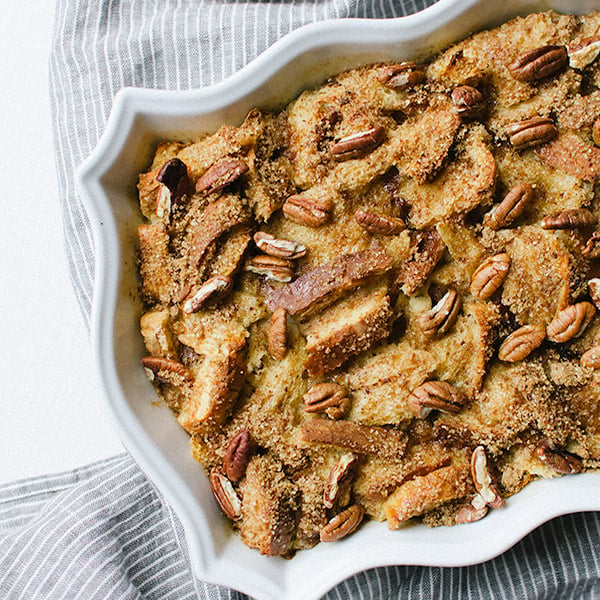 FRENCH TOAST INGREDIENTS
1 lbs bread, stale
7 large eggs
1 cup heavy cream
1 1/4 cup milk
2/3 cup maple syrup
1 tablespoon vanilla
1 teaspoons ground cinnamon
1/2 teaspoon salt
TOPPING INGREDIENTS
2 tablespoons brown sugar
2 tablespoons turbinado sugar
2 – 3 tablespoons chopped pecans
1/2 teaspoon ground cinnamon
1/4 teaspoon salt
DIRECTIONS
Lightly grease a 9 x 13 baking pan.
Chop or break apart the bread into chunks and toss into the baking pan.
Whisk together the eggs, cream, milk, maple syrup, vanilla, cinnamon, and salt together. Pour over the the bread.
Tightly wrap the the bread and rest in the refrigerator for at least 2 hours, preferably overnight.
Preheat the oven to 350 degrees F.
In a small bowl mix together the brown sugar, turbinado sugar, cinnamon, salt, and pecans. Sprinkle over the bread.
Bake for 45 – 55 minutes, or until golden brown and set.
Servings: 6 – 8 people