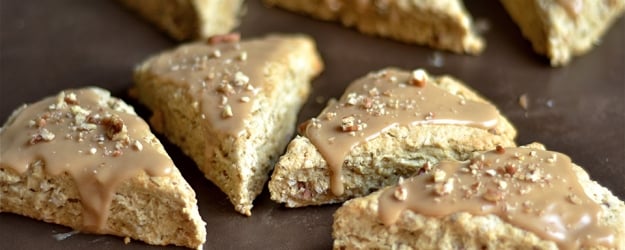 Move over Starbucks!! You're Maple Oat Pecan Scones have been officially been replaced by a much tastier, and a lot less expensive variation of your best breakfast pastry! It's been awhile since I've had a Starbucks Scone, mainly because I've (kind of) mastered the scone baking method and can make my own without all the weird ingredients. Maple Oat Pecan Scones were always my favorite. I have vivid memories of Saturday mornings in college spent at Starbucks with my stack of books and scone. To bring back some of my favorite taste bud memories, I began making these scones a few years ago.
I don't limit these scones to only the fall. My kids beg for them throughout the year and they baking them on the Saturday morning is something I love to do! I usually make a large batch and freeze the leftovers to use throughout the week on busy weekday mornings. Scones don't require any special tools, although a pastry knife is a nice one to have! Cutting butter into the dry ingredients to form a crumbly mixture is important. This can be done using a pastry knife, a food processor, or even your hands. You will then add in milk and maple syrup to form a thick dough. Parchment paper is also useful during these steps, but not necessary. You cut scones one of two ways. I love to use a biscuit cutter to make smaller portions (especially for feeding little people), but you can also use a large knife or pizza cutter to cut a circle into 8 triangles.
After baking, you will make the best part of all: the glaze!! This creamy maple glaze is made of butter, milk, powdered sugar, and maple extract. You will want to pour the glaze on top of the scones while the scones are a little warm so that the glaze spreads nicely. Top with chopped pecans. Once the glaze has dried after about 5 minutes, the scones are ready to eat. I am sure they will be devoured very quickly, but they should be stored in the freezer to keep them as fresh as possible! You can bring to room temperature in less than an hour, or defrost each scone for about 30 seconds in the microwave.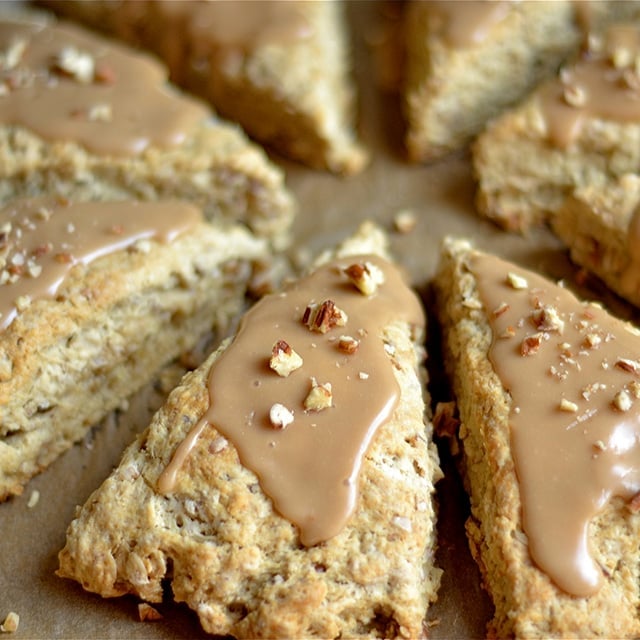 SCONE INGREDIENTS
GLAZE INGREDIENTS
1 tbsp butter
1 tsp maple extract
1/2 cup powdered sugar
1 tbsp milk (plus more if needed)
DIRECTIONS
Preheat oven to 375
In a large bowl, mix together the dry ingredients: flour, oats, pecans, baking powder, baking soda, and salt.
Using a pastry knife, fork, or food processor, fold in small pieces of butter until mixture is crumbly. Add in milk and maple syrup, and stir to combine.
Transfer dough to parchment paper or floured surface and work with your hands until dough is slightly sticky and dry ingredients have been completely folded in.
Roll dough into a large circle that is approximately 1/2-3/4 inch thick. Using a large knife or pizza cutter, cut the dough in half, than 4ths, and finally 8ths. Alternatively you can use a biscuit cutter to make smaller scones.
Transfer scones to a baking sheet and bake for 15-18 minutes or until scones are slightly golden. Remove from oven and keep on the pan to cool.
In a separate small bowl, melt the butter. Add powdered sugar, maple extract, and milk. Whisk until smooth. Glaze each scone with about 1/2 tbsp glaze, and top with remaining chopped pecans. Let glaze dry for a few minutes before serving.
Servings: 12