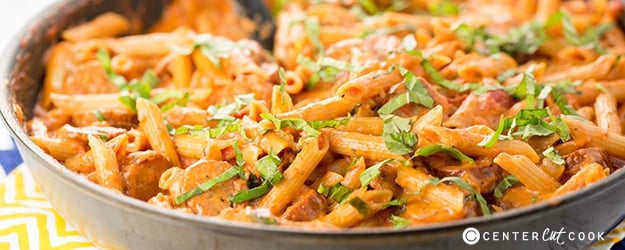 One of the recipes that I hear over and over that people love is this Spicy Sausage Skillet. People just love that it is quick and easy to make, you only need one pan. It's definitely a favorite in our house, but while I was pregnant, spicy and I did not agree so I decided to make a similar version without the spice. This One Pan Cheesy Sausage Skillet is perfect for those nights when you need to get dinner on the table quickly. And the best part? It's a meal the entire family will love.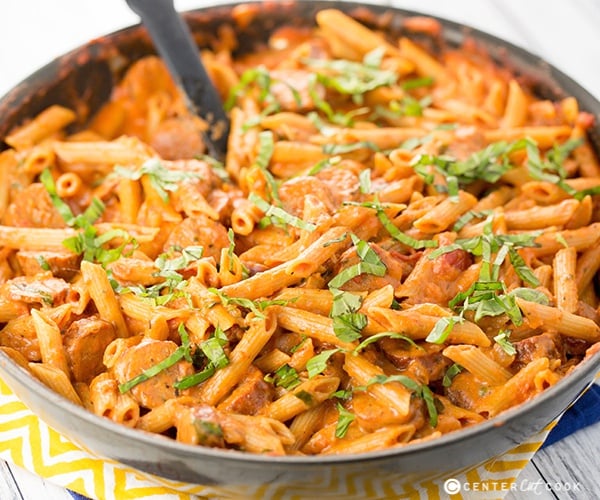 When I say that this entire meal is made in one pan, I mean it. Even the pasta cooks in the same pan which makes this ultra convenient. I don't know about you, but the fewer the dishes that it takes to make dinner, the better! One big skillet, that's all you will need.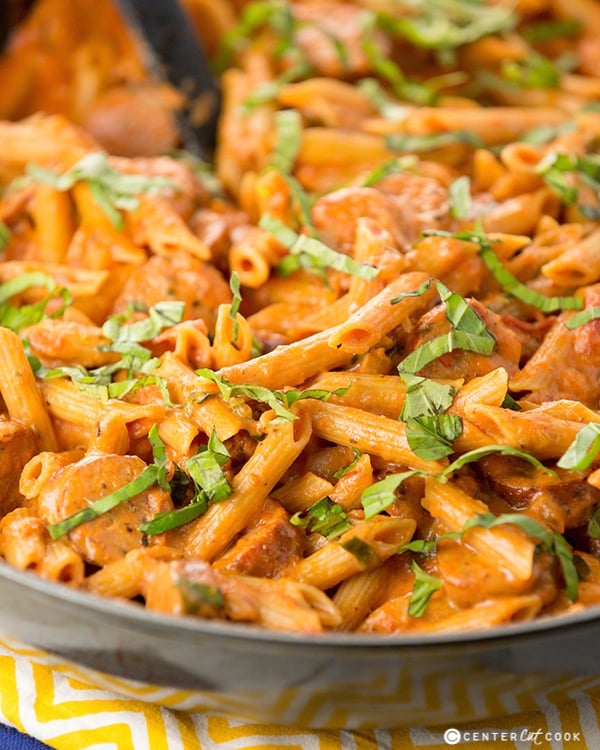 I used monterrey jack cheese and cheddar cheese for this One Pan Cheesy Sausage Skillet, but feel free to use any cheeses that you like or have on hand. I've also made this with mozzarella and it was delicious. The recipe also calls for fire roasted tomatoes, which I just love, but feel free to use regular diced tomatoes if your grocery store doesn't sell them.
Leftovers of this tasty, easy to make dinner are even better. Enjoy!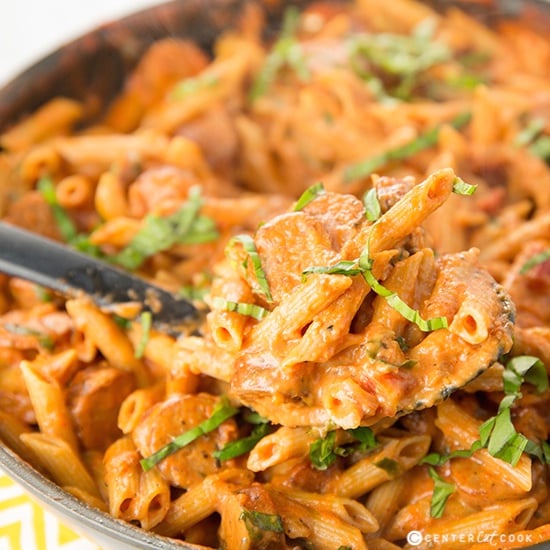 INGREDIENTS
1 Tablespoon olive oil
1 pound Italian Chicken Sausage or any sausage of your choice – cut into bite sized pieces
1 small yellow onion, diced
1 red bell pepper, diced
2 cloves garlic, minced
2 cups low-sodium chicken broth
10 ounce can fire roasted diced tomatoes (use regular diced tomatoes if you can't find fire roasted)
1/2 cup heavy cream
1/2 teaspoon salt
1/2 teaspoon black pepper
8 ounces rotini (I use whole wheat)
1/2 cup cheddar cheese, shredded
1/2 cup monterrey jack cheese, shredded
chopped green onion for garnish
DIRECTIONS
Heat 1 tablespoon olive oil in a large non-stick skillet over medium high heat. Add in chopped sausage, onion, and red bell pepper and cook until the sausage is lightly browned and the onions and peppers are tender. Add in the garlic and cook for a minute longer.
To the pan, stir in chicken broth, diced tomatoes, heavy cream, and 8 ounces rotini. Season with salt and black pepper (more or less to taste). Bring to a boil, then reduce the heat and simmer for about 15 minutes, until the pasta has cooked through.
Stir in cheddar cheese and monterrey jack cheese and stir to combine. When the cheese has melted, remove the skillet from the stove and serve immediately.
Recipe from
CenterCutCook