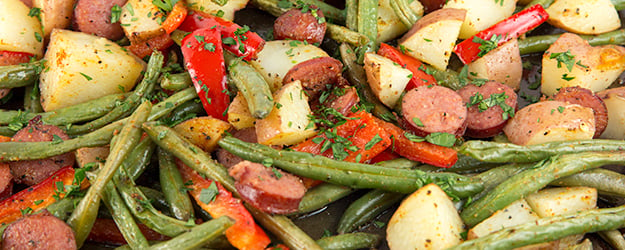 There is something to be said about dinners that can be made entirely in one pan. This One Pan Roasted Sausage and Potatoes recipe is a favorite in this house because of how quickly and easily it comes together, but also because it's super delicious and satisfying!
And did I mention there's minimal prep time involved? Within 10 minutes you can have all of the sausage and veggies chopped up and ready to go.
Foil packet meals seem to be all the rage these days, especially during the summer months of camping and grilling out.
The idea for this recipe came from one of my favorite foil packet dinners that combines sausage and peppers, but instead of taking the time to prep individual foil packets to be grilled or baked, I decided to just toss all of the ingredients together on a sheet pan to roast in the oven.
Sheet pan sausage and vegetables is a versatile recipe. If you don't like peppers, no big deal, just leave them out. If you don't have green beans on hand, no big deal!
The basic ingredients for this recipe are the sausage and potatoes, and after that, you can swap the ingredients any way you'd like.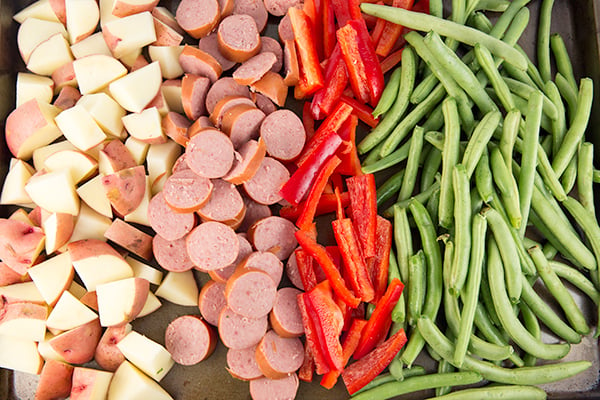 Just be sure that the potatoes are chopped up into bite sized pieces so that they cook through in about 25 to 30 minutes.
I used kielbasa but you could also use Polish Sausage, turkey kielbasa, or any other sausage that you'd like.
With garden fresh green beans in season right now, I thought it'd be the perfect time to share a recipe that incorporates green beans.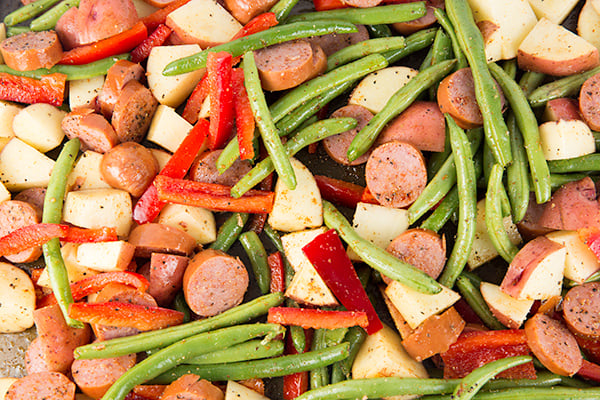 After you have roasted the sausage and potatoes, you can simply garnish with some freshly chopped parsley if you have that on hand. Or you could also add freshly grated parmesan cheese. That's super delicious too!
The best part is that leftovers of this One Pan Sausage and Potatoes heat up great all week long. It also works well as a prep-ahead lunch.
For easier clean-up, line the pan with tinfoil.
Fast and easy, super delicious and satisfying, you are going to love this recipe for Sheet Pan Sausage and Potatoes.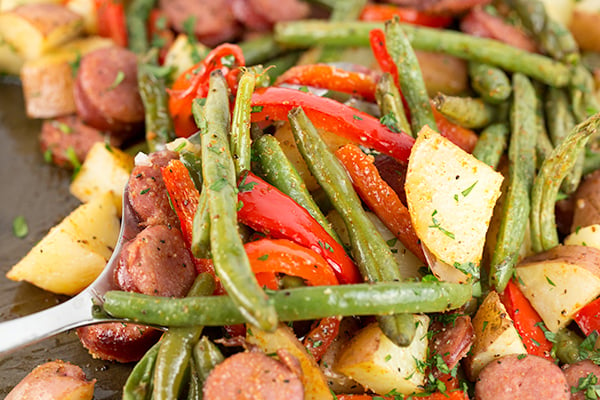 Enjoy!
Looking for another irresistible smoked sausage recipe? Try this recipe for Kielbasa and Cauliflower Stir-Fry, made entirely in one skillet!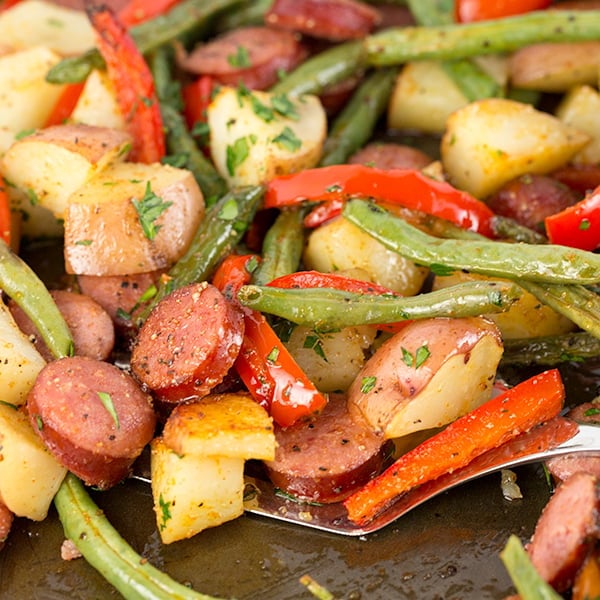 INGREDIENTS
1lb kielbasa or smoked sausage cut into 1/2" thick rounds
2 pounds small red potatoes, cut into bite sized pieces
2 red bell peppers, cut into strips
1/2 pound fresh green beans, rinsed and ends trimmed
2 tablespoons extra virgin olive oil
1 teaspoon sea salt
1/2 teaspoon black pepper
1/2 teaspoon garlic powder
Chopped fresh parsley for garnish
*Optional fresh grated parmesan cheese
DIRECTIONS
Preheat oven to 400 degrees F.
Chop sausage and veggies into bite sized pieces.
Line a large rimmed baking sheet with tinfoil.
Add sausage and veggies to the pan.
Toss with olive oil, salt, pepper, and garlic powder.
Bake for 25-30 minutes, flipping the sausage and veggies about halfway through.
Top with freshly chopped parsley or finely grated parmesan cheese.
Store leftovers in an air-tight container in the refrigerator for about a week.