One Pan Steak and Potatoes
A fresh new take on an old favorite: One Pan Steak And Potatoes.
If you're anything like me, you can only have "steak and potatoes" every once in a while because it can get old and uninspired. I need to change it up. I need more flavor. I need variety and twists.
So, I made a few healthy and flavorful tweaks to the old favorite of steak and potatoes. Instead of using a large ribeye or New York steak, I chose a sirloin and sliced it very thinly. This was for a few reasons: thinly sliced steak cooks faster, is easier to chew if it tends to be a tough cut, and doesn't require you to cut your steak while you're eating your meal. Read: this makes things easier overall on your mouth and eating experience.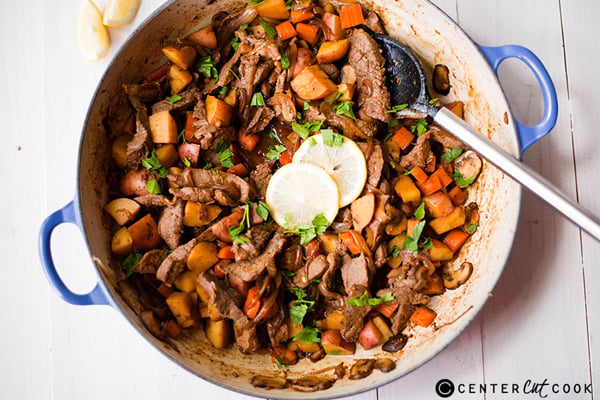 I also chose to add carrots and mushrooms along with the potatoes to add color, texture, and a little sweetness. I think this was a good call because it was delicious!
I think the best thing about this meal is the vibrant citrus-soy flavor you get from the lemon, soy sauce, orange juice, and ginger. The flavor is very tasty and makes the meal feel light, even though it's satisfying like a big plate of steak and potatoes. Perfect!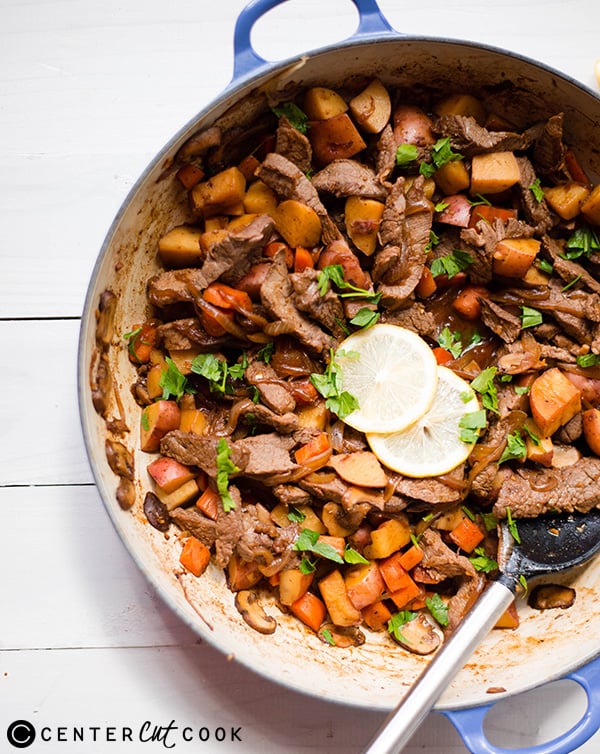 A quick tip: try popping the steak in the freezer for about 5-10 minutes before slicing. This will make the steak much easier to slice than when it's fully thawed.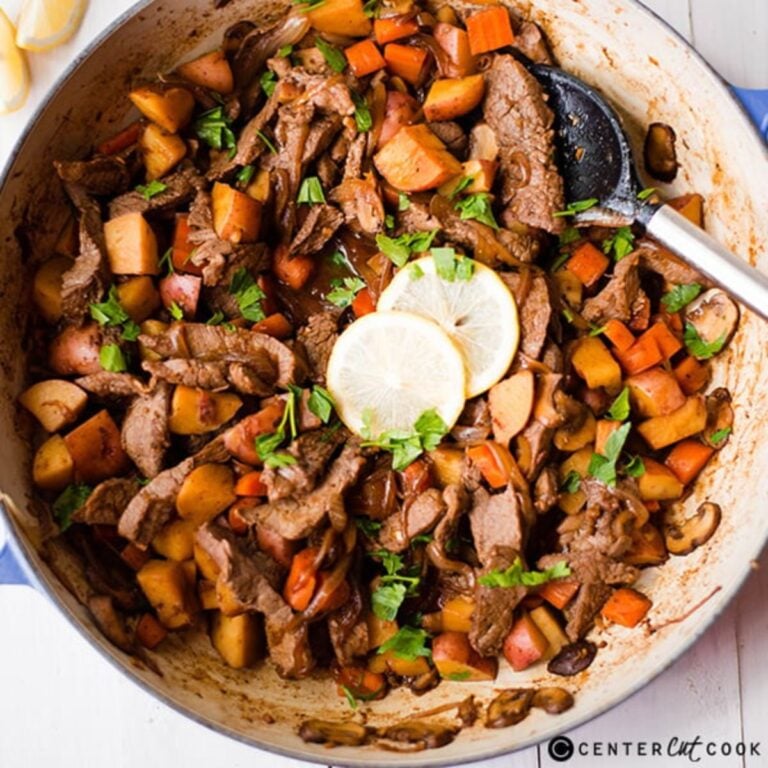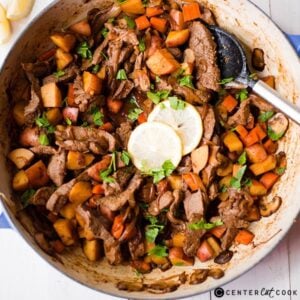 One Pan Steak and Potatoes
A fresh new take on an old favorite: One Pan Steak And Potatoes.
Ingredients
3

tbsp

olive oil

divided

1

large yellow onion

sliced

1

tsp

kosher salt

1/2

tsp

ground black pepper

3

cloves

garlic

minced

10

cremini mushrooms

sliced

1 1/2

lbs

sirloin steak

thinly sliced

1/2

cup

chicken broth or stock

3

red potatoes

cut into cubes

3

carrots

diced

2

tbsp

orange juice

1

tbsp

lemon juice

freshly squeezed

2

tbsp

soy sauce

low sodium

1/2

tsp

dried oregano

1/4

tsp

dried ginger

1/2

tsp

paprika

1/2

tsp

chili powder
Instructions
In a large skillet heat 1 tbsp olive oil over high heat.

Add very thinly sliced steak strips and cook until browned on all sides, about 5 minutes. Remove steak strips from the skillet.

While the steak is cooking, chop the veggies.

Add onions into reserved drippings, plus 1 more tbsp olive oil.

Cook over medium-high heat, stirring frequently, for 3-4 minutes, or until they begin to soften. Add garlic and cook for 1 min.

Stir in mushrooms and continue to cook for 3 minutes, or until veggies are tender.

Add stock to the skillet and add in potatoes and carrots. Bring to a boil, then reduce to a simmer.

Cover skillet with a lid and let cook for 12 to 15 minutes, or until vegetables are tender. In the meantime prepare the sauce.

Combine orange juice, lemon juice, soy sauce, oregano, ginger, paprika, and chili powder in a small mixing bowl and whisk until thoroughly combined.

Add the steak back into the skillet, followed by the sauce. Stir to combine. Continue to cook for 4-6 minutes, or until heated through.

Remove from heat and serve.