As a busy couple, we are always looking for recipes which are one-pot wonders, wholesome and can be made quickly. And this Easy, One-pot Vegetarian Brown Rice Pilaf is a regular dinner at home. It's so good that sometimes we make extras just so that we can have leftovers for lunch the next day.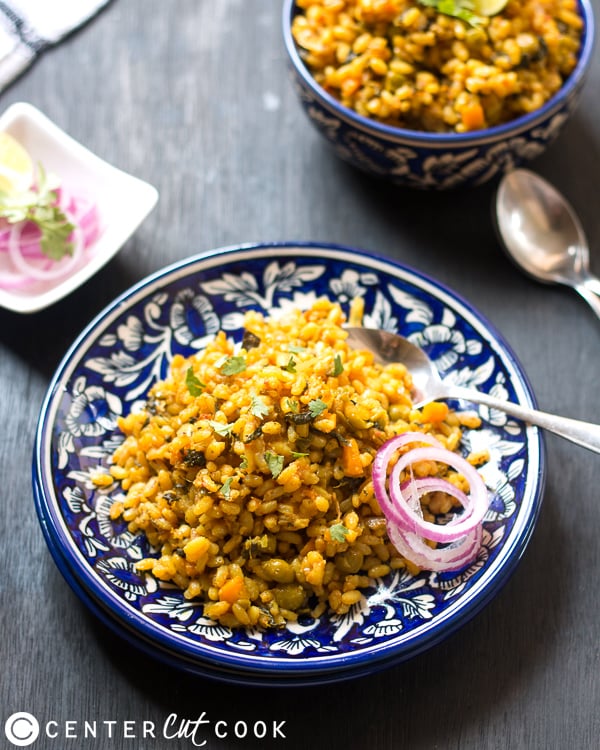 A pilaf or pulao is a common rice dish that is made frequently in Indian and Middle Eastern homes. And it's extremely versatile, so you can always add meat, nuts or even fish. Sometimes, we substitute the vegetables or meat with sugar, saffron, milk and chopped nuts for a sweeter version and serve it as dessert.
It makes for a great side dish with curries or as a main course on it's own. I've created this version with Brown Rice and lots of vegetables to make it a healthy lunch or dinner option. Brown rice can take longer to cook than regular white rice, but the nutty flavour is totally worth the wait.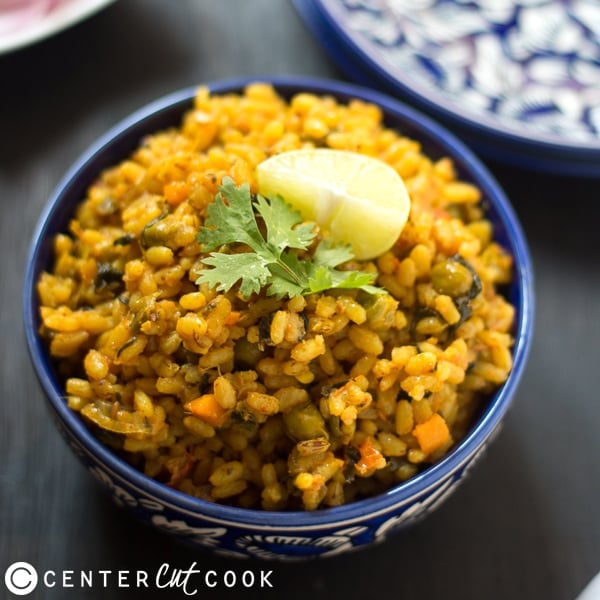 INGREDIENTS
1 cup Brown Rice
2 cups Vegetable Broth
2 tablespoon Olive Oil
1 Bayleaf
1 small Cinnamon stick
1/2 teaspoon Minced Garlic
1/2 teaspoon Minced Ginger
1 Jalapeno, finely chopped
1 medium sized Onion, finely chopped
1 large Tomato, finely chopped
1/2 teaspoon Turmeric Powder
1 teaspoon Coriander Powder
1/2 teaspoon Chili Flakes
1 teaspoon Cumin Powder
1 cup chopped Vegetables (Mushrooms, Carrots, Beans, Broccoli work well)
Salt to taste
DIRECTIONS
In a large pot, heat olive oil and add the Bayleaf and Cinnamon.
Sauté for 30 seconds and add ginger, garlic, jalapeños and onions.
Stir fry till the onions are translucent, add tomatoes and all the spice powders. Cook the tomatoes for 2-3 minutes and add brown rice.
Toast brown rice for 3-4 minutes, add chopped vegetables, salt and water. Cover and cook for 30-35 minutes. The brown rice should be cooked by now. If it isn't and all the water has evaporated, add a little more water and simmer till the rice is cooked.
Garnish with chopped coriander and serve hot.
Servings: 2